Fed cuts interest rates by 0.25%
A perspective from E*TRADE Capital Management, LLC
07/31/19
In an attempt to give the decade-long economic expansion a little longer runway, the Federal Reserve on Wednesday cut interest rates by 0.25% at its July policy meeting. The widely anticipated move brings the overnight Fed funds rate, which affects US lending rates, to a target range of 2.00–2.25%. Although the US economy is expanding and the labor market is tight, the Fed's preferred gauge of inflation has remained stubbornly low, which some pundits noted as a likely contributor to the decision to relax rates.
The decision by the Federal Open Markets Committee (FOMC) was expected by market participants after Federal Reserve Chairman Jerome Powell hinted at monetary easing in June, saying that the Fed would "use our tools as appropriate to sustain the expansion."1
Wednesday's move marks the first time in more than a decade that the FOMC has eased monetary policy and brings rates back to where they were in late 2018. Now the question is whether the Fed will go forward with an additional rate cut at its next policymaking meeting in September.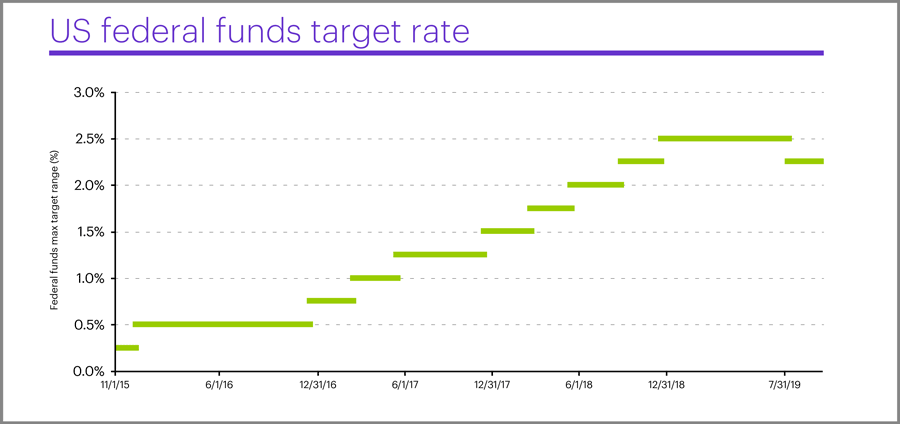 FactSet Research Systems, July 31, 2019
---
A precautionary move
The Fed's decision to cut interest rates comes at a curious time, with unemployment at a 50-year low, wages growing, and gross domestic product expanding by 2.1% in the second quarter.2
Given the favorable economic backdrop, Wednesday's unorthodox decision could be seen by market watchers as a precautionary move aimed at preserving the long-running economic expansion, which reached a record 121 months in early July. Fed Chair Powell has previously referenced trade disputes, decelerating manufacturing output, and global growth concerns as potential threats to US economic growth.1
Weak inflation looms large
The Federal Reserve has a dual mandate to maximize employment and stabilize prices, and the weak pace of inflation has been a persistent concern. So far this year, core (non-food and energy) inflation has been running short of the Fed's 2.0% objective, and slower global growth could keep a lid on further price increases. At first blush, that doesn't sound like a problem, but inflation is an important barometer of economic health, and when it weakens the Fed takes notice.
Investor takeaways
The Fed's decision could provide a jolt to the economy, but it should also be taken in context. If the economy were going gangbusters, the FOMC likely would have stayed on the sidelines a while longer.
Some additional points to consider:
•  Interest rates could stay low: By easing interest rates, the Fed is shortcutting the process of rate normalization, which means that continued low rates could be the new normal. For investors, that could make finding yield opportunities challenging and increase the temptation to wade into riskier, income-oriented asset classes.
•  Temporary sugar high: Lower rates could stimulate business investment and consumer lending activity over the near term, but they also provide the Fed with a less potent monetary toolbox in the future. That could prove problematic if the threat of recession ever becomes more real.
•  Diversification is key: Investors should also consider the Fed's rationale when sizing up their portfolios. Fed policymakers cut rates because they evidently see threats to US economic growth. Those same risks bolster the case for a diversified portfolio, which could help investors weather potentially tempestuous market conditions if the economy weakens.
The FOMC meets next on September 17–18, and oddsmakers are already weighing in on what might happen. Economic indicators over the next two months could figure heavily into what course of action the Fed takes this fall.
Click here to log on to your account or learn more about E*TRADE's trading platforms, or follow the Company on Twitter, @ETRADE, for useful trading and investing insights.
---
1. Board of Governors of the Federal Reserve System, "Transcript of Chair Powell's Press Conference," June 19, 2019, https://www.federalreserve.gov/mediacenter/files/FOMCpresconf20190619.pdf
2. Bureau of Economic Analysis, "Gross Domestic Product, Second Quarter 2019 (Advance Estimate) and Annual Update," July 26, 2019, https://www.bea.gov/news/2019/gross-domestic-product-2nd-quarter-2019-advance-estimate-and-annual-update
What to read next...
07/26/19
Despite plenty of positive Q2 earnings surprises, earnings are expected to be down from last year's levels.
---
07/19/19
Millennials have had the second-best market backdrop of any generation during their prime earnings years.
---
07/12/19
The US economy has been expanding for a record 121 months, but signs of weakness are emerging.
---