The Fed makes its move
A perspective from E*TRADE Securities
03/16/22
After months of waiting and debating, the Fed finally made things official on Wednesday afternoon.
For the first time since December 2018, the Federal Reserve raised interest rates, increasing its benchmark fed funds rate 0.25% to a target range of 0.25–0.5%—a shift from the easy-money policies that have been in place since March 2020, when the Fed slashed interest rates from 1% to zero in response to the COVID crisis.
The Fed had, for many months, telegraphed its intention to raise rates in an effort to combat inflation that had reached multi-decade highs. But previous expectations for a more aggressive 0.5% increase faded amid the uncertainty introduced by Russia's invasion of Ukraine. Although the Fed has pledged to be sensitive about adding to that uncertainty by acting too aggressively,1 Wednesday's hike is expected to be just the first of multiple increases this year.
The Fed's decision is in step with increased hawkishness from various central banks around the globe, including the Bank of England, which raised rates for a second time earlier this month. Let's take a look at how Wednesday's announcement could impact investors.
While raising interest rates can help cool inflation, there is the risk that it may also dampen economic growth.
Why it's important
When the Fed raises interest rates, the effects ripple throughout the financial system and the economy: For example, mortgages, auto loans, and credit card rates become more expensive for consumers, while businesses also pay more to borrow the money they need to fund their operations or expand. That tends to make both consumers and businesses a bit more conservative about their spending, which may then cool the economy and, hopefully, drive down the prices of goods and services.
What it may mean for markets
The flipside of this coin is the risk that attempting to tame inflation by raising rates crosses the line from cooling a too-hot economy to freezing it, which could pressure corporate earnings and, ultimately, stock prices. Also, higher interest rates can make fixed-income investments like bonds more appealing relative to stocks (although they can negatively impact existing bond holdings), and when demand for stocks wanes, the market can go down.
But while there are obvious examples of stock market strength following Fed rate cuts, there are fewer clear-cut instances of rate increases knocking the stock market lower, at least on a longer-term basis. There's plenty of evidence of shorter-term volatility in the wake of individual rate increases,2 but analysis of 13 rate-hike cycles dating back to 1954–57 (ranging in length from six months to more than five years) shows the S&P 500 gained ground in all but two of them.3
The following chart highlights the S&P 500's performance during the last two tightening cycles, 2004-2006 and 2015-2018 (rectangles):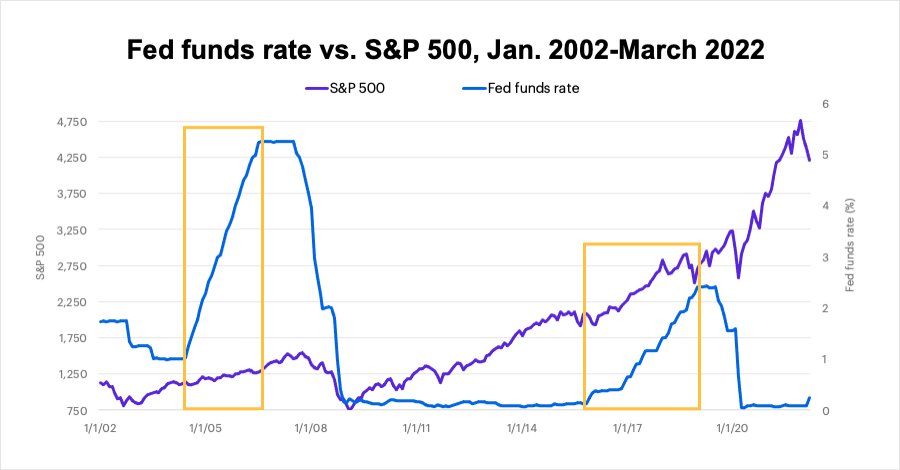 Data source: Federal Reserve and Standard & Poor's
---
However, none of this means investors should assume the stock market is about to embark on a new, extended bull market. Unique circumstances can lead to unique results. In addition to the return of geopolitical uncertainty, Morgan Stanley Wealth Management recently pointed out that stocks (as well as bonds) are still—despite the recent downturn—relatively high priced, which makes them more sensitive to rate increases.4 Translation: Overall, stock prices remain high, and just because the market has usually performed well during previous tightening cycles doesn't mean it will this time, too.
Adjusting to the new playing field
A few ideas to keep in mind in wake of the Fed's decision:
Does the Fed have "good balance?" How the market fares in the emerging environment may depend on how well the Fed manages its delicate balancing act: Act too timidly, and it may not get inflation under control; act too aggressively, and it risks derailing an economy still playing catch-up from the COVID pandemic.
Toss out the old playbook? As Morgan Stanley Wealth Management noted, in a potentially slow-growth environment, investors in the past may have sought out US mega-cap growth stocks. Growth and tech have already been the main casualties of the current downturn. Many growth companies borrow money to expand their businesses, which makes them more susceptible to rising rates.
Different sectors, different reactions. Expanding on the first point, Morgan Stanley Wealth Management advises selectively considering opportunities in high–quality, reasonably priced stocks, citing the potential attractiveness of financials, energy, industrials, healthcare, and consumer services. For example, financial companies, such as banks, that make money through lending, can benefit in a rising-rate environment.
Finally, investors should remember that, as important as interest rates are, they're not the sole factor affecting stock prices. Regardless of how the market reacts to interest rate hikes—especially early in a tightening cycle—investors shouldn't abandon their long-term goals or stray from maintaining a balanced, diversified portfolio that can help keep them steered in the right direction.
---
1 The New York Times. Powell Says Rates Are Headed Higher, Even as Ukraine Poses Uncertainty. 3/2/22.
2 Forbes.com. How Does The Stock Market Perform When Interest Rates Rise? 3/9/22.
3 Bloomberg.com. Stocks Don't Rise or Fall Because of Interest Rates. 1/25/22.
4 MorganStanley.com. Why the U.S. Economy May Fare Better than the Market. 3/8/22.
Important note regarding economic sanctions. This event may involve the discussion of country/ies which are generally the subject of selective sanctions programs administered or enforced by the U.S. Department of the Treasury's Office of Foreign Assets Control ("OFAC"), the European Union and/or by other countries or multi-national bodies. The content of this presentation is for informational purposes and does not represent Morgan Stanley's view as to whether or not any of the Persons, instruments or investments discussed are or may become subject to sanctions. Any references in this presentation to entities or instruments that may be covered by such sanctions should not be read as recommending or advising on any investment activities involving such entities or instruments.  You are solely responsible for ensuring that your investment activities in relation to any sanctioned country/ies are carried out in compliance with applicable sanctions.
What to read next...
The conflict in Ukraine has already exacted a heavy toll. Though the outcome is unclear, the war will continue to weigh on global economies, with ramifications for central bank policy, energy, commodities and more. A look at the path ahead.
---
Russia's invasion of Ukraine has shaken the world, adding to the risks and uncertainties ahead for the global economy. How to navigate what may lie ahead.
---
Find out how geopolitical risks may influence the investing landscape.
---