Q3 earnings season: When good news isn't always what it seems
A perspective from E*TRADE Securities
11/08/19
It's been said that there are "lies, damned lies, and statistics." Exactly who originated this pithy pearl of wisdom is in dispute. The famed American humorist Mark Twain attributed it to British Prime Minister Benjamin Disraeli, although the words are reportedly nowhere to be found in Disraeli's published works.
Whoever is to credit, the central premise behind this bromide is that statistics can be misleading—or at the very least, malleable enough to fit one's narrative.
Such is the case with the third-quarter earnings picture. In this case, how the markets ultimately interpret a conflicting maze of earnings statistics could affect your portfolio.
Is the Q3 earnings picture good or bad?
Let's view the latest round of corporate earnings through two different lenses. First, according to data from FactSet, of the more than 80% of S&P 500® companies that have reported third-quarter 2019 earnings:
•  75% have reported a positive EPS surprise
•  62% have reported a positive revenue surprise
•  Earnings are 3.9% above consensus estimates
Sounds impressive. S&P constituents appear to be killing it.
Also, according to FactSet:
•  Among these same firms, Q3 earnings are down 2.3% on a year-over-year basis
•  We're on the brink of three consecutive quarters of earnings declines—the first time that has happened since 2015
•  The estimated earnings growth rate for the fourth quarter is -0.96%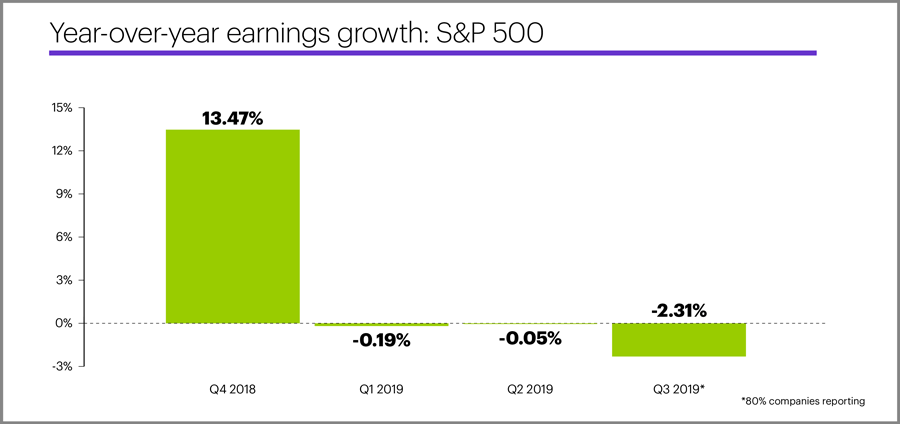 Source: FactSet Research Systems, November 6, 2019
---
Wait, what? What happened to killing it?
Props to Mr. Twain. Or Mr. Disraeli. Statistics, it seems, are indeed in the eye of the beholder.
Expectations vs. results
The reason these statistics seem so different is that they focus on two different things: expectations on one hand, reality on the other.
A couple quarters ago, we used a baseball analogy to describe this phenomenon. An aging power hitter may surpass what fans had expected of him when he was plucked off the waiver wires over the winter, but that doesn't mean his slugging percentage is any better than last year.
In this case, analysts expected S&P 500 firms to deliver a certain level of profitability, and, by and large, companies are beating those expectations. But compared with last year, those same firms are less profitable in aggregate.
So, let's dig in.
Earnings "beats" up, earnings down
As mentioned, 75% of companies have delivered positive earnings surprises in the third quarter—well above the five-year average. Among the outperformers, makers of consumer staples—i.e., basics like food, beverage, and household products—and tech companies have most frequently beat consensus estimates. The tech sector has added bragging rights, according to FactSet, in that it has topped estimates by the widest margin, led by Gartner, Xerox, and Citrix Systems.
However, earnings among S&P 500 firms are still down by more than 2% from the previous year. Leading the downward march are energy companies, which were unable to convert a brief spike in energy prices to their bottom lines.
Conversely, health care is reporting the highest year-over-year earnings growth of any sector. Interestingly, health care stocks also posted the second-worst year-to-date returns through October. Hmm … earnings are up, but returns are weak? Some investors might be eyeing a buying opportunity.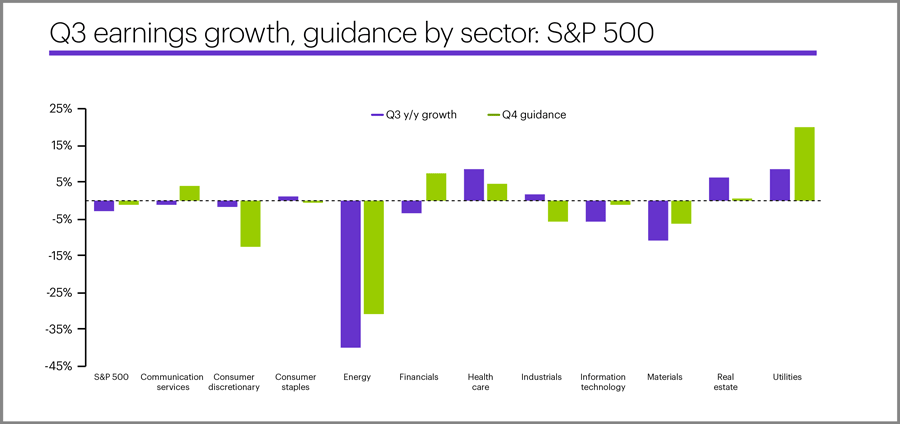 Data source: FactSet Research Systems, November 6, 2019
---
The bottom line
The earnings picture can be confusing, but here are some ways to cut through the clutter:
• Revenue and earnings are two distinct metrics. Firms that are generating strong top-line numbers but not converting that to earnings may be suffering from low operating leverage. That may or may not be coming from capital expenditures that could benefit companies down the road. It can also be a function of industry. Steelmaker or retailer? When conducting research, be sure to compare companies within the same industry.
• Intrepid investors could spot potential buying opportunities where Q3 earnings are up but year-to-date returns are relatively weak. Health care is a glaring example of this dichotomy, but the materials and energy sectors also generated modest returns through October.
• Don't ignore guidance. Among S&P 500 firms, negative fourth-quarter guidance is outpacing positive guidance by a 2:1 margin. That could be telling—particularly if holiday retail spending doesn't meet expectations.
For the most part, recent headlines have focused on better-than-expected Q3 earnings. And that's been good for the markets. But now you know there's more to the story.
Click here to log on to your account or learn more about E*TRADE's trading platforms, or follow the Company on Twitter, @ETRADE, for useful trading and investing insights. Online stock, ETF, and options trades are now commission-free.
What to read next...
11/01/19
Mixed economic signals failed to spook investors in October
---
10/30/19
In what could be its last major move of the year, the Federal Reserve lowered rates for the third time in four months.
---
10/25/19
Young, tech-forward people are changing what it means to invest.
---