Q2 earnings season: A potential mixed bag of results
A perspective from E*TRADE Securities
07/26/19
Earnings season—that all-important period when companies look back on the past quarter's results while setting expectations for the future—is once again in full swing. In the early going, the results are good but are expected to be mixed when it's all said and done. That matters because earnings tell a tale about the broader economy and could affect investors' portfolios.
Earnings surprises in line with last quarter
So far, the earnings picture is promising. With 27% of S&P 500® constituent firms reporting, 77% have reported upside earnings surprises and 64% have reported positive revenue surprises—both above their respective five-year averages.1
But surprising analysts is not the same as beating last year's results. In baseball parlance, an aging third baseman with a higher slugging percentage than experts expected may still be underperforming last year's numbers. That's what could happen with many of the blue chips that make up the S&P 500.
Revenue, earnings up in the early going
Even though S&P 500 constituents are beating estimates—and despite strong results from big-name players like Coca-Cola, Microsoft, Goldman Sachs, and JPMorgan Chase—earnings are expected to be down from last year by 0.6%, according to consensus analyst estimates.1 Last quarter, earnings were off by 0.3% from the previous year. If aggregate earnings decline again, it would mark the first time since 2016 that the S&P 500 has seen two straight quarters of year-over-year earnings declines.2
Concerning? Perhaps. But it's also worth noting that top-line revenue among reporting S&P 500 firms is up nearly 3% from last year, and, so far at least, earnings are up 2.3%1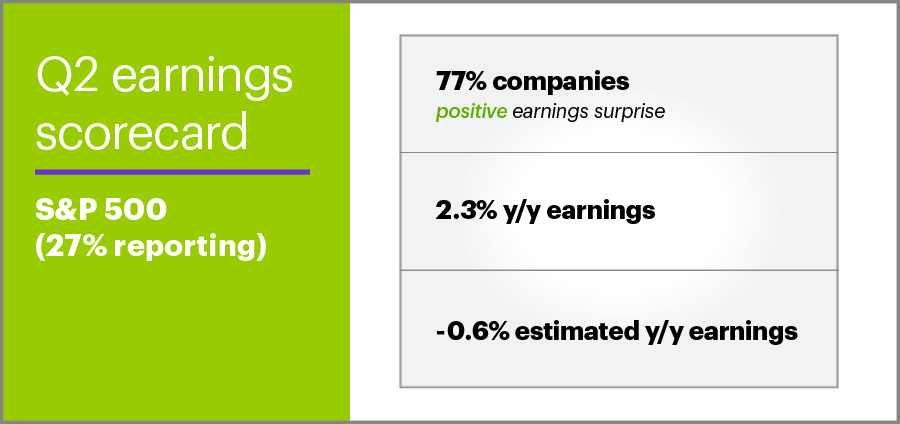 Source: FactSet Research Systems
---
Earnings drivers
Last quarter, we outlined earnings drivers that included trade tensions, slowing overseas growth, and fluctuating energy prices. Energy prices don't appear to be a near-term concern, but tariffs, trade wars, and international economic concerns remain.
Nonetheless, the US economy has remained resilient. Recently, the decade-long economic expansion became the longest on record, and major equity indexes have climbed to all-time highs. The earnings picture could get a boost in the second half if the Federal Reserve moves forward with a much-anticipated rate cut in July—and possibly September as well.
Earnings could recover by the fourth quarter
The potential for monetary easing may help explain why sell-side analysts are projecting earnings to pick up later this year. Although earnings are expected to tail off in the third quarter, analysts surveyed by FactSet project a modest uptick in year-over-year earnings growth by the fourth quarter.2
What lies ahead?
The earnings picture over the balance of the year could hinge on several factors:
• Monetary policy: The Federal Reserve is expected to cut short-term interest rates by 0.25 percentage points at its next policymaking meeting in late July. That may seem counterintuitive, given historically low unemployment and record stock market highs, but lower interest rates could stimulate lending activity and help drive corporate earnings across myriad industries.
• Trade: Trade hasn't been stealing headlines since the US and China agreed to a temporary ceasefire in June, but in the current climate it doesn't take much to ratchet up tensions. And despite repeated promises that a trade breakthrough is at hand, US manufacturers are still reckoning with the effects of stiff tariffs and higher input costs. Large multinationals like major tech companies and microchip makers have been especially affected by the ebb and flow of trade tensions.
• Overseas growth: While the stateside economic picture looks sanguine, many international markets are facing headwinds. Federal Reserve Chairman Jerome Powell has cited slowing growth in Europe and China, as well as Brexit uncertainty, among the factors that could affect US monetary policy.3 For large US exporters, slowing growth could also have a direct effect on earnings.
It's still early in this latest earnings season, but the watchword appears to be caution. Now let's see what the Fed has to say next week.
Click here to log on to your account or learn more about E*TRADE's trading platforms, or follow the Company on Twitter, @ETRADE, for useful trading and investing insights.
1. Yardeni Research, Inc., "Quant Briefing: Earnings Surprise Monitor," July 24, 2019, https://www.yardeni.com/pub/500esm.pdf
2. FactSet, "Earnings Insight," July 19, 2019, https://www.factset.com/hubfs/Resources%20Section/Research%20Desk/Earnings%20Insight/EarningsInsight_041819.pdf
3. Board of Governors of the Federal Reserve System, "Transcript of Chair Powell's Press Conference," May 1, 2019, https://www.federalreserve.gov/mediacenter/files/FOMCpresconf20190501.pdf
What to read next...
07/19/19
Millennials have had the second-best market backdrop of any generation during their prime earnings years.
---
07/12/19
The US economy has been expanding for a record 121 months, but signs of weakness are emerging.
---
07/01/19
Investors stepped on the gas in June, confident that the Fed will lower rates in July.
---