Fed takes winter holiday
A perspective from E*TRADE Capital Management, LLC
12/11/19
The Federal Reserve on Wednesday left short-term interest rates unchanged for the first time since June, keeping the federal funds rate in a target range of 1.5–1.75%. 
After cutting rates in October for the third time this year, the Federal Open Market Committee (FOMC) signaled it was unlikely to extend the easing cycle unless there were material changes to the economy, which it saw anchored by a strong job market and inflation near its 2% objective.1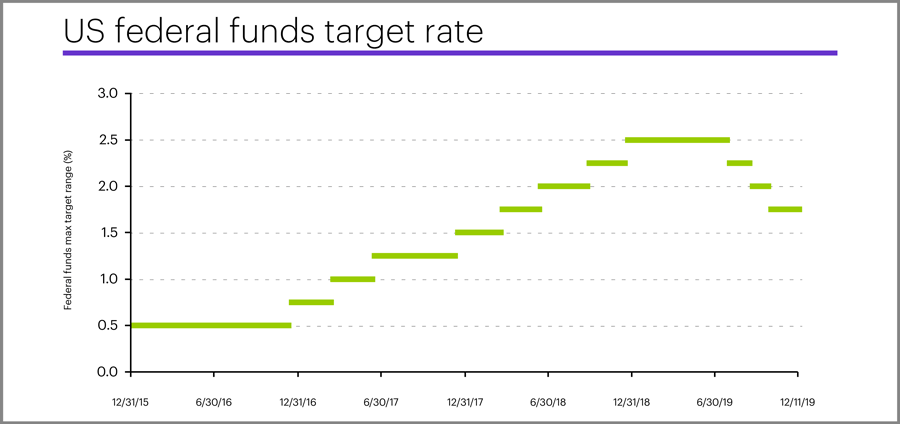 FactSet Research Systems, December 11, 2019
---
Wait-and-see mode
In a speech in late November, Fed Chairman Jerome Powell reiterated the view that policy is "well positioned" for the current economic outlook, suggesting the Fed is now waiting to see how the series of cuts, which started in July, will affect the economy.2
Recent US economic data has been mostly positive. Since the committee's last meeting, retail sales numbers rebounded, Q3 GDP growth beat expectations, and employment rebounded strongly in November after a weak October. Manufacturing, however, contracted for the second month in a row—a lingering economic sore spot.
The Fed, which earlier this year cited the risks posed by the ongoing trade war,1 will certainly be keeping a close eye on the current negotiations—especially as the December 15 deadline approaches for a new round of tariffs on Chinese imports. Delays in a trade deal, particularly if tariffs ultimately halt US consumer spending and slow economic growth, could put the FOMC back in cut mode.
Looking ahead
In gauging what the Fed's current policy stance means for investors, it's worthwhile to consider how different things look from a year ago: While last December many market watchers expected the Fed to raise rates as many as three times in 2019, it instead responded to signs of economic vulnerability by cutting them three times (by a total of 0.75%)—the first easing cycle in more than a decade.
For now, the economic data appears to support the Fed's hands-off stance, but changes in one of a few key factors could be the catalyst that brings the FOMC off the sidelines:
Jobs: A strong labor market continues to anchor the Fed's inclination to keep rates on ice. November payrolls topped expectations by a huge margin and the unemployment rate ticked down to 3.5%, matching its lowest level since 1969.3 
Inflation: With the most recent Consumer Price Index (CPI) reading coming in at 2.1%, inflation still appears to be hovering near its sweet spot. 
Trade remains the elephant in the room: As we saw again last week, few things can jolt the markets like a trade headline. Expectations of a finalized US-China trade deal still underpin bullish sentiment for the stock market and economy as a whole. If negotiations break down or drag on indefinitely, that sentiment could change. 
The Federal Open Market Committee next meets January 28–29. With a trade deal deadline approaching and the year coming to a close, time will tell if the Fed's decision to stand pat will remain a theme in the new year.
CNBC, "Fed officials see little need for further rate cuts, minutes say," November 20, 2019, https://www.cnbc.com/2019/11/20/fed-minutes.html
The New York Times, "Fed Chair Powell Says a Solid Labor Market Could Get Even Stronger," November 25, 2019, https://www.nytimes.com/2019/11/25/business/economy/fed-jerome-powell-labor-market.html
Bloomberg, "U.S. Jobs Trounce Forecasts With 266,000 Gain; Wages Heat Up," December 6, 2019, https://www.bloomberg.com/news/articles/2019-12-06/u-s-jobs-trounce-forecasts-with-266-000-gain-as-wages-heat-up?srnd=premium
---
Click here to log on to your account or learn more about E*TRADE's trading platforms, or follow the Company on Twitter, @ETRADE, for useful trading and investing insights. Online stock, ETF, and options trades are now commission-free.
What to read next...
12/02/19
Stocks pushed back into record territory in November while trade tensions and recession fears simmered.
---