Markets ride out a September to remember
Mike Loewengart, Vice President of Investment Strategy
E*TRADE Capital Management

10/01/19
Imagine, if you will, this scenario: Drone attacks take out 5% of the world's oil supply in one day, two economic superpowers get locked into a protracted trade war, and projected global growth rates fall to their lowest levels in a decade. The Federal Reserve grows so concerned that it cuts interest rates. Again. Oh, and throw in an impeachment inquiry for good measure.
Imagine what that could do to the markets.
Now open your eyes. September delivered quite a plot twist: Against all odds, stocks rose.
US equities
US equities gained ground in September against formidable obstacles, and in another unlikely development, value stocks made a valiant comeback—one of the few months in which this long-overlooked segment has notched a solid win.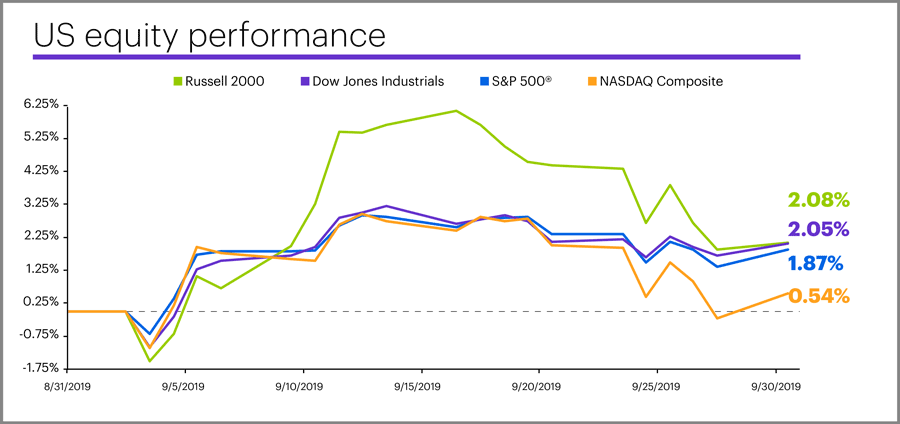 FactSet Research Systems
---
Partly as a result of drone attacks that briefly wiped out 50% of Saudi Arabia's crude oil production, energy was a strong performer in September—a sharp reversal in an otherwise dismal year for the sector. Whether energy can continue this momentum remains to be seen, particularly given reduced forecasts for global growth.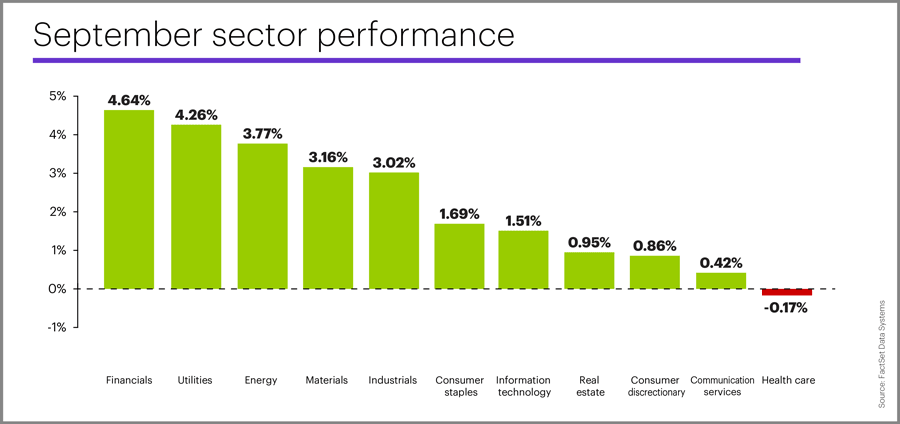 FactSet Research Systems
---
International equities
International equities delivered solid returns in September—and that included emerging markets, which have underperformed their developed-market counterparts for much of the year. As in the US, bargain hunters led a rotation into value stocks, which gained nearly 5% on the month.
Japanese returns were especially strong in September, as exporters capitalized on a weak yen and investors looked to the Bank of Japan to loosen monetary policy next month.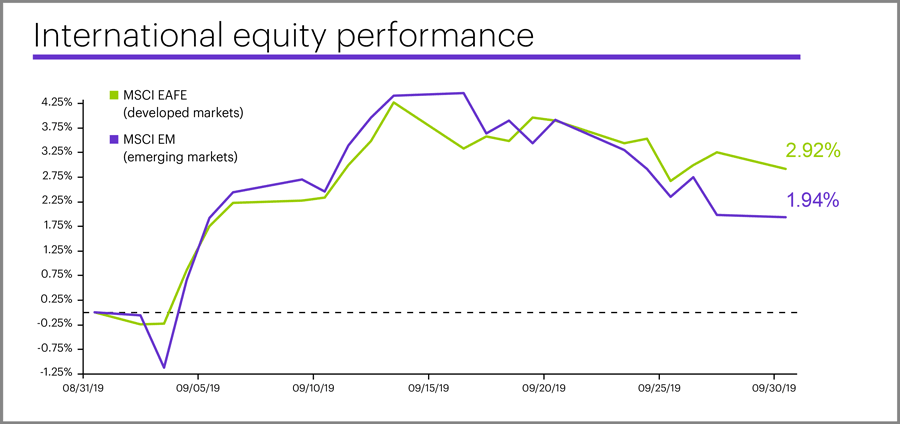 FactSet Research Systems
---
Fixed income
The Federal Reserve cut interest rates for the second time in three calendar months at its September meeting—part of a global trend of monetary easing. But the Fed's decision did little to arrest the whipsawing of Treasury yields: The yield on the benchmark 10-year Treasury note climbed roughly 20 basis points over the past month after fluctuating on conflicting prospects for a US-China trade deal. In turn, rising longer-term yields put a damper on fixed income returns.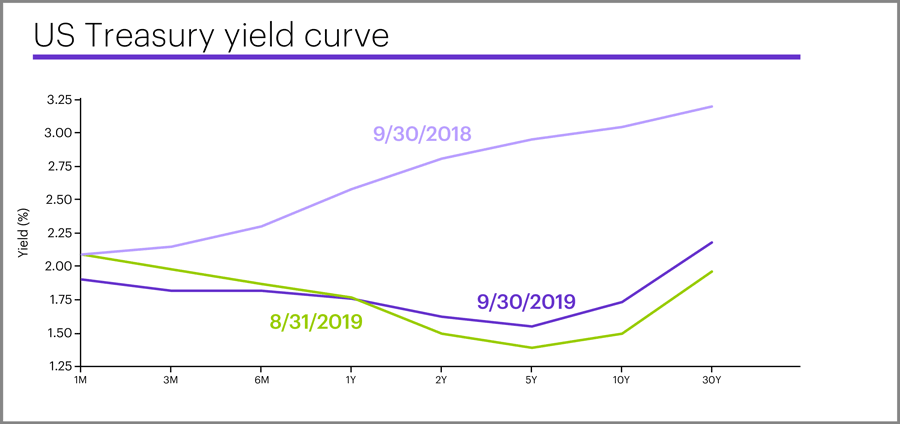 FactSet Research Systems
---
Looking ahead
As the fourth quarter gets underway, investors will face no shortage of market headwinds and mixed economic signals.
•  Fed watching resumes: After paring interest rates by a cumulative 0.50%, the Fed has begun injecting cash into the financial system through repurchase agreements—essentially, short-term loans to banks. This monetary stimulus will remain in effect through early October before the Fed again weighs in on interest rates. The Fed has provided little in the way of guidance, and prognosticators seem divided on the issue, so October's meeting could be interesting.
•  The return of value? It's been a while since value stocks have had their day, but they finally emerged from the shadows in September on the strength of financials and energy. Whether this becomes a longer-term rotation remains to be seen. Given headline risks to global growth, high-flying growth stocks could be due for a breather.
•  Trade and political uncertainty: The US and China have both expressed a willingness to come to terms on trade, but an agreement remains elusive. Adding to the intrigue is an emerging presidential impeachment battle. In the past, the markets have been able to look beyond political discord, yet the Congressional showdown adds another layer of uncertainty.
Given the past month's developments, it's a wonder that stocks performed as well as they did. Regardless, uncertain times underscore the importance of diversification, which can help investors weather periodic market volatility.
Now come the ghouls of October, which have historically—but not always—spooked investors. Here's hoping the treats outweigh the tricks.
Thanks for reading, and we'll talk to you again next month.
Click here to log on to your account or learn more about E*TRADE's trading platforms, or follow the Company on Twitter, @ETRADE, for useful trading and investing insights.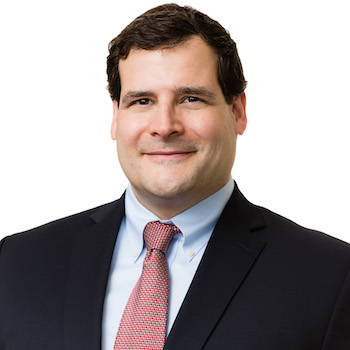 Mike Loewengart
Managing Director, Investment Strategy, E*TRADE Capital Management, LLC
Mike Loewengart is the Managing Director of Investment Strategy for E*TRADE Capital Management, LLC. Mike is responsible for the asset allocation and investment vehicle selections used in E*TRADE's advisory platforms. Prior to joining E*TRADE in 2007, Mike was the Director of Investment Management for a large multinational asset management company, where he oversaw corporate pension plan assets. Early in his career, Mike was a research analyst focusing on investment manager due diligence for the consulting divisions of several high-profile investment firms. Mike holds series 7, 24, and 66 designations, as well as the Chartered Alternative Investment Analyst (CAIA) designation. He is a graduate of Middlebury College with a degree in economics.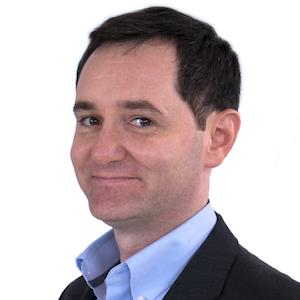 Andrew Cohen, CFA
Senior Director, Investment Strategy, E*TRADE Capital Management, LLC
Andrew Cohen is the Senior Director of Investment Strategy for E*TRADE Capital Management, LLC. Prior to joining E*TRADE, Andrew was the Director of Investments and Operations for a large Registered Investment Advisor, where his responsibilities included investment manager research, asset allocation, and portfolio construction. Previously, he was a Senior Research Analyst and Team Leader for a leading wealth management platform. He is a CFA® charterholder and a member of both the New York Society of Security Analysts and CFA Institute. He is a graduate of Virginia Tech with a BS in finance.
What to read next...
12/27/19
In 2019's most read investing article, Alice Milligan discussed the Kiplinger's results and outlined some broader trends in the online brokerage industry.
---
09/27/19
After drone attacks, Saudi oil production is nearing full capacity again. So why are oil prices still elevated?
---
09/18/19
In a nod to continued trade tensions and slowing global growth, the Federal Reserve on Wednesday lowered rates by an additional 0.25%.
---