Markets scare up an October win
Mike Loewengart, Vice President of Investment Strategy
E*TRADE Capital Management

11/01/19
A witch's brew of mixed economic signals failed to spook investors in October, propelling equities to another winning month.
Included in the cauldron of confliction was the third Federal Reserve rate cut of 2019, a marked decline in manufacturing activity, a pickup in consumer sentiment, and middling economic growth. When it was all said and done, investors managed to summon their resolve and throw caution to the wind.
US equities
US equities posted solid gains in October, powered in part by accommodative monetary policy, positive third-quarter earnings surprises, and hopes for a long-awaited breakthrough in US-China trade talks. The S&P 500® climbed to a record high in the final week of the month, with health care, information technology, and communication services leading the charge.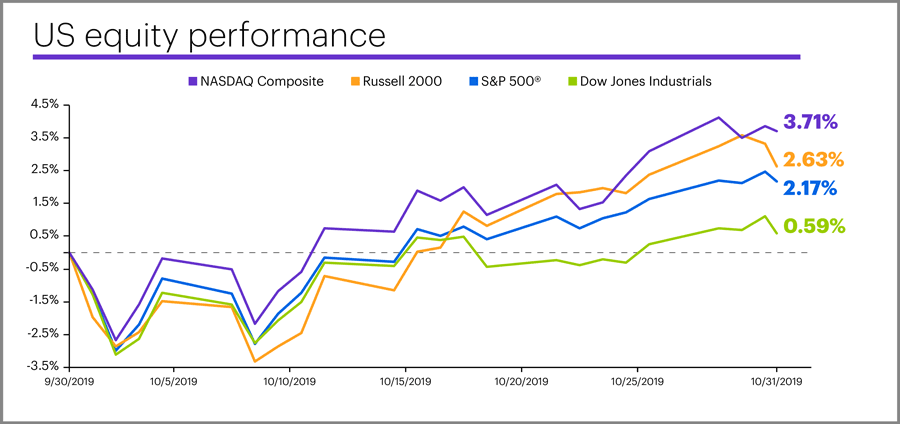 FactSet Research Systems
---
Once feared to have peaked, information technology was the month's best-performing sector and has gained a torrid 36% year-to-date—one of 10 sectors posting double-digit year-to-date gains through October. But the story wasn't all about growth. Small-cap value and growth stocks both gained more than 2.4% on the month—a sign of improving market breadth.1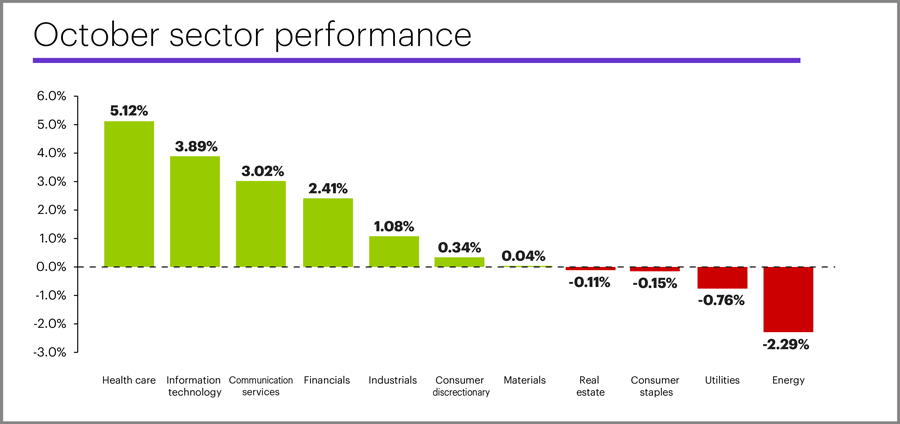 FactSet Research Systems
---
International equities
International equities also performed well in October, aided by Latin America—which is now outpacing Asian emerging markets for the year. In Europe, Brexit-related turmoil wasn't enough to shake returns, although investors now have a December general election to consider, which could have major ramifications for the United Kingdom's position in Europe.
Across both the developing and the developed world, aggressive monetary easing appears to have assuaged investor concerns for the time being. Nonetheless, the International Monetary Fund moderated its global growth forecast to the lowest level in a decade, citing rising trade barriers and mounting geopolitical tensions.2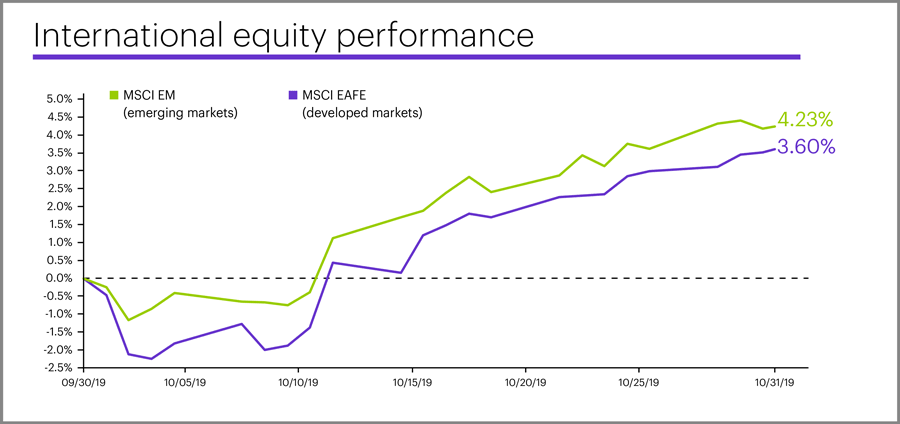 FactSet Research Systems
---
Fixed income
Fixed income returns were relatively flat in October amid a steepening Treasury yield curve and more bullish market sentiment. After inverting in August, the yield curve is beginning to normalize, with the yield spread between 2- and 10-year Treasuries widening by more than 0.15%. With the Fed likely to take a breather, Treasury yields may increasingly reflect investors' expectations about the economy, and another inversion in the yield curve can't be ruled out.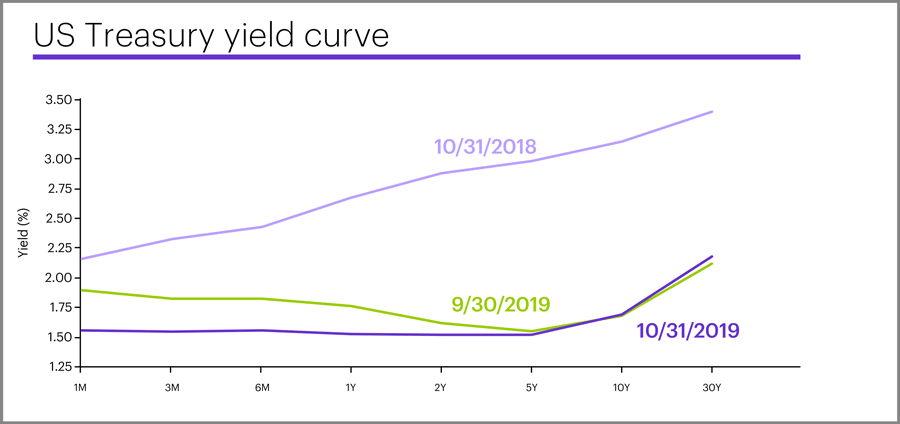 FactSet Research Systems
---
Looking ahead
With just two months left in 2019, investors will have plenty to focus on as the all-important holiday shopping season begins:
•  Consumer spending: Consumer spending comprises roughly 70% of gross domestic product, and the American consumer has been a major factor in propping up the US economy.3 Retail spending in September dipped for the first time in seven months, however, lending added importance to the upcoming holiday season.
•  Corporate earnings: Consumer spending could, in turn, determine the direction of corporate earnings, which are a decidedly mixed bag. Although there have been plenty of Q3 revenue and earnings beats, earnings are down from last year for the third straight quarter.
•  Is the Fed finished for now? After lowering interest rates for the third time this year, Federal Reserve Chairman Jerome Powell signaled an apparent change in posture, saying it will require a "material reassessment" of the Fed's outlook to justify another rate cut.4 Barring an unexpected market shock, investors should be prepared for rates to stay where they are for now.
There's been no shortage of disruptive headlines in 2019, but through it all, diversified investors have been able to look past the noise and persevere. Here's hoping the holiday season holds more of the same.
Thanks for reading, and we'll talk to you again next month.
Click here to log on to your account or learn more about E*TRADE's trading platforms, or follow the Company on Twitter, @ETRADE, for useful trading and investing insights. Online stock, ETF, and options trades are now commission-free.
1. FactSet Research Systems, November 1, 2019
2. International Monetary Fund, "World Economic Outlook, October 2019," October 1, 2019, https://www.imf.org/en/Publications/WEO/Issues/2019/10/01/world-economic-outlook-october-2019
3. Bloomberg, "U.S. Consumer Spending, Jobless Claims Suggest Some Caution," October 31, 2019, https://www.bloomberg.com/news/articles/2019-10-31/u-s-consumer-spending-jobless-claims-signal-caution-on-economy
4. Board of Governors of the Federal Reserve System, "Transcript of Chair Powell's Press Conference, October 30, 2019," October 30, 2019, https://www.federalreserve.gov/mediacenter/files/FOMCpresconf20191030.pdf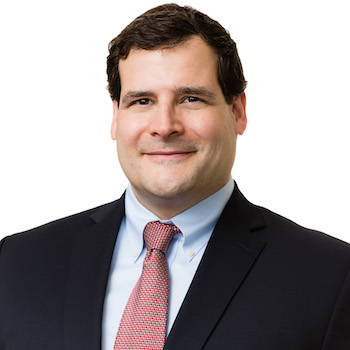 Mike Loewengart
Managing Director, Investment Strategy, E*TRADE Capital Management, LLC
Mike Loewengart is the Managing Director of Investment Strategy for E*TRADE Capital Management, LLC. Mike is responsible for the asset allocation and investment vehicle selections used in E*TRADE's advisory platforms. Prior to joining E*TRADE in 2007, Mike was the Director of Investment Management for a large multinational asset management company, where he oversaw corporate pension plan assets. Early in his career, Mike was a research analyst focusing on investment manager due diligence for the consulting divisions of several high-profile investment firms. Mike holds series 7, 24, and 66 designations, as well as the Chartered Alternative Investment Analyst (CAIA) designation. He is a graduate of Middlebury College with a degree in economics.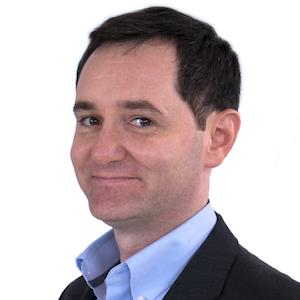 Andrew Cohen, CFA
Senior Director, Investment Strategy, E*TRADE Capital Management, LLC
Andrew Cohen is the Senior Director of Investment Strategy for E*TRADE Capital Management, LLC. Prior to joining E*TRADE, Andrew was the Director of Investments and Operations for a large Registered Investment Advisor, where his responsibilities included investment manager research, asset allocation, and portfolio construction. Previously, he was a Senior Research Analyst and Team Leader for a leading wealth management platform. He is a CFA® charterholder and a member of both the New York Society of Security Analysts and CFA Institute. He is a graduate of Virginia Tech with a BS in finance.
What to read next...
10/30/19
In what could be its last major move of the year, the Federal Reserve lowered rates for the third time in four months.
---
10/25/19
Young, tech-forward people are changing what it means to invest.
---
10/18/19
A tentative Brexit deal has been agreed upon, but many unresolved issues remain.
---