Manufacturing: The ghouls of October come early
A perspective from E*TRADE Securities
10/11/19
And just like that, September went up in smoke.
Last week, the major equity indexes ushered in October with a vicious downdraft not seen since late August. Beginning on October 1, the Dow Jones Industrial Average tumbled more than 800 points over the course of two days. By the time the dust settled, both the Dow and S&P 500® had fallen below their 100-day moving averages and given back all the previous month's gains.
The sell-off came on the heels of a resilient September that saw the markets overcome a host of obstacles to finish largely in the black, and it served as another reminder that the long-running economic expansion is fragile.
What's creating the volatility?
The immediate impetus for this volatility was a decline in US manufacturing activity. The ISM Manufacturing Purchasing Managers Index (PMI) came in at a tepid 47.8 in September—down 1.3% from the previous month's reading.1 (For context, anything below 50 generally indicates that manufacturing activity is contracting.) It was the PMI's lowest reading since June 2009 and represented the sixth consecutive decline in industrial output.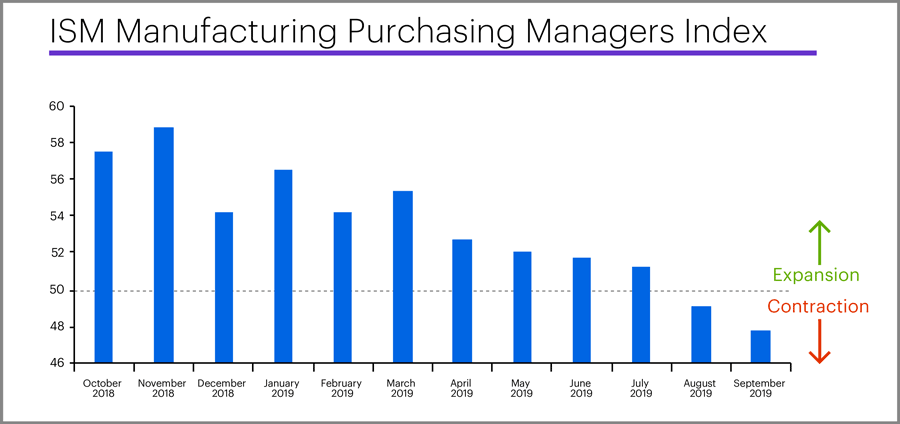 Data source: Institute for Supply Management
---
Rising inventories
But manufacturing activity is only part of the story. Inventories are also telling. The Federal Reserve Bank of St. Louis tracks the national business inventories-to-sales ratio, which is typically inversely correlated to industrial output. A rising ratio indicates that unsold business inventories as a percentage of sales are increasing—hinting at weak demand. Although it has leveled off recently, the inventories-to-sales ratio has been on a steady upward climb since June of last year—yet another indicator of manufacturing softness.2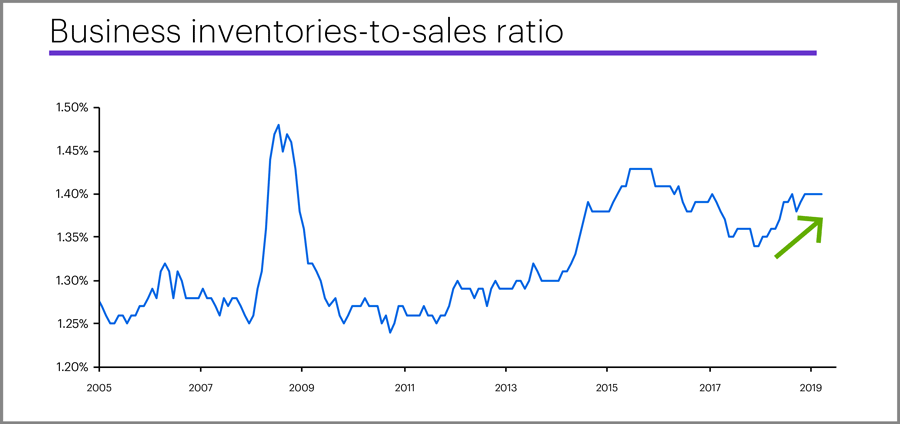 Data source: Federal Reserve Bank of St. Louis
---
In aggregate, the numbers don't necessarily point to recession, but they could be an indicator of a slowing economy.
According to the Institute for Supply management, "The past relationship between the PMI® and the overall economy indicates that the PMI® for September corresponds to a 1.5-percent increase in real gross domestic product (GDP) on an annualized basis."1
GDP growth of 1.5% would mark a sharp fall-off for an economy that has consistently expanded by at least 2% on an annualized basis over the past two years, and it could help prompt another Fed rate cut later this month.
Manufacturing recession?
In some ways, the current conundrum can be viewed as a manufacturing recession that's occurring even as the economy is adding jobs and unemployment has fallen to a 50-year low.3
How can these two conflicting forces be at work?
For starters, some of the biggest job gains in the latest employment report were in non-manufacturing service industries that employ lower-paid workers. This also showed up in average hourly earnings, which edged lower in September—even as the unemployment rate declined.3              
In addition, the ongoing trade war is taking a toll on both the economy and the markets. Tariffs on Chinese goods have significantly increased the price of manufacturing inputs, which has disrupted supply chains and crimped corporate profits. The World Trade Organization recently cut its estimates for global trade growth in 2019. If the forecasts come to pass, it would mark the weakest year for trade since 2009.4
The bottom line
Economic signals are decidedly mixed, which can lead to investor confusion. How recent trends ultimately play out could provide greater clarity.
•  Can value stocks extend gains? One of the notable trends to come out of September was the resurgence of value shares—stocks issued by firms with solid fundamentals that are trading below their intrinsic value. Whether this turns into a longer-term rotation remains to be seen. While value stocks are often sensitive to economic cycles, they can also do well in risk-off environments.
•  Keep an eye on the yield curve: The Federal Reserve Bank of New York maintains a model that estimates the risk of a recession based on the yield spread between 3-month and 10-year Treasuries. As of August 31, the New York Fed pegged the risk of recession in the third quarter of 2020 at 38% based on a negative 3-month/10-year yield spread—although that yield differential has narrowed over the last month.5
•  Trade tensions loom large: And, of course, we can't forget about the simmering trade war. An easing of US-China trade tensions could support the financial markets by stimulating global growth, and as the 2020 elections approach, the Trump administration could be motivated to ink a deal. But so far, progress on trade has proven elusive, and a recent decision to blacklist some Chinese tech companies in the US isn't helping matters.
So, here we are. The Fed is cutting rates amid fears of recession even as the economy expands and unemployment falls to historic lows. It's a mixed economic grab bag to rival any Halloween haul. A diversified portfolio has never looked so good.
Click here to log on to your account or learn more about E*TRADE's trading platforms, or follow the Company on Twitter, @ETRADE, for useful trading and investing insights.
1. Institute for Supply Management, "September 2019 Manufacturing ISM," October 1, 2019, https://www.instituteforsupplymanagement.org/ismreport/mfgrob.cfm?SSO=1
2. Federal Reserve Bank of St. Louis, "Total Business: Inventories to Sales Ratio," October 3, 2019, https://fred.stlouisfed.org/series/ISRATIO
3. Bureau of Labor Statistics, October 4, 2019, https://www.bls.gov/news.release/empsit.toc.htm
4. World Trade Organization, "WTO lowers trade forecast as tensions unsettle global economy," October 1, 2019, https://www.wto.org/english/news_e/pres19_e/pr840_e.htm
5. Federal Reserve Bank of New York, "The Yield Curve as a Leading Indicator," https://www.newyorkfed.org/research/capital_markets/ycfaq.html#/interactive
What to read next...
10/01/19
Stocks advanced in September despite formidable intrigue and obstacles.
---
09/27/19
After drone attacks, Saudi oil production is nearing full capacity again. So why are oil prices still elevated?
---
09/18/19
In a nod to continued trade tensions and slowing global growth, the Federal Reserve on Wednesday lowered rates by an additional 0.25%.
---