Russia-Ukraine: Mapping geopolitical uncertainty
Morgan Stanley Research
03/16/22
Summary: The conflict in Ukraine has already exacted a heavy toll. Though the outcome is unclear, the war will continue to weigh on global economies, with ramifications for central bank policy, energy, commodities and more. A look at the path ahead.
As 2022 began, the global economy appeared to be on a predictable course. With businesses reopening, labor tightening, and prices rising, many central banks around the world were poised to begin unwinding the fiscal and monetary support they dialed up during COVID-19 pandemic.
Now, Russia's invasion of Ukraine has dramatically changed many of these assumptions. It's taken a human toll of tragic proportions, driven energy and food prices higher, and created uncertainty around the world.
"Global inflation will be higher, and we see a direct drag on growth from higher commodity prices and possibly a further drag from uncertainty," says Seth Carpenter, Chief Global Economist for Morgan Stanley Research. For the time being, global growth should remain solid in 2022 and policy tightening advances will likely continue, he says, "but more caution is clearly called for."
Morgan Stanley economists have updated growth and inflation forecasts


Real GDP (%)
CPI (%)


2022E
2023E
Q4 2022E
Q4 2023E
Global
4.6
3.9
4.4

2.8
US
4.5
3.7
4.4
2.1*

Euro Area
3.0
2.3

5.3

2.3

Japan
2.3
1.4

1.7

1.2

China
5.3
4.7

1.9

2.2

Source: Morgan Stanley Research; *Based on 4Q/4Q
This sentiment is echoed by Morgan Stanley strategists, who believe market risks in 2022 will be front-loaded. Still, the outlook varies significantly by region and asset class.
"For those who are most negative on the market right now, the refrain is: Assets are still expensive relative to historical valuations; inflation is high and still rising; and central banks will need to raise rates to bring monetary policy back in line with the broader economy," says Andrew Sheets, Morgan Stanley Chief Cross-Asset Strategist. "And yet, these concerns appear very different depending on where you look in the world."
Morgan Stanley's global research team is monitoring events in Ukraine and their implications, and updating their outlooks as the news unfolds. Here are their observations based on the most recent events.

US outlook: Fed expected to stay the course
Inflation was a concern even before the conflict in Ukraine drove up energy prices and other commodities. Now, the Federal Open Market Committee must decide whether to prioritize curbing inflation or supporting growth—and investors appear to be divided on which way the Fed will go.
Morgan Stanley's take: "We think the Fed will prioritize growth over inflation, but stay the course for now on its intent to begin the hiking cycle in March," says Ellen Zentner, Chief US Economist. She and her team have not changed their baseline assumption, which forecasts a series of quarter point (25 basis point) hikes, for a total of 150 basis points this year and an additional 100 basis points in 2023.
What the Ukraine conflict has changed is the team's outlook for inflation and growth. They lowered their forecast for real GDP this year to 4.5% and are now forecasting a 4.4% increase in Consumer Price Index (CPI) inflation, up 40 basis points from their previous estimate.
Even before these developments, US strategists thought equity valuations were too high—and recommended that investors be more defensively positioned.
Morgan Stanley is forecasting a series of quarter-point US rate hikes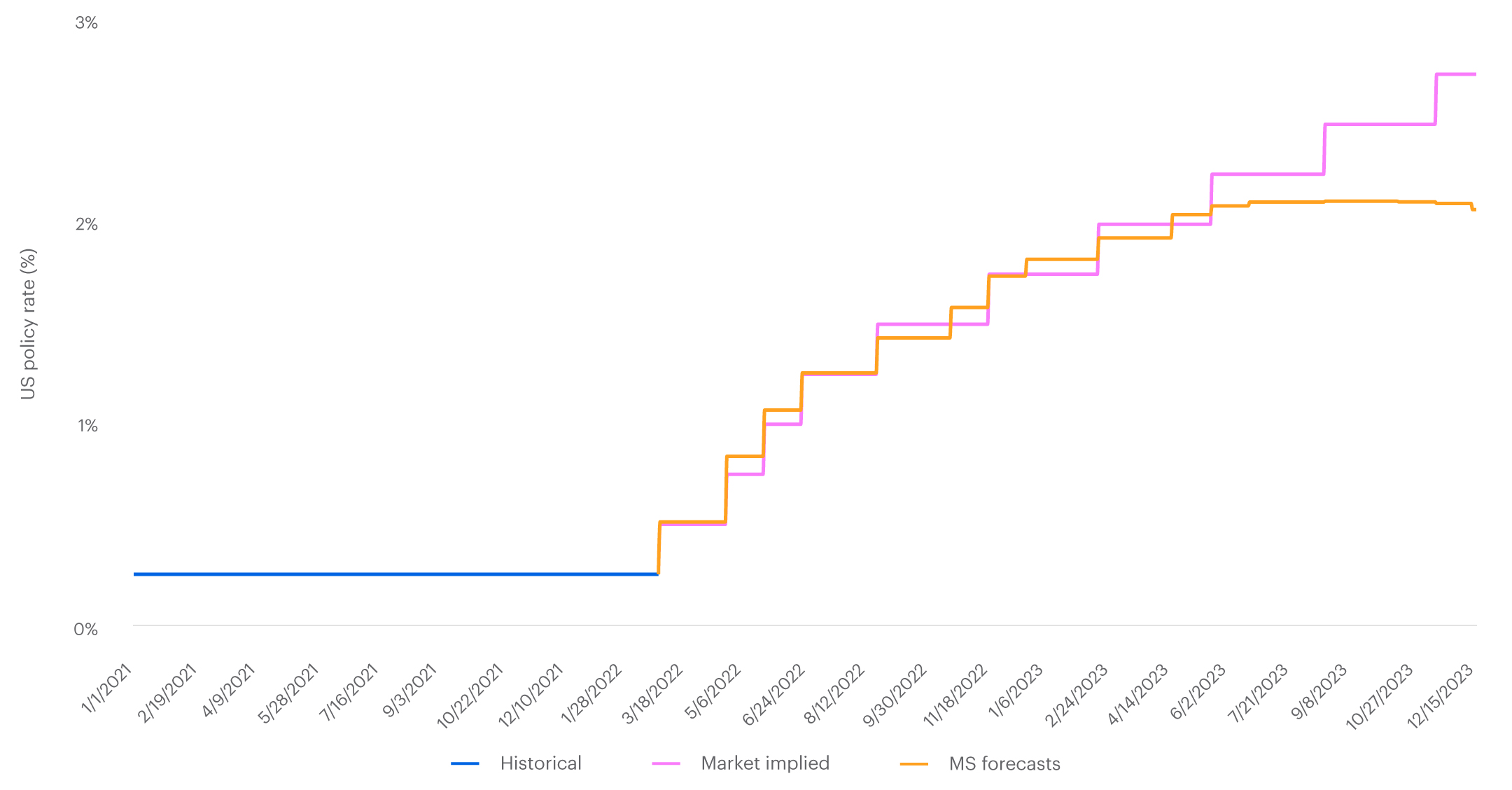 Source: Morgan Stanley Research forecasts
---
Europe: Grappling with supply shocks
The Ukraine conflict has created a sizable supply shock for key commodities for much of the world—but pricing pressure is most acute in the euro area. The region relies on Russia for a significant share of its natural gas and oil—and Ukraine for corn and wheat, among other commodities. 
As a result, Morgan Stanley's European economists have revised their inflation forecast up to 5.3% for 2022 and 2.3% for 2023. The economics team has also reduced their base case estimate for GDP growth, from 3.9% to 3.0%, noting that Germany and Italy could experience the biggest impact.
Yet the Morgan Stanley European Equities strategy team believes price-to-earnings ratios are increasingly attractive and see relatively limited risk to earnings forecasts. "Downside risks have risen but we think it too soon to rip up our macro playbook for this year," says Equities Strategist Graham Secker.
Asia: Better positioned, but still exposed
There are three primary channels by which Asia is impacted by geopolitical tensions elsewhere in the world—oil and commodity prices, financial conditions and corporate confidence, and trade.
From a macroeconomic perspective, most of Asia may actually be in a better position today than it was during previous periods of geopolitical tensions. In part, this is due to low inflation in many key markets. Prices in Asia are up a little over 2%, which is notable, given the 7% rise in the US.
Where the picture gets complicated is China. Morgan Stanley strategists note heightened concern toward China over geopolitical tension, a volatile property market, and ongoing Omicron issues in Hong Kong.
Within Asia, Japan may offer a brighter picture; equities are trading at a growing discount relative to recent history, while there is potential for positive earnings revisions.
CEEMA, CE3, and Latin America
Finally, the Central & Eastern Europe, Middle East, Africa (CEEMA) economics team has revised growth down and inflation up across the region given deteriorating growth and higher commodity prices. In the three Central European countries (CE3)—Czech Republic, Hungary, and Poland—economists expect shocks to exports since Russia is a main trading partner.
In Latin America, sizable and lasting commodity shocks are likely to drive inflation above Morgan Stanley's current economic forecasts. Still, the region's growth may be only mildly impacted; it's main trading partners are the US and China.
Bottom line: While conflicts like these take an unimaginable human toll, their implications for the markets tend to be short-lived. Although taking stock of your market exposure is never a bad idea, one of the biggest potential risks of a market shock is that it can distract investors from their longer-term goals. A balanced, diversified portfolio is a powerful tool for navigating the type of volatility and uncertainty we've witnessed recently.
Important note regarding economic sanctions. This research references country/ies which are generally the subject of comprehensive or selective sanctions programs administered or enforced by the U.S. Department of the Treasury's Office of Foreign Assets Control ("OFAC"), the European Union and/or by other countries and multi-national bodies. Any references in this report to entities, debt or equity instruments, projects or persons that may be covered by such sanctions are strictly informational, and should not be read as recommending or advising as to any investment activities in relation to such entities, instruments or projects. Users of this report are solely responsible for ensuring that their investment activities in relation to any sanctioned country/ies are carried out in compliance with applicable sanctions.

What to read next...
Find out how geopolitical risks may influence the investing landscape.
---