Fed funds tops 3%
Market Perspective: E*TRADE from Morgan Stanley
09/21/22
On Wednesday afternoon the Federal Reserve announced it was raising interest rates by 0.75%, matching its previous increase from July and bringing the Fed funds rate to a target range of 3%–3.25%—its highest level since 2008: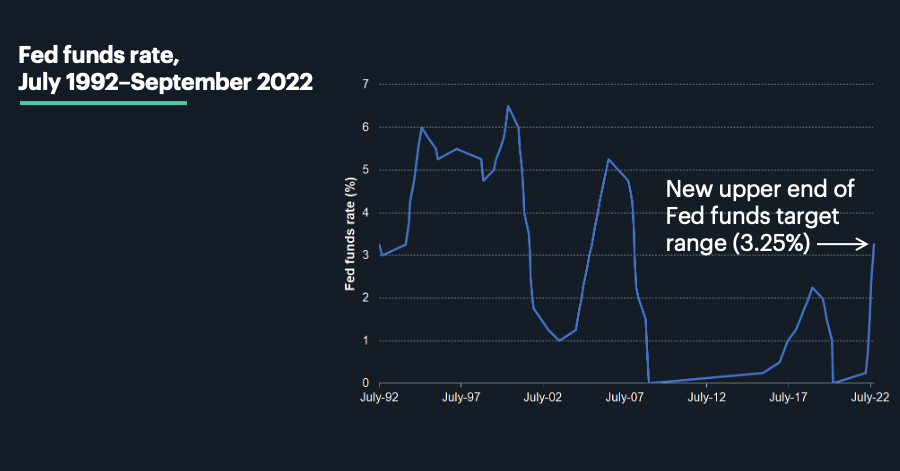 Source (data): www.federalreserve.gov. Reflects 0.75% hike announced 9/21/22. (For illustrative purposes. Not a recommendation.)
---
It's been nearly two months since the Fed's last policy meeting and rate hike, a period the central bank used to drive home the point that its battle against inflation was far from over. Since it launched the current tightening cycle in March, the Fed has increased its benchmark lending rate from zero to above 3%—the fastest it has moved in such a brief period since early 1981.
When the Fed raises interest rates, auto loans, credit card rates, and mortgages become more expensive for consumers, while businesses pay more to borrow money to fund operations or expand. That can make both consumers and businesses more conservative about spending—which may then cool the economy and, hopefully, drive down the prices of goods and services. The Fed's ongoing challenge is to accomplish this goal without tipping the economy into recession.
The following chart shows the S&P 500 (SPX) rallied for nearly two weeks after the Fed's March 16 rate hike, fell after the May 4 increase (although it closed sharply higher the day of the announcement), began rallying two days after the June 15 hike, and climbed after the July 27 announcement. Through Tuesday, the SPX had fallen more than 10% since the Fed began raising rates in March: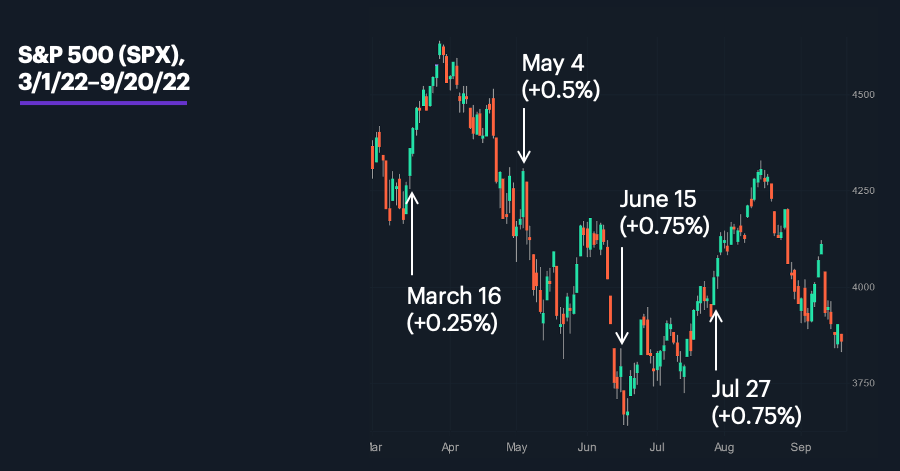 Source: Power E*TRADE. (For illustrative purposes. Not a recommendation.)
---
While inflation, interest rates, and the Fed have dominated financial discussions for months, Morgan Stanley Wealth Management has noted there are other factors at work, including "unrealistically high" earnings forecasts, that the market may have to work through before downside risk is significantly reduced.1 And although rising rates may continue to pressure growth and tech stocks, on the other side of the investment aisle, higher-yielding bonds are again providing ballast to portfolios.
As important as interest rate changes are, they shouldn't distract investors from maintaining a balanced, diversified portfolio that reflects personal goals and risk tolerance levels. The Fed is proving it is determined to hold its course. Investors should do the same.
Note: The Fed's next policy meeting is scheduled for November 1–2.
---
 1 MorganStanley.com. There's More to This Market Than the Fed's Next Move. 9/7/22. 6/10/22.
What to read next...
The Fed hasn't reached its destination yet, which means investors may be in for more of the bumpy ride they've experienced so far this year.
---
Fed hikes by 0.75%, brings Fed funds rate to highest level since 2018.
---
After two years of near-zero interest rates, the Federal Reserve's aggressive policy pivot has changed the market outlook. We break down the effects on bonds, stocks, and portfolios.
---