Fed downshifts on rate hikes
Market Perspective: E*TRADE from Morgan Stanley
12/14/22
On Wednesday afternoon the Federal Reserve announced it would raise interest rates by 0.5%—its seventh rate hike of 2022, but the first one smaller than 0.75% since May 4. The move brought the benchmark Fed funds rate to a target range of 4.25%–4.5%, its highest level since October 2007: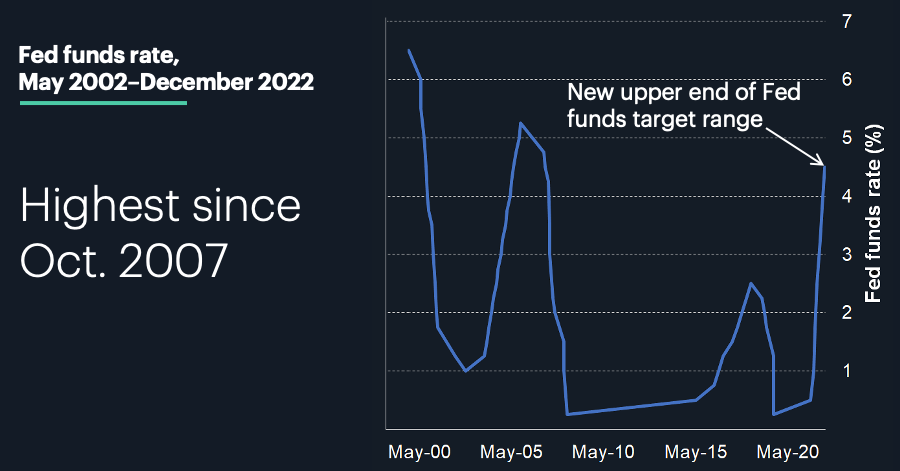 Source (data): www.federalreserve.gov. Reflects 0.5% hike from 12/14/22. (For illustrative purposes. Not a recommendation.)
---
After four straight 0.75% increases, the Fed telegraphed its intention to reduce the size of its rate hikes beginning this month, while also signaling its intention to continue tightening monetary policy until inflation is under control. Market watchers widely expect the Fed to raise rates at least two (and possibly three) more times before ending the current rate-hike cycle.
When the Fed raises interest rates, auto loans, credit card rates, and mortgages become more expensive, while businesses pay more to borrow money to fund operations or expand. That can make both consumers and businesses more conservative about spending—which may then cool the economy and, hopefully, drive down the prices of goods and services.
The Fed's ongoing challenge has been to accomplish this goal without tipping the economy into recession. Lower-than-expected October and November Consumer Price Index (CPI) readings were a positive sign, but inflation is still well above the Fed's 2% target rate,1 and the central bank is unlikely to significantly alter its course based on just two months of data.
As of Tuesday, the S&P 500 (SPX) was 7.8% lower than it was when the Fed began raising rates this year, but its movement after individual rate increases was mixed. The SPX rallied for nearly two weeks after the March 16 rate hike, fell after the May 4 increase (despite closing sharply higher on that day), began rallying shortly after the June 15 hike, climbed after the July 27 increase, fell after the September 21 hike, and turned higher two days after the November 2 increase: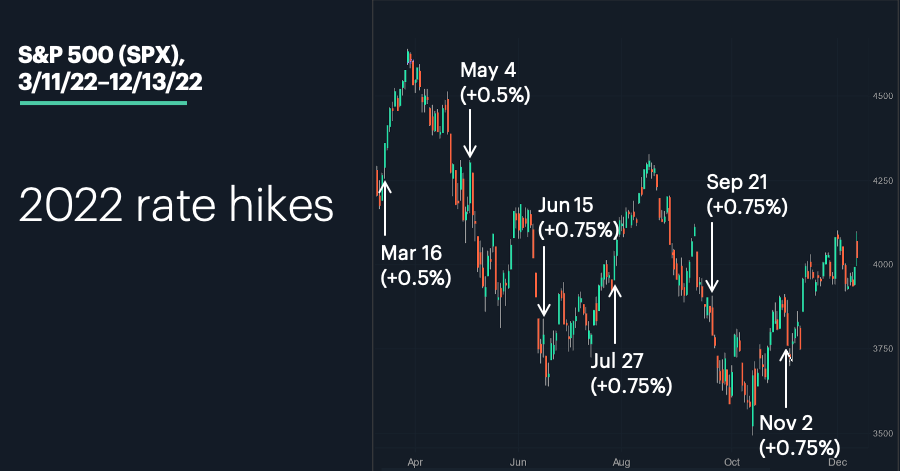 Source: Power E*TRADE. (For illustrative purposes. Not a recommendation.)
---
While Morgan Stanley & Co. analysts have argued the Fed may still be able to engineer a soft economic landing in 2023,2 that doesn't mean investors have seen the end of market volatility. The Fed appears to be approaching the rate-hike finish line, but it's not there yet—and even if the tightening cycle ends sooner rather than later, rates could remain elevated for quite a while before the Fed pivots to rate cuts.
As noted in "End-of-year-market themes," focusing on quality stocks and remaining disciplined and diversified remains an attractive strategy.
Note: The Fed's next policy meeting is scheduled for January 31–February 1.
---
1 As measured by the annualized change in the Personal Consumption Expenditures (PCE) Price Index.
2 MorganStanley.com. Is the U.S. Headed for a Soft Landing?  9/7/22.
What to read next...
Find out which themes are emerging as the markets prepare to wrap up a historic year.
---
Fed funds rate at highest level since 2008 as Fed hikes by 0.75% again.
---
What should investors have on their radar after a big month of market news?
---