Fed issues emergency rate cut
A perspective from E*TRADE Capital Management, LLC
03/03/20
In a historic and rare move, on Tuesday, March 3, the Federal Reserve issued an emergency rate cut in response to evolving economic risks posed by the coronavirus—effectively accelerating the market's expectations for the March 18 meeting. The Federal Open Market Committee (FOMC) slashed rates by half a percentage point, putting the federal funds rate in a target range of 1.0–1.25%. Chairman Jerome Powell noted that while the underpinnings of the US economy remain strong, the virus poses new threats to growth, and the situation has become "fluid."
This is a big deal—the Fed rarely cuts rates outside of its normal meeting schedule, and rarely more than a quarter percentage point at a time. The last time the Fed made such a move was in 2008—and we likely don't have to remind you about the economic turmoil the world faced then. The move came several hours after the Reserve Bank of Australia cut its benchmark lending rate to a record-low 0.5%, and in the wake of the Group of Seven (G7) nations pledging to use "all appropriate policy tools" to fight a global economic slowdown.1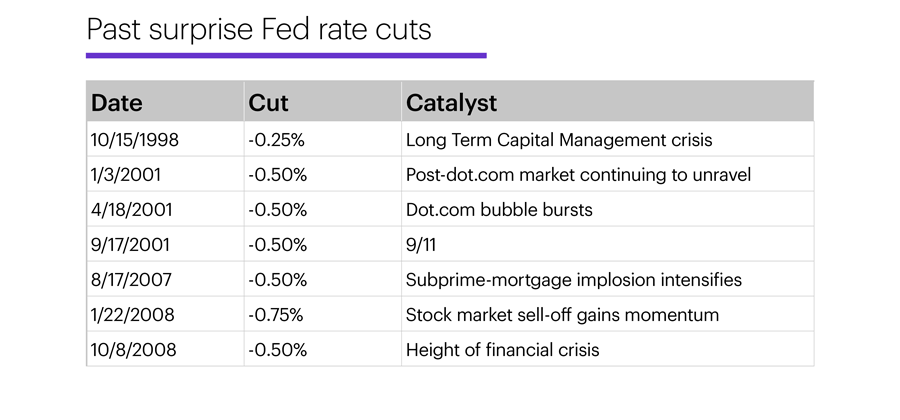 Past surprise Fed rate cuts
---
Looking ahead
Remember that conditions can change quickly and emotionally charged events like this virus can often exaggerate perceived market risks. History suggests the longer-term market impact of health scares is limited.2
Here are a few things we'll be keeping an eye on in the coming weeks:
Next stage of the coronavirus: The Italy outbreak has raised fears about widespread contagion across Europe. And while the US contends with emerging cases here at home, a decline in the number of new cases in China is at least a positive sign that the worst may be over at the epicenter. Bottom line, the coronavirus will certainly continue to make headlines in the coming weeks, and more near-term volatility is likely.
Guidance revisions: Despite better-than-expected Q4 earnings, several companies have now issued warnings that the outbreak will likely have a negative impact on their future profits. Apple, Mastercard, and Microsoft are among the high-profile corporations to cut growth forecasts because of the coronavirus. And while today's cut may benefit some sectors, any multinationals with supply functions overseas will likely still face headwinds.
The Fed: What happens next is somewhat up in the air, but market observers are now eyeing the Fed's next meeting on March 18 for additional rate cuts, while some are wondering if the bank will hike rates back up after the virus is contained down the road. Chairman Jerome Powell indicated in the subsequent press conference that the Fed will act as appropriate to keep the economy growing—and if today's actions are any indication, clearly they mean business.3 Bottom line: Stay tuned.
Investors should keep in mind that the Fed can't fight the virus and has little power to fix disrupted supply chains as a result of the outbreak. So while money just became significantly easier, the economy still faces a world of unknowns, and volatility is likely to continue to be the name of the game in the immediate future. That said, trying to time the market is a fool's errand. A diversified portfolio mapped against your risk tolerance and long-term goals is as good an armor as any for whatever comes the market's way.  
Financial Times, "Coronavirus latest: US stocks volatile after emergency Fed rate cut," March 3, 2020
Bloomberg.com. "Sharp and Short-Lived: The Impact of Health Scares on Markets," January 21, 2020, https://www.bloomberg.com/news/articles/2020-01-21/-sharp-and-short-lived-the-impact-of-health-scares-on-markets
CNBC, "Fed cuts rates by half a percentage point to combat coronavirus slowdown," March 3, 2020, https://www.cnbc.com/2020/03/03/fed-cuts-rates-by-half-a-percentage-point-to-combat-coronavirus-slowdown.html
---
Click here to log on to your account or learn more about E*TRADE's trading platforms, or follow the Company on Twitter, @ETRADE, for useful trading and investing insights. Online stock, ETF, and options trades are now commission-free.