Driverless tech picks up speed
A perspective from E*TRADE Securities
02/11/21
There's been enough action in the market recently that the latest trends in the automotive industry may have understandably fallen off the radar. But given recent developments out of Silicon Valley and Detroit, the autonomous driving space is picking up speed—and some investors may want to come along for the ride.
The latest developments
Self-driving cars are far from a new concept. Waymo, Alphabet's autonomous car division, and one of the leaders in the space, launched in 2009.1 And while it may have sounded futuristic then, self-driving vehicles seem to be a common investment theme in 2021. Take a look at headlines from just the past few weeks:
Ford announced plans to invest $7 billion in autonomous vehicles through 2025, with its CEO saying, "The transformation of Ford is happening and so is our leadership of the EV revolution and development of autonomous driving."2
Microsoft partnered with Cruise, General Motors' majority-owned autonomous car unit, to be the companies' preferred cloud provider. Microsoft CEO Satya Nadella noted, "As Cruise and GM's preferred cloud, we will apply the power of Azure to help them scale and make autonomous transportation mainstream."3
After reports circulated that Apple was working on a deal with Hyundai-Kia to manufacture an eponymous self-driving car, regulatory filings from the automakers revealed they were not, in fact, in talks with the tech giant. While the filings revealed that the car companies were "getting requests from multiple companies for cooperation in joint development of autonomous, electric vehicles," nothing has been finalized. Investors appeared disappointed: Shares of both South Korean automakers tumbled.4 Apple has reportedly been heads-down on developing a self-driving "Apple car" for years.
And of course, not to overlook the auto industry's biggest disruptor, Tesla projected in its Q4 earnings call last month that its self-driving technology (which is currently intended for use with a fully attentive driver) would eventually evolve to enable its vehicles to become a fleet of robotaxis.5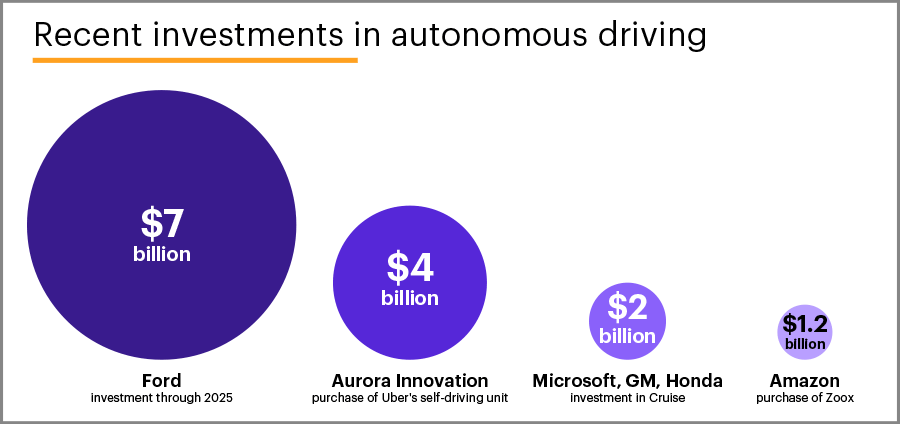 Robo what now?
Waymo's driverless fleet completed six million miles around the Phoenix metro area between 2019–2020.6 In October, the company launched its autonomous taxi program to the public, allowing anyone in Phoenix to request a driverless ride through its app.
Amazon, which acquired self-driving vehicle startup Zoox, is also looking to scale a program. Zoox unveiled its robotaxi in December, a four-passenger car without a steering wheel that can travel up 75 miles per hour.7 Some analysts anticipate autonomous driving technology could play an important role in Amazon's massive logistics network by making delivery cheaper and faster.
Autonomous tech is gaining traction beyond passenger use as well. Industrial heavyweight PACCAR, which designs and manufactures commercial-grade trucks, announced a partnership with Aurora Innovation (the Silicon Valley company that acquired Uber's self-driving division last year) for long-haul freight.8 Some industry experts predict faster adoption of autonomous driving in the trucking industry, where vehicles run on more easily repeatable highway routes than taxis in urban areas.
Potential bumps in the road
To be sure, as far as the autonomous driving space has come in the past decade, there is likely still a long road ahead. First, driving conditions in pilot cities like Phoenix are different than those in, say, Denver or Manhattan, where driverless vehicles could face challenges like severe weather or unexpected traffic situations. 
Regulation and safety standards may also be speed bumps. Consumer safety advocates say new rules should be implemented for autonomous vehicles, instead of exempting them from existing regulation. 
And of course, there's still much to be seen about the public's willingness to take up the driverless trend. While 94% of serious crashes are due to human error according to the National Highway Traffic Safety Administration,9 giving up control of the wheel may be easier said than done. 
Investing themes
Still, with some of the biggest companies in the world investing money and manpower to drive autonomous vehicles forward, many observers expect the impact to reverberate across a wide range of market sectors.
Traditional automakers: An important part of this story is how quickly the mainstay auto names will be able to develop this technology and transition their existing fleets to those increasingly equipped with driverless tech. Market participants at the leading edge of shifting industry dynamics may be better positioned for change, while those behind the trend could be left trying to catch up.
Big tech: Big tech is definitely playing a big role in the autonomous driving space, which opens the potential to tap a global auto and mobility market valued at $10 trillion.10 To put this into perspective, Apple would need only a 2% share of this market to be the size of their iPhone business, according to analysts at Morgan Stanley.10
Suppliers: As the saying goes, it takes a village. From semiconductors, to charging stations, to batteries, to hardware, the industries that support manufacturing and production will play a major role in making self-driving vehicles a reality. And there's indications that some of these businesses are picking up. For example, mobility solutions provider Aptiv and laser-based radar designer Veoneer reported Q4 earnings results that beat expectations.11
Auto insurers: The insurance industry could face big changes in its business model, especially if driverless technology turns out to be safer than human-operated vehicles. How insurers adapt to reflect liability changes could separate the gainers from the laggards.
Bottom line: With driverless tech in its infancy and widespread adoption uncertain, investments in this area can be highly speculative. It's important for investors to keep their hands on the wheel and consider the investment risks relative to their long-term goals, time horizon, and risk tolerance.
Click here
 to log on to your account or learn more about E*TRADE's trading platforms, or follow the Company on Twitter, 
@ETRADE
, for useful trading and investing insights. Online stock, ETF, and options trades are now commission-free.
Waymo.com, https://waymo.com/journey/
CNBC, "Ford boosts investment in electric and autonomous vehicles to $29 billion through 2025," 2/4/21, https://www.cnbc.com/2021/02/04/ford-f-earnings-q4-2020.html
CNBC, "Microsoft is investing and partnering with GM's Cruise on self-driving cars," 1/19/21, https://www.cnbc.com/2021/01/19/microsoft-invests-partners-with-gms-cruise-on-self-driving-cars.html
CNBC, "Hyundai, Kia shares tumble after automakers say they're not in talks with Apple to develop a car," 2/8/21, https://www.cnbc.com/2021/02/08/hyundai-kia-shares-fall-say-not-in-talks-to-develop-apple-car.html 
CNBC, "Elon Musk explains how self-driving robotaxis will justify Tesla's massive valuation," 1/27/21, https://www.cnbc.com/2021/01/27/elon-musk-explains-how-self-driving-robotaxis-justify-tesla-valuation.html
Cheddar, "Waymo Looks to Continue Expanding Autonomous Driving Tech Under Biden," 1/15/21, https://cheddar.com/media/waymo-looks-to-continue-expanding-autonomous-driving-tech-under-biden
CNBC, "Amazon Zoox unveils self-driving robotaxi," 12/14/20, https://www.cnbc.com/2020/12/14/amazons-self-driving-company-zoox-unveils-autonomous-robotaxi.html
Bloomberg, "Aurora Gets Autonomous-Truck Validation in Paccar Deal," 1/19/21, https://www.bloomberg.com/news/articles/2021-01-19/aurora-enters-partnership-with-paccar-for-driverless-trucks?sref=ANhy9MmA
National Highway Traffic Safety Administration, Benefits of Automation, https://www.nhtsa.gov/technology-innovation/automated-vehicles#topic-benefits
CNBC, "Apple and Hyundai-Kia pushing toward deal on Apple Car," 2/3/21, https://www.cnbc.com/2021/02/03/apple-and-hyundai-kia-driving-towards-deal-on-apple-car.html
Barron's, "Self-Driving Cars Are Coming. Earnings Figures Are the Latest Evidence." 2/3/21, https://www.barrons.com/articles/self-driving-cars-are-coming-aptiv-veoneer-earnings-make-it-clear-51612362993