Consumers and businesses: A tale of two economies
A perspective from E*TRADE Securities
11/15/19
There are many barometers of economic health, but it's often spending—either by businesses or consumers—that makes or breaks the economy.
Economists typically focus on consumer spending, and for good reason. Consumer spending makes up a whopping 70% of total US economic output, as measured by gross domestic product (GDP).1
When consumers stop opening their wallets, everyone takes notice.
But what about business spending? It may seem like apples and oranges, since business outlays comprise just 15% of GDP.2 But while business spending may not have the same impact as consumer outlays, it's still an important economic contributor and a meaningful indicator. And right now, it's pointing in the wrong direction.
The importance of capital spending
For the past few quarters, the US economy has largely been powered by American consumers, while business spending, also known as "capex"—short for capital expenditures—has been trending downward.
That's a concern, because while consumer spending represents the here and now, capital spending drives the nation's future productive capacity—including investments in plant, equipment, and technology.
When businesses stop investing, they're weighing in on economic growth prospects—especially when the pullback comes in concert with higher inventories and slumping manufacturing activity.
Consumer spending is on the rise
As you can see from the two charts below, the US is currently a tale of two economies. While consumers are holding their own, businesses are decidedly less sanguine.
According to the US Department of Commerce, personal consumer expenditures rose 0.2% in September, led by spending on health care and new motor vehicles.3 It was the seventh consecutive month of higher consumer spending, even as retail spending declined for the first time in the same period.4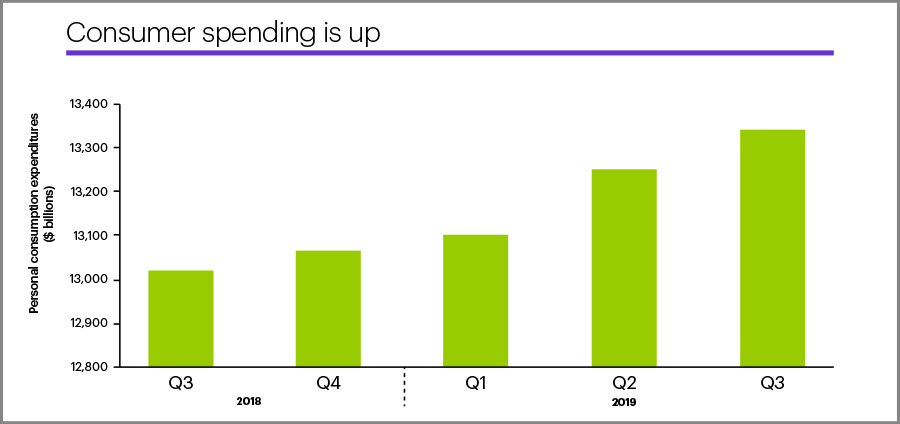 Source: Bureau of Economic Analysis, October 31, 2019
---
Capital spending: not so much
Conversely, growth in capital spending declined for the second straight quarter—the first time that has happened since early 2016, which preceded a market correction.2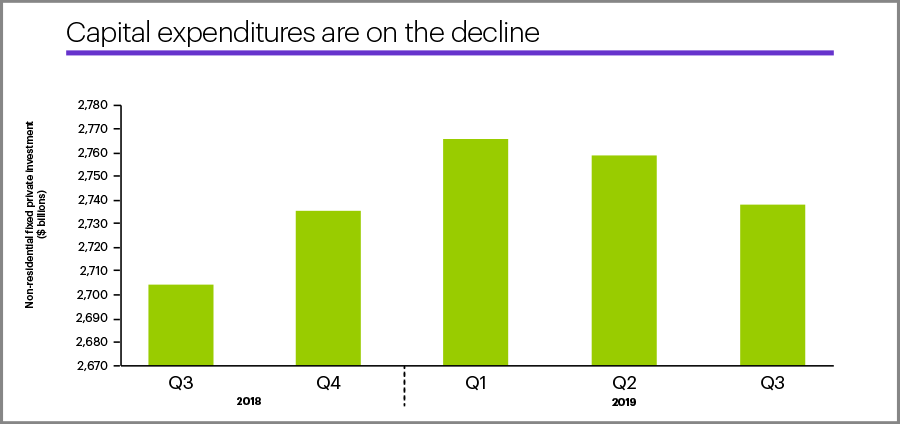 Source: Bureau of Economic Analysis, October 31, 2019
---
Manufacturing, trade woes adding to concerns
Perhaps just as worrisome, the decline in business expenditures comes in the early stages of what some are dubbing a manufacturing recession. The ISM Manufacturing Purchasing Managers Index (PMI) was down 1.3% in September—the lowest reading since June 2009 and the sixth consecutive monthly decline in industrial output.
Complicating matters is the US-China trade war, which has increased manufacturing input costs and squeezed corporate profits.
In the past week, investors cheered an apparent agreement between the US and China to roll back tariffs. No sooner was the news reported than President Trump threatened higher tariffs should the two countries not reach a deal.5 And so it goes.
The bottom line
•  Whither the trade war? Businesses are far less likely to invest during periods of uncertainty. And if there's a watchword for 2019, "uncertainty" fits the bill. For well over a year, investors have been told that a US-China trade truce was just around the corner. A resolution would most likely aid capital budgeting, but based on recent history, purchasing managers—and investors—shouldn't hold their breath.
•  Sector allocations: Business spending trends—and some economic forecasts—would seem to foretell economic slowing. If those economic forecasts are accurate, sectors less sensitive to cyclical changes, such as consumer staples and health care, could ultimately stand to benefit.

•  Interest rate environment: Lower interest rates decrease the cost of financing and can spur business investment. Amid lower interest rates, corporate bond issuance has been on a torrid pace. In early September, a record $74 billion of new investment-grade bonds were sold in one week alone.6 And that was before another Fed rate cut. Although there isn't necessarily a direct correlation, increased corporate borrowing could help turn the tide on capital spending.
As the holiday season kicks off, all eyes will be on the American consumer. But amid the hubbub of Black Friday and Cyber Monday, the spending patterns of American manufacturers may also warrant a closer look.
Click here to log on to your account or learn more about E*TRADE's trading platforms, or follow the Company on Twitter, @ETRADE, for useful trading and investing insights. Online stock, ETF, and options trades are now commission-free.
---
1. Bloomberg, "U.S. Consumer Spending, Jobless Claims Suggest Some Caution," October 31, 2019, https://www.bloomberg.com/news/articles/2019-10-31/u-s-consumer-spending-jobless-claims-signal-caution-on-economy
2. Legg Mason, "U.S. economy: Slumping CAPEX, November 1, 2019, https://www.leggmason.com/en-us/insights/chart-of-the-week/us-economy-slumping-capex.html
3. Bureau of Economic Analysis, "Personal Income and Outlays, September 2019" https://www.bea.gov/news/2019/personal-income-and-outlays-september-2019
4. U.S. Census Bureau, "Advance Monthly Sales for Retail and Food Services, September 2019," October 16, 2019, https://www.census.gov/retail/marts/www/marts_current.pdf
5. The Wall Street Journal, "Tariffs on China Imports Emerge as Hurdle to Trade Deal," November 12, 2019, https://www.wsj.com/articles/trump-says-u-s-china-close-on-phase-one-of-trade-deal-11573584025
6. Bloomberg, "High-Quality Companies Are Selling Bonds at Fastest Pace Ever," September 5, 2019, https://www.bloomberg.com/news/articles/2019-09-05/high-quality-companies-are-selling-bonds-at-fastest-pace-ever
What to read next...
11/08/19
Despite some positive surprises, S&P 500 earnings are down for the third straight quarter.
---
11/01/19
Mixed economic signals failed to spook investors in October
---
10/30/19
In what could be its last major move of the year, the Federal Reserve lowered rates for the third time in four months.
---