Brexit: It's time to deal as Halloween deadline nears
A perspective from E*TRADE Securities
10/18/19
If uncertainty is the financial markets' bane, Brexit is the perennial wildcard. After more than two years of promises and postponements, another Brexit deadline is approaching.
This time, investors can at least see the outlines of progress. Futures traded higher shortly after a tentative deal between British Prime Minister Boris Johnson and the European Union was announced, underscoring investors' desire for a resolution. But obstacles remain, and ratification of the draft deal is anything but certain.
The waiting game
The referendum that set the stage for the UK's eventual exit from the EU—colloquially known as "Brexit"—was held on June 23, 2016. At the time, it was assumed that a 2019 Brexit deadline would provide sufficient time for the UK to negotiate a well-coordinated divorce.
But after each of former British Prime Minister Theresa May's proposals was defeated in Parliament, the initial March 2019 Brexit deadline was pushed back to April and eventually to October 31. Now, after a summer of chaos at 10 Downing Street, consensus on Brexit remains elusive.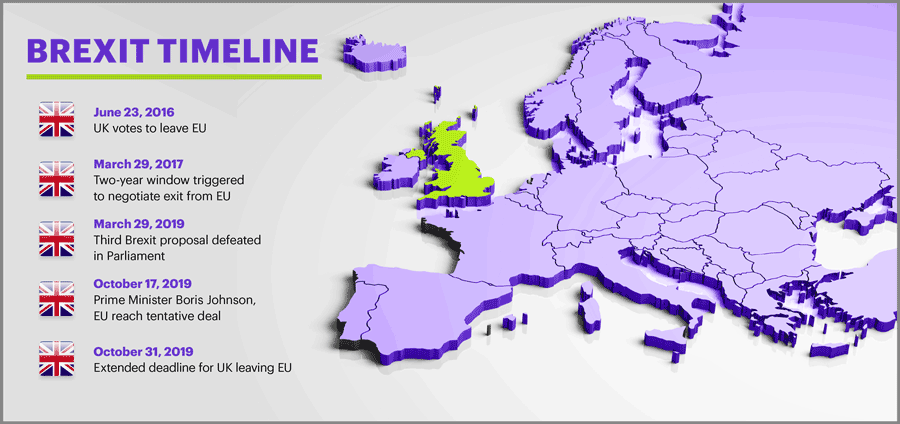 Why can't the two sides figure this out?
The primary stumbling block to a Brexit deal is the border between Northern Ireland, which is part of the UK, and the Republic of Ireland, which is not.
As it stands now, UK citizens—including those in Northern Ireland—can venture into Ireland as easily as Minnesotans can cross into Wisconsin. And because both countries are EU members, there are no customs duties collected on cross-border trade.
Post-Brexit, that will change. Some form of border checks will need to be established, since the free-trade provisions of the single market will no longer apply. Customs duties will need to be collected. Food and drugs will be subject to inspection. Regulatory standards will differ.
Why does the border matter?
Here's where history comes into play: Economic integration and an open border have helped keep the peace in Northern Ireland following 30 years of violence that ended with the Good Friday Agreement of 1998. And no one wants to mess with a good thing.
Therein lies the quandary—how to establish checks along the only land border between the EU and the UK without inflaming old tensions. In other words, how can a hard border be avoided?
Potential solutions
British MPs have weighed several options—each with different implications for the markets.
•  No-deal Brexit: Otherwise known as "winging it," a no-deal Brexit would cast the UK into the great unknown—a risky proposition with no framework for regulating commerce and no resolution to the thorny border issue. Because of the potential for economic disruptions and worse, a no-deal scenario poses significant market risk.
•  A customs union: Known as the "backstop," a customs union would allow for continued free trade between Northern Ireland and the Republic of Ireland by keeping Northern Ireland in the single market of the EU. For many, this seems a reasonable solution that could limit market disruptions. But for hard-core Brexiteers, it's a trap that keeps the United Kingdom tethered to the European Union—with no say in how it operates. As long as Boris Johnson remains Prime Minister, it's dead on arrival. ­
•  A modified customs union: How about something that operates like a customs union but outside the auspices of the EU? This is similar in some respects to the backstop but allows Brexit proponents to sell it as a clean break. Prime Minister Johnson and the EU have tentatively settled on this arrangement, but both the Labour Party and the Democratic Unionist Party of Northern Ireland have reservations.
•  Another delayed Brexit: Given pushback to the draft deal, another delay can't be ruled out. Ironically, that could result in less near-term market volatility.
Regardless of timing, Brexit carries uncertain investment ramifications. Investors who believe Brexit could be disruptive may wish to avoid UK multinationals after a deal is inked. The EU has trade deals with more than 70 countries, but the UK will benefit from none of them after Brexit. For the risk averse, a healthy serving of conservative bond funds might also be in order. Think Brexit will be a boon for the UK? ETFs dedicated to UK-domiciled companies are available.
It seems laughable now, but leaving was supposed to be the easy part; the real pain was expected to come after the divorce.  
If recent history is any guide, the only sure things in any Briton's life will be death, taxes, and an endless Brexit.
Click here to log on to your account or learn more about E*TRADE's trading platforms, or follow the Company on Twitter, @ETRADE, for useful trading and investing insights. Online stock, ETF, and options trades1 are now commission-free.

What to read next...
10/11/19
Weak manufacturing numbers have triggered recent market volatility. How concerned should investors be?
---
10/01/19
Stocks advanced in September despite formidable intrigue and obstacles.
---
09/27/19
After drone attacks, Saudi oil production is nearing full capacity again. So why are oil prices still elevated?
---