Will market ride blue wave?
A perspective from E*TRADE Securities
01/14/21
Back in November, investors appeared to shake off weeks of election jitters as stocks rallied amid the likelihood of a divided government creating gridlock in Washington. 
Flash forward to the first week of 2021, when the major US benchmarks soared to new records after Democrats claimed both Senate runoff races in Georgia, giving them control of both Houses of Congress along with the presidency.
What, then, does the political landscape actually mean for the Street? 
Here's the deal. 
Congressional breakdown
First of all, clarity doesn't hurt. The conclusion of Georgia's runoffs and the confirmation of President-elect Biden's win by the Electoral College officially put this contentious election cycle in the rearview mirror. 
Second, the Democratic sweep isn't without limitations. The majority is narrow in the House of Representatives (222 Democrats vs. 211 Republicans1) and razor thin in the Senate, where the seat count is split 50-50, with Vice President-elect Kamala Harris holding the deciding vote in the event of ties.2 Most legislation in the Senate requires 60 votes to advance, although some budget-related bills, including tax legislation, can pass with a simple majority.2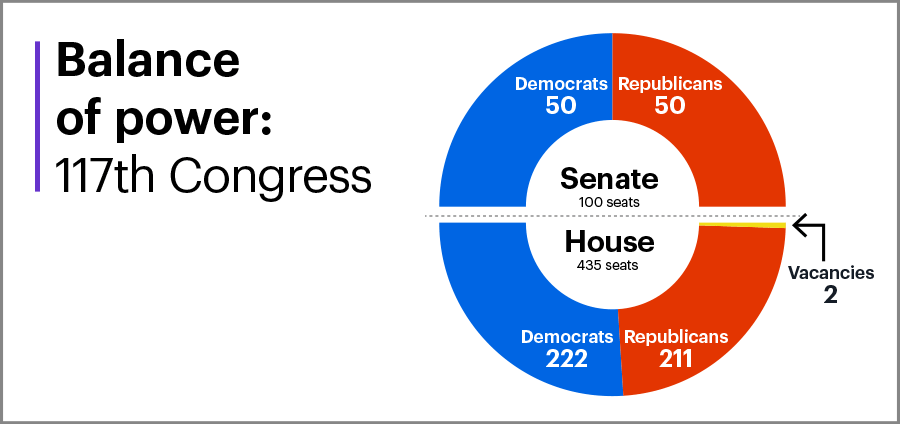 This may place more power at the hands of moderates in both parties and suggests legislative agendas may favor less-controversial, middle-of-the-road proposals.
Policy implications
Nonetheless, Democratic control of Congress means the Biden administration's policies have a much better chance of crossing the finish line than they would under a divided government. A few key topics may be particularly interesting to investors: 
Stimulus: A unified Democratic front increases the odds of more stimulus and economic relief—especially after December's jobs report showed the first contraction in the labor market since April.3 President-elect Biden has proposed following up the $900 billion package passed last month with trillions of dollars of additional aid to Americans and small businesses,4 and some analysts expect Democrats will also push to get more funds to state and local governments.
Tax reform: The power shift on Capitol Hill brings taxes back into the picture. While Biden campaigned for higher taxes for corporations and high earners, significant increases seem unlikely with any one Democratic senator effectively able to block them by objecting. That doesn't mean tax hikes are off the table entirely, but they would likely be more moderate than Biden's campaign proposals—and take a backseat to the pandemic and recovery efforts. This is generally viewed as a positive for the market and the stocks that comprise it.
Regulatory oversight: Another one of Wall Street's perennial fears about a Democratic-controlled Congress is tighter regulation on Corporate America—not necessarily a linchpin of the Biden campaign, but a longstanding item on the Democratic agenda. In fact, lawmakers on both sides of the aisle have raised concerns about Big Tech practices, which may face more scrutiny in light of recent events. Other industries like financial services and traditional energy may also be subject to increased oversight, but again, sweeping reform is less likely given the margins in both chambers.
Geopolitical relations: While much remains to be seen about how the new administration will address the US-China relationship, some analysts anticipate Biden may look to relax trade tensions, at least partially scaling back tariffs and restrictions on Chinese tech firms.5 However, the "tough on China" stance is bipartisan and will likely persist, meaning any changes may take time to play out.
Investing considerations
So, what does this mean for the market and investors' portfolios? In the grand scheme of things, the outcome of this election is unlikely to affect the long-term performance of a well-balanced investment portfolio. Macro factors like the course of the virus and vaccine rollout may continue to drive the market in the early stages of recovery. 
That said, presidential and congressional priorities may affect the economy and Wall Street in a few notable ways, presenting potential opportunities and risks for investors—at least for the next year, before politicians set their sights on the 2022 midterm elections. A few areas to watch:
Economically sensitive sectors: The market's initial reaction to the Georgia Senate runoffs—a huge rally, led by small caps and financials—suggested the possibility of more stimulus may help keep a fire under cyclical stocks (sectors that usually ebb and flow with the economy, such as energy, financials, industrials, and materials, as well as small caps). While policy experts widely expect another round of aid will be a top priority for the Biden administration, Democrats will need the full support of party moderates to get more contentious concessions like state aid and $2,000 direct checks out the door.
Green alternatives: Democratic control in the Senate may put climate change and clean energy initiatives back on the table—especially if Biden pushes sustainable infrastructure spending as part of an economic relief plan. Many clean energy stocks rallied in the weeks leading up to the November election as Biden led the polls, before pulling back amid expectations that a divided government would likely block any major green deals.
Big Tech: Potential for corporate tax hikes and stricter regulation, plus rising interest rates that tend to follow brighter economic prospects, may present challenges for the high valuations of some mega-tech stocks. To be sure, increased reliance on technology and digital infrastructure isn't likely to go away any time soon, so while these stocks may not fall out of favor, some believe their outperformance relative to the broad market may shrink. 
As with any leadership transition, there are likely to be some bumps in the road. Volatility should be taken in stride, keeping in mind that talk of significant and sudden change is often overblown. When it comes to politics and investing, the best approach may be to tune out the noise and keep decisions focused on personal timelines, goals, and risk tolerance.
Click here
 to log on to your account or learn more about E*TRADE's trading platforms, or follow the Company on Twitter, 
@ETRADE
, for useful trading and investing insights. Online stock, ETF, and options trades are now commission-free.
US House of Representatives, Press Gallery, Party Breakdown, https://pressgallery.house.gov/member-data/party-breakdown
The Wall Street Journal, "What Happens When the Senate Is Split 50-50?" 1/6/21, https://www.wsj.com/articles/what-happens-if-the-senate-is-split-50-50-after-the-georgia-runoffs-11609965242
CNBC, "Economy sees job loss in December for the first time in eight months as surging virus takes toll," 1/8/21, https://www.cnbc.com/2021/01/08/jobs-report-december-2020.html
The Wall Street Journal, "Biden to Outline Covid-19 Relief Package Next Week," 1/8/21, https://www.wsj.com/articles/biden-to-outline-covid-19-relief-package-next-week-11610134395
Harvard Business Review, "What Will the U.S.-China Relationship Look Like in the Biden Era?" 1/7/21, https://hbr.org/2021/01/what-will-the-u-s-china-relationship-look-like-in-the-biden-era
What to read next...
01/04/21
With 2020 finally in the rearview, we're looking toward 2021. Here are a few key themes for investors.
---
12/17/20
The Fed just wrapped its final meeting of an extraordinary year. What will it be watching in 2021?
---
12/10/20
The pressure is on companies to advance D&I. Interested in aligning investments with values? Here's some food for thought.
---