Avoiding the tech trap
A perspective from E*TRADE Securities
02/21/20
At the outset of 2000, the five biggest companies in the S&P 500®—General Electric, Exxon, Pfizer, Citigroup, and Cisco—together accounted for roughly 14% of the index's market capitalization.1 At the time, Apple, on the brink of bankruptcy, had just received a $150 million loan from Microsoft. Alphabet wasn't Alphabet yet, it was Google—and it was a brand-new company. Online bookstore Amazon had recently branched out into selling electronics and music. And Facebook wasn't even a gleam in 15-year-old Mark Zuckerberg's eye.
Twenty years later, though, these five tech giants (Microsoft, Apple, Alphabet, Facebook, and Amazon) dominate the S&P 500, making up 18% of its market cap—and drawing comparisons to the dot-com bubble at the start of the Millennium.
With such unprecedented concentration in a handful of companies, some market observers have begun to question whether it could be a harbinger of another potential crash, or at the very least, cautioning investors to take a fresh look at how chasing potentially inflated areas of the market can have negative consequences in the event stock prices start moving lower. 
Concentration risks
The S&P 500 is a capitalization-weighted index, meaning the stocks with the biggest market caps have the most impact on it. For example, Apple and Microsoft, which gained 86% and 55% respectively last year, contributed nearly 15% to 2019's gangbusters return2—in fact, the five tech giants combined accounted for more than 20% of the S&P's 31% advance.1 And while this doesn't mean that smaller stocks aren't rallying as well, it does highlight just how much their larger peers can dominate the market.
It also means that individual investors looking to mirror the S&P in an effort to be well diversified— potentially through index funds or ETFs—may find themselves overly concentrated in the tech industry without even knowing it.
But does the concentration in a few big tech names mean a bubble is about to burst? Some analysts say probably not.
Fundamentals at the forefront
One difference between now and the dot-com era is corporate fundamentals. Despite their recent gains, valuations for today's top companies aren't necessarily approaching the concerning levels of the late 1990s and early 2000s.
For example, when Microsoft, Cisco, General Electric, Intel, and Exxon accounted for 18% of the S&P's market cap in March 2000, they were trading at 47 times expected earnings.3 Today's top five trade at 30 times expected earnings. So, while the current tech behemoths are certainly not cheap, they also aren't as overvalued as the key players were in 2000.
Earnings also suggest the core components of today's tech firms remain solid. Apple, for instance, reported its highest-ever quarterly revenue in Q4 due to strong demand for the iPhone,4 while Amazon's cloud business and Microsoft's Windows continued to fuel company revenues.5,6 Even Alphabet and Facebook, which arguably had less stellar quarters than the others, still saw growth in the key pillars of their businesses.7,8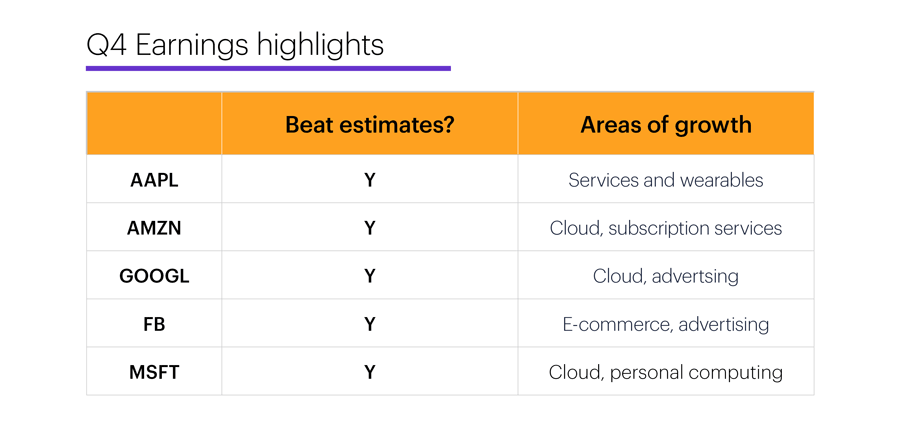 Maintaining this record growth will be no mean feat as some of these companies face mounting hurdles, such as regulatory scrutiny, antitrust probes, and privacy concerns. But for now, prices appear to be in line with the underlying fundamentals. 
Takeaways
Tech stocks can be volatile during market downturns, and in "risk-off" periods they can lead the market to the downside. Cue the recent pressure after Apple announced it does not expect to meet its quarterly revenue forecast amid the coronavirus outbreak in China. Shares fell as much as 3.2%, helping send both the Dow Jones Industrial Average and the S&P into the red.9
So, how can investors avoid chasing potentially overbought areas of the market? One idea could be to look for themes from these companies' success and apply them to their own portfolios. Which areas of these businesses are growing, for example? Which aren't? Investors could also consider diversifying across areas of technology that may not be as heavily represented as the major players. A few observations:
Cloud computing, "wearables," connected devices stand out. One takeaway from the recent earnings reports of big tech is the growth of cloud technology. Amazon Web Services—the company's cloud computing arm—grew by 34% last quarter.5 Alphabet's cloud business was up 53% from 2018, and made at least five acquisitions over the course of 2019.8 Another area of growth appears to be highly connected devices (watches, headphones, thermostats, you name it). Intrepid investors may see opportunity to diversify with companies that specialize in these areas.
There are cap-weighted alternatives. The proliferation of ETFs not weighted by market cap can help investors diversify away from big tech. For example, equal-weighted ETFs value each component uniformly, and smart beta ETFs replicate indexes but determine which stocks to own and in what weight based on fundamental metrics as opposed to just size.
Balance is important. Although it may be hard to transition from a "growth at all costs" mentality, diversification is critical. Big tech companies have come to be synonymous with growth stocks—which focus on maximizing profits and driving growth, but often at a high price point. And while these stocks have outperformed their value peers in the past decade, over the longer term, value stocks—companies with solid fundamentals that may be undervalued—have gained an edge.10 Maintaining a mix of both may help investors avoid overexposure to certain businesses or industries.
Bottom line: While a few big names may have some sway with today's market, investors can help control their portfolios with a diversified mix of assets that are aligned to long-term goals and risk appetite.
Click here to log on to your account or learn more about E*TRADE's trading platforms, or follow the Company on Twitter, @ETRADE, for useful trading and investing insights. Online stock, ETF, and options trades are now commission-free.
---
What to read next...
02/14/20
As China grapples with major health scare, much of the impact remains unknown. We look to past events for perspective on what it may mean for the market.
---
02/03/20
After a strong start, stocks retreated in late January amid coronavirus fears.
---
01/29/20
In its first meeting of 2020, the Federal Reserve opted to leave the overnight fed funds rate unchanged.
---