Rate spike jump-starts banks
The 10-year Treasury yield jumped to three-month highs this week
Bank stocks have surged along with rates, with many breaking out of ranges
The importance of specific market catalysts shifts over time
There are always multiple forces at work in the markets, although sometimes a single catalyst can temporarily override—or realign—the other factors.
On September 20, for example, a US stock market that had been pulling back for two weeks suffered its worst day in months amid worries about the global financial risk posed by the possible default of debt-heavy Chinese real estate company Evergrande.1 The S&P 500 (SPX) dropped nearly 3% intraday and closed down 1.7%. While Evergrande certainly wasn't the only thing going on at the time, that day it arguably helped tip scales that were already tilting toward the bearish side.
With that in mind, let's look at a chart of U.S. Bancorp (USB), which broke out above the top of a three-month trading range this week just a few days after testing its bottom on September 20. Although the stock was down around 0.7% halfway through Tuesday's trading session, it had already rallied to its highest level since June 1—a six-day, 10.7% upside pivot: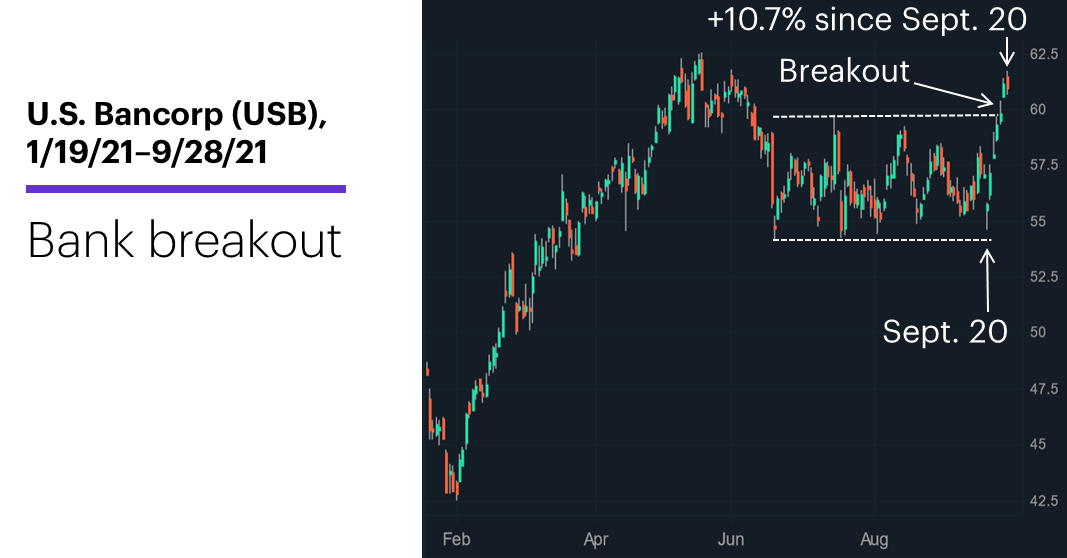 Source: Power E*TRADE (For illustrative purposes. Not a recommendation.)
---
Meanwhile, the SPX was down roughly 2% at yesterday's midpoint.
Someone who hadn't been paying much attention to the stock market in general and bank stocks in particular may have stumbled across this chart and thought USB had given a sneak preview of great earnings, or been the beneficiary of some other piece of bullish news.
But as the following chart shows, the 10-year T-note yield index (TNX), which had been edging higher since early August, broke out of its own consolidation late last week and, at yesterday's high, had surged roughly 17% over the course of six days: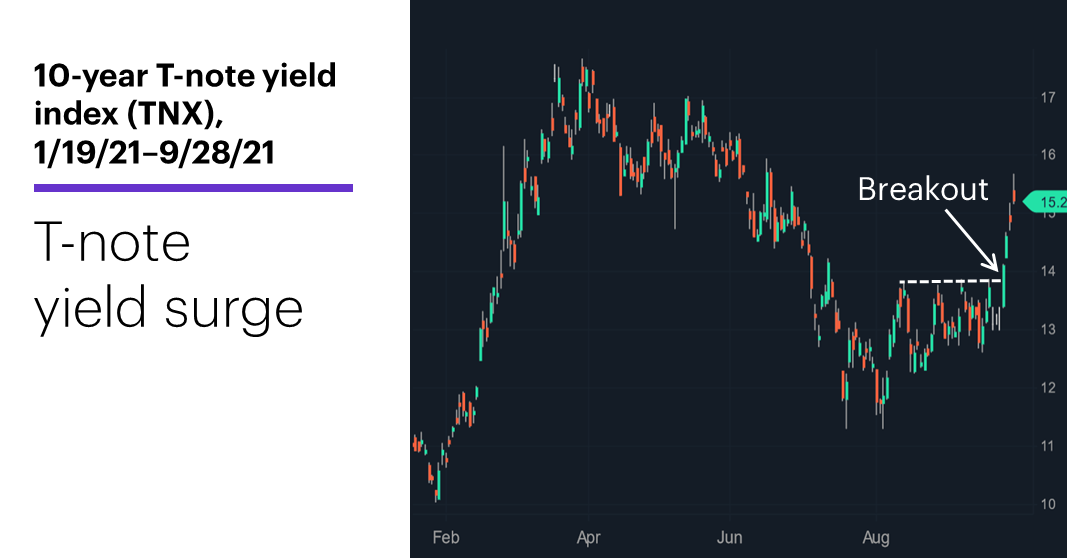 Source: Power E*TRADE (For illustrative purposes. Not a recommendation.)
---
The idea that a rise in long-term interest rates is again a primary catalyst in the stock market is supported by both the jump in stocks (like financials, and especially banks) that stand to benefit from higher interest rates, as well as the weakness in the broader market—but particularly tech and other growth stocks—that tend to underperform as rates rise.
And lest anyone think the similarity between the two charts is coincidental, the chart below shows the 10-year yield and USB along with two other bank stocks, Citizens Financial Group (CFG) and KeyCorp (KEY), dating back to last October: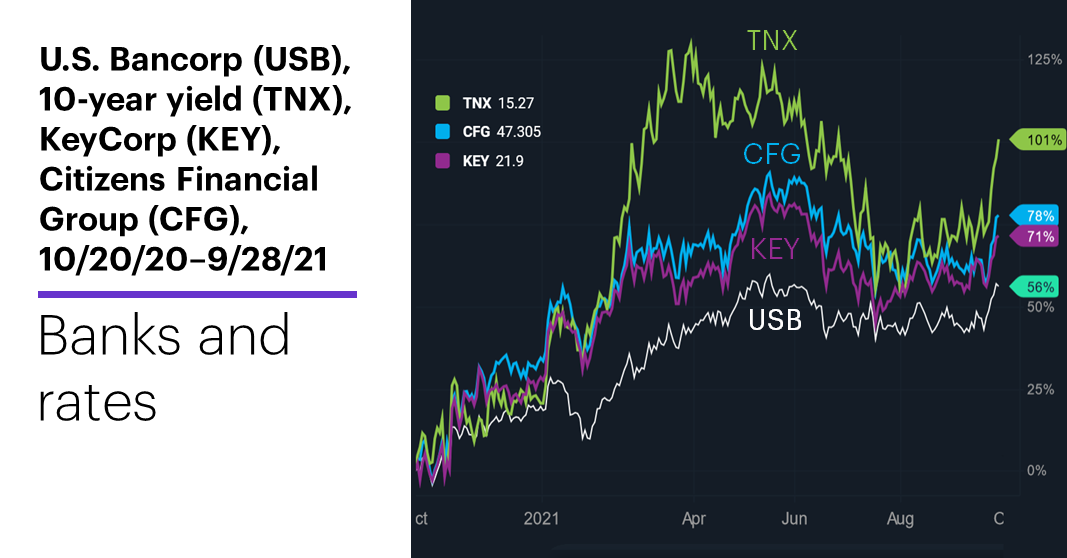 Source: Power E*TRADE. (For illustrative purposes. Not a recommendation.)
---
As the saying goes, correlation is not causation, and catalysts and market themes can disappear as quickly as they emerge. Just think back to the 10-year yield's fairly swift pivot from being the stock market's primary bogeyman when it was hitting a 14-month high in March to "What were we worried about, again?" status just a few weeks later.
That said, a picture (or in this case, a chart) sometimes is worth a thousand words. This is one relationship that many traders—especially financial bulls—will likely be keeping tabs on.
Market Mover Update: Yesterday the SPX closed down more than 2% for only the fourth time this year, and the first time since May.
Today's numbers include (all times ET): Mortgage Applications (7 a.m.), Pending Home Sales Index (10 a.m.), EIA Petroleum Status Report (10:30 a.m.).
Today's earnings include: Cintas (CTAS), Jabil (JBL).
Click here to log on to your account or learn more about E*TRADE's trading platforms, or follow the Company on Twitter, @ETRADE, for useful trading and investing insights
---
1 Reuters. China Evergrande contagion concerns rile global markets. 9/20/21.
What to read next...
09/28/21
Yes, it's been host to some infamous market sell-offs, but October is actually one of the most bullish months of the year.
---
09/27/21
Stocks snap losing streak, pivot higher as Fed outlines taper plan, debt battle looms.
---
09/24/21
Big options trades in this food stock put focus on its volatile earnings history.
---