Year of the IPO
2019 could be one of the most active IPO years in two decades
New stocks tend to be exceptionally volatile, even if they're net gainers
According to some estimates, 2019 could be the biggest year for IPOs since 20001—another potential milestone for a year that has seen the stock market bend or break several records in the first half.
Some of these new stocks saw remarkable early runs, both up and down. But even though this year's IPOs have, on average, posted gains in the first few weeks of their publicly traded lives, buying IPOs simply because they're a hot topic is rarely a viable trading strategy.
First, new stocks can be incredibly volatile, and second, this year's IPO crop suggest there may be better times to attempt to buy (or sell) such stocks. The first day of trading, in fact, has sometimes provided a signal about the stock's possible direction over the next month or so.
The following table shows the performance of 18 Nasdaq and NYSE IPOs that had at least 20 day of trading (approximately one month) under their belts as of June 25—a list that includes almost all of the big names that have launched so far this year: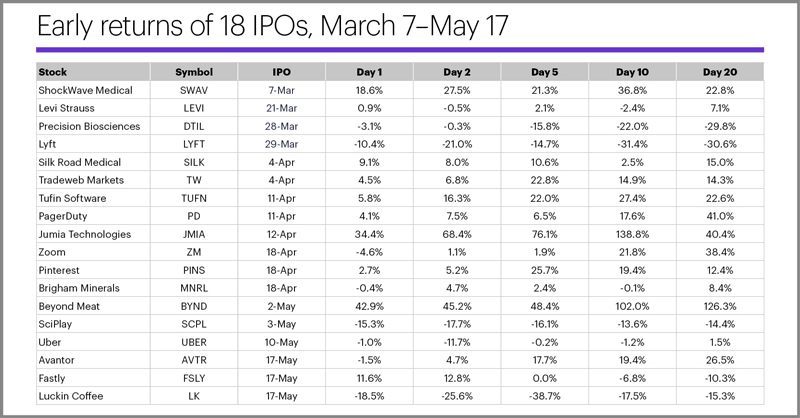 Source: Power E*TRADE
---
A little explanation: Day 1 is the IPO day, Day 2 is the day after the IPO, Day 5 is five days after the IPO, and so on. The percentage returns at each of these intervals were measured from the opening price of the IPO day. So, for example, the first row shows that ShockWave Medical (SWAV) closed 18.6% above its IPO-day opening price, after 10 days it was 36.8% above that price, and after 20 days it was only 22.8% above that price, which means it lost some ground between day 10 and day 20.
To simplify things a bit, the table below shows the median returns at each interval for the 18 stocks:

Source: Power E*TRADE
---
At first glance, it looks like the odds would have been on the side of traders who bought as soon as trading started on an IPO day and held on for the next 20 days. After all, 13 of the 17 stocks were winners at that point, and their median gain was 13.4%. No fewer than 10 of the stocks were in positive territory at any of the intervals.
But if you look again at the first table, you'll see that even stocks that were in the green after 20 days took some wild twists and turns along the way. Traders who bought Lyft (LYFT), for example, would have been down -31.4% after 10 days, while those who bought Luckin Coffee would have been -38.7% in the hole after just five days.
For these 18 IPOs at least, traders could have done worse than to wait and see whether the stock closed above or below the opening price on the first day of trading, because that turned out to be a fairly reliable indicator of whether the stock would gain more ground by day 20. The following table shows how much more each stock gained from the close of its IPO day to day 20, based on whether the IPO day closed above or below its open: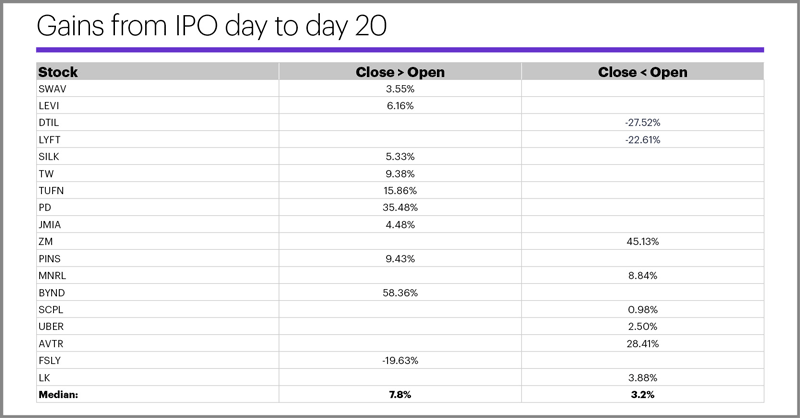 Source: Power E*TRADE
---
Nine out of the 10 stocks that closed above the open on their IPO days were trading even higher by day 20, with a median gain of 7.8%. And although four of the six stocks that closed below their opens on IPO day also traded higher by day 20, most of these gains were more modest—the median increase was only 3.2%.
Overall, traders who bought this year's IPOs only if they closed "strong" on their first day of trading would have filtered out some of the worst performers over the next month.
There's definitely plenty of action in the IPO market, but keeping tabs on the trading patterns of new issues can help traders keep some of that volatility in perspective. And, of course, a historic pattern is no prediction of what's to come.  
Today's numbers (all times ET): GDP (8:30 a.m.), Corporate Profits (8:30 a.m.), Pending Home Sales Index (10 a.m.), EIA Natural Gas Report (10:30 a.m.).
Click here to log on to your account or learn more about E*TRADE's trading platforms, or follow the Company on Twitter, @ETRADE, for useful trading and investing insights.
---
1 CNBC.com. Beyond Meat is now larger than 80 S&P 500 companies, but IPO euphoria might not last. 6/18/19.