A whole latte price action
China's Luckin Coffee up more than 60% since Nov. 12
Stock sagged after May IPO, sailed after last month's earnings
"Smart money" taking deeper interest?
On what was shaping up to be one of the worst days for the broad market in two months, Chinese java chain Luckin Coffee (LK) ralled more than 5% yesterday on volume of more than 7 million shares.  
Before noting what news, if any, may have contributed to that bump, take a look at the following chart, which shows LK's (let's get the "Starbucks of China" reference out of the way) entire price history, starting with its May 17 IPO: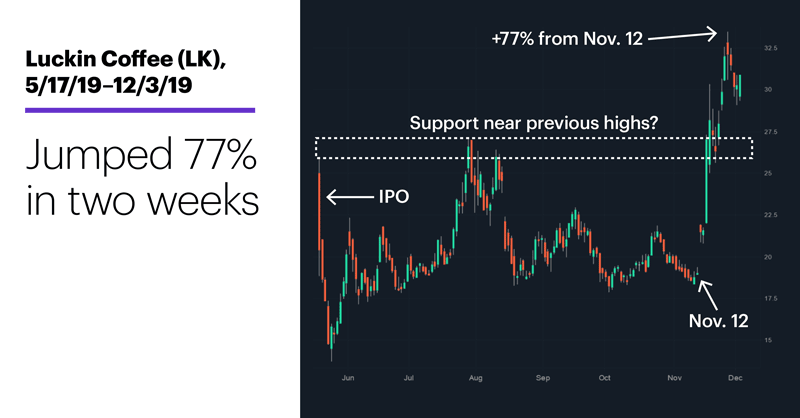 Source: Power E*TRADE
---
The chart shows yesterday's upturn interrupted a pullback from the stock's November 26 record high of $33.48, which LK hit after a two-week, 77% moonshot from its November 12 close—the day before it released its second-ever batch of earnings.
In a nutshell, LK beat its headline numbers, and some analysts issued or reiterated "buy" recommendations on the stock, which was trading well below its IPO-day price the day before. Needham & Company, for example, cited the company's positive store-level profitability and higher-than-expected sales numbers,1 and reaffirmed what may have appeared to some to be an aggressive price target—$27, or 25% above where the stock closed on November 14.
Reports recently emerged that some hedge funds may have been scooping up LK shares.
LK blew past that target in a matter of days. In fact, even with the recent pullback, yesterday the stock was still trading well above the average TipRanks analyst target of $28.67—and had already topped the high estimate of $32.3 All of which may have had short-term traders wondering whether the stock's pullback would extend, perhaps to an obvious level like the support zone represented by the May and July highs (roughly between $26–$27).
And that brings us full circle to yesterday's rally, which happened to occur as reports emerged that LK shares were being scooped up by the hedge-fund crowd3—some of the so-called "smart money" that's supposed to know more than the rest of us. Sometimes it does, but those inclined to blindly follow the lead of large traders should also remember that hedge funds as a whole have underperformed the market in recent years.4
It's possible that if the "right" smart money is right about LK, yesterday's gains may indicate the potential for long-term upside. Even if that turns out to be the case, though, it doesn't rule out the opportunities that could arise if the stock first decides to give back more of its moonshot.
Traders on both sides of the market may be able to take sips out of this cup.
Market Mover Update: Speaking of the world's favorite caffeinated beverage, coffee futures have been trending higher since mid-September on supplies worries, and yesterday hit a 13-month high.
Today's numbers (all times ET): ADP Employment Report (8:15 a.m.), PMI Services Index (9:45 a.m.), ISM Non-Manufacturing Index 10 a.m.), EIA Petroleum Status Report (10:30 a.m.).
Today's earnings include: G-III Apparel (GIII), National Beverage (FIZZ), H&R Block (HRB), Five Below (FIVE), Campbell Soup (CPB), Children's Place (PLCE), Slack Technologies (WORK), RH (RH).
Click here to log on to your account or learn more about E*TRADE's trading platforms, or follow the Company on Twitter, @ETRADE, for useful trading and investing insights. Online stock, ETF, and options trades are now commission-free.
---
1 StreetInsider.com. Luckin Coffee (LK) Achieves Store Level Profitability—Needham. 11/14/19.
2 TipRanks. LK Luckin Coffee Inc Sponsored ADS, Analyst Price Targets. 12/3/19.
3 Barron's. Luckin Coffee Stock Has Surged. Hedge Funds Are Buying More. 12/3/19.
4 The Wall Street Journal. Hedge-Fund Performance Goes From Bad to Less Bad. 10/26/19.
What to read next...
12/03/19
Huge stock move was even bigger for options yesterday.
---