Who let the dogs out?
FRPT pulled back, consolidated after September record high
Yesterday shares dropped to bottom of trading range
Stock outgained S&P 500 15 to 1 over the past two years
Freshpet (FRPT) options were in play yesterday, with FRPT popping up on LiveAction scans for unusual options activity as well as high call/put ratios, the latter showing volume in FRPT calls roughly 33 times the volume in puts, which seemed a bit surprising because the stock was off nearly -3% in early trading: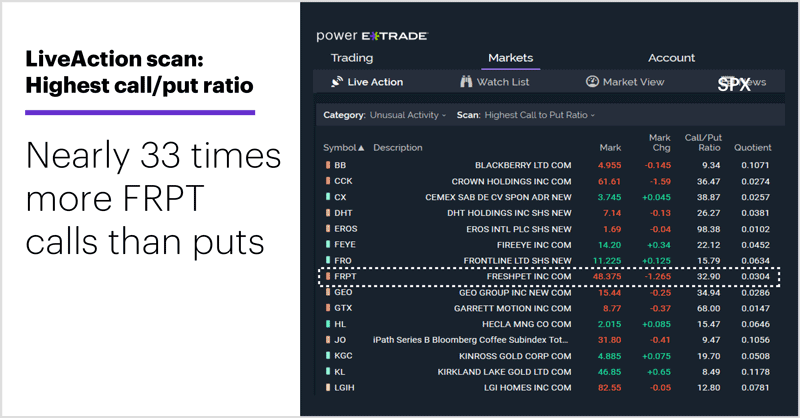 Source: Power E*TRADE
---
But as it turns out, most of that volume appeared to be traders getting out of the $50 calls expiring in nine days (around 1,600 of them)—perhaps an understandable development given the stock had dropped close to $48 yesterday morning. Options lose value at an accelerated rate in the final two or three weeks before expiration, so a trader holding those calls may have decided the time was right to take profits or cut bait on a losing trade.
But yesterday's bad day for FRPT doesn't negate the fact that the natural (fresh) pet food supplier has gained about 15 times as much as the S&P 500 (SPX) over the past two years. Freshpet also hit a record high of $52.37 in mid-September, topping its previous record from June after screaming 43% higher off its August pullback low, which the stock made shortly after its most recent earnings release: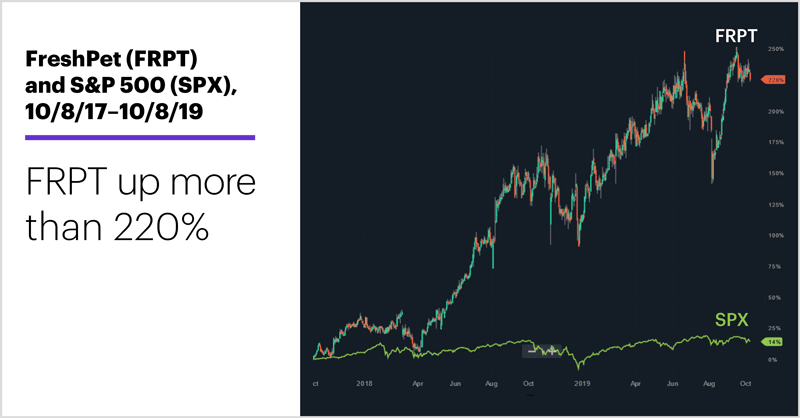 Source: Power E*TRADE
---
That post-earnings pullback, while nastier than most for FRPT, has been par for the course for the stock over the past couple of years. The company has missed earnings estimates in nine straight quarters (although it also topped revenue estimates in five of those),1 and the stock has, more often than not, pulled back and then rebounded: It dropped on earnings day six out of nine times (and had a negative average return), but five days later, the stock was higher five out of nine times (and had a positive average return).2 The same pattern played out after the May 6 earnings announcement. (The company's next earning release is currently scheduled for November 4.)
But the shorter-term chart below shows yesterday's sell–off (which reached -4% by the close) dropped FRPT slightly below the bottom of the short-term trading range the stock formed after pulling back from its record high: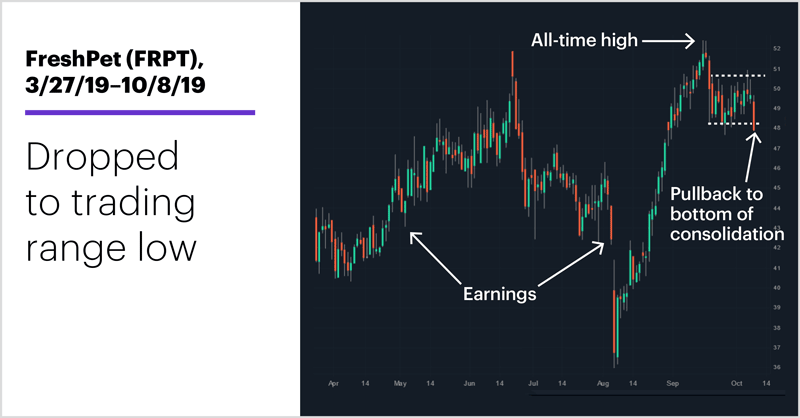 Source: Power E*TRADE
---
The bottom of that consolidation represents support that, if definitively broken, could entice bears into piling on, especially chartists who may view the June and September highs as a possible double-top formation (look again at the longer-term chart) that implies more downside in a stock that appears to have outpaced the market by a wide margin in recent months.
They may also note that yesterday's downturn was not accompanied by any FRPT-specific news, and was more than three times the size of the SPX's decline. If that means technicals are currently driving the stock action, and those technicals are guiding some traders to the downside, bears may be contemplating how far the stock could pull back if its breaks below the downside of its range—especially since the stock is not too far away from an event, earnings, that has triggered short-term losses in recent quarters.
Bulls will likely be pondering the same possibilities, albeit with a different (and longer-term) objective.
Today's numbers (all times ET): JOLTS (10 a.m.), Wholesale Trade (10 a.m.), EIA Petroleum Status Report (10:30 a.m.), Fed Chairman Jerome Powell co-hosts roundtable with Kansas City Fed President Esther George (11 a.m.), FOMC Minutes (2 p.m.).
Today's earnings include: Commerce Bancshares (CBSH), Saratoga Investment (SAR).
Click here to log on to your account or learn more about E*TRADE's trading platforms, or follow the Company on Twitter, @ETRADE, for useful trading and investing insights.
---
1 StreetInsider.com. Freshpet (FRPT) Earnings and Freshpet, Inc. Common Stock (FRPT) Earnings Report Date. 10/9/19.
2 Supporting document available upon request.
What to read next...
10/08/19
Is the energy sector poised to power up after a rough two weeks?
---
10/07/19
After a shaky start to October, the market finds its footing toward the end of last week.
---
10/04/19
Seemingly out-of-sync stock and options action puts spotlight on under-the-radar tech company.
---