Where's the beef?
COVID-19 has disrupted many parts of the food-supply chain
Some key meat-processing facilities have closed or slowed production
TSN fell Monday after earnings miss, WEN earnings due today
The COVID-19 pandemic may have left the world neck deep in crude oil, but it appears to have triggered shortages in another key commodity: meat.
This isn't just a matter for futures traders, who have seen cattle futures rally around 10% over the past month and hog futures skyrocket nearly 80% in the past 13 days. Food-processing companies and restaurant chains, which were crushed with the rest of the market as the pandemic initially spread, now face another challenge: COVID-19 breakouts at US meatpacking plants have threatened the supply chain—by late April, at least 20 US meat-processing plants, including two of the country's biggest, had closed their doors.1
While most shoppers haven't yet faced shortages at their local grocery stores, things are a bit different at the industry level. Meat-processing giant Tyson Food (TSN) sold off on Monday after releasing Q1 numbers that missed on both earnings and revenues, and showed a 15% drop in revenue. The company said it expected continued "slowdowns and temporary idling of production facilities from team member shortages or choices we make to ensure operational safety."2
Tyson, which has consolidated for nearly six weeks after rebounding 49% from its January–March sell-off low, fell more than 7.8% on Monday on the earnings news before recouping some of its losses yesterday: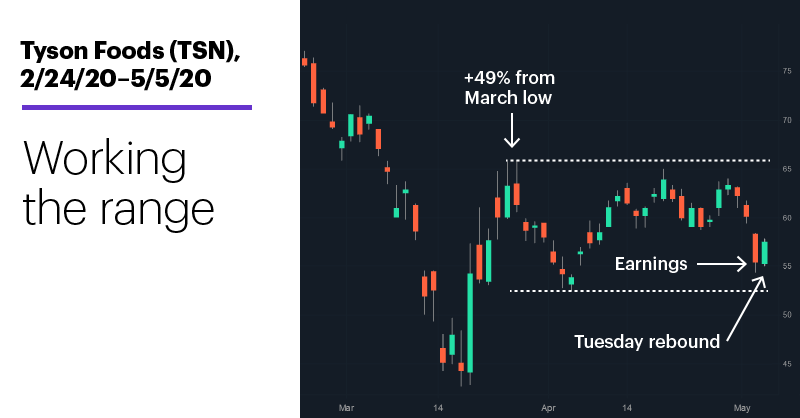 Source: Power E*TRADE
---
Although yesterday's rebound may have suggested some traders thought Monday's selling was overdone, the fact that it occurred on the third-biggest up day for the broad market in the past couple of weeks probably played a role, too. TSN is still closer to the bottom of its consolidation (around $52.50) than it is to its top (around $67.75), and bears expecting more fallout in the meat industry will likely be eyeing a potential challenge to the March lows (around $42.50) if prices break out to the downside.
Meanwhile, yesterday hamburger chain Wendy's (WEN) announced its restaurants may run out of certain items, including hamburgers, because of the challenges US meatpackers are facing.3 (Unlike other fast-food chains that use frozen meat, Wendy's uses fresh beef in its burgers—hence it's vulnerability to fresh supply.)
Wendy's downplayed the potential impact of any meat shortages, but today's earnings report may go a long way in determining how the company will ride out any extended disruption to the supply chain. Although the stock has nearly tripled since falling below $7 in March, shares pulled back over the past four days: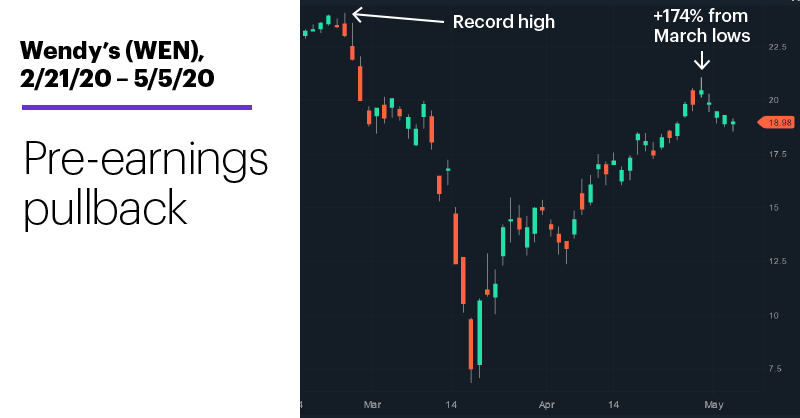 Source (data): Power E*TRADE
---
Like so many aspects of the pandemic lockdown, the recent disruptions in the meat-processing industry caught many analysts—and companies—off guard. Although the market will eventually right itself, the problem won't be resolved overnight, so traders can likely prepare for more near-term price volatility in stocks susceptible to kinks in the supply chain.
Market Mover Update: Oil's continued rebound—June WTI crude oil futures (CLM0) jumped more than 20% intraday to top $24/barrel yesterday—has kept energy stocks at the top of the sector rankings so far this week, while tanker stocks have seen much of their April rallies slip away. Teekay Tankers (TNK) fell more than 9% intraday yesterday, and is now down around 30% over the past five days (see "Storage wars").
Today's numbers (all times ET): ADP Employment Report (8:15 a.m.), EIA Petroleum Status Report (10:30 a.m.).
Today's earnings include: Apache (APA), Spirit AeroSystems (SPR), Spirit Airlines (SAVE), Marathon Oil (MRO), Vulcan Materials (VMC), General Motors (GM), Etsy (ETSY), Fastly (FSLY), Global Payments (GPN), RingCentral (RNG), Wingstop (WING), LYFT (LYFT), Shopify (SHOP).
Click here to log on to your account or learn more about E*TRADE's trading platforms, or follow the Company on Twitter, @ETRADE, for useful trading and investing insights.  
---
1 Associated Press. Trump order keeps meatpacking plants open, but unions say workers unsafe. 4/29/20.
2 NBC. Tyson expects to keep slowing meat production as coronavirus sickens workers and tanks income. 5/4/20.
3 Reuters. Wendy's menu runs short as virus hits U.S. beef supplies. 5/5/20.
What to read next...
05/05/20
Low-flying airlines got Buffett-ed by news from Nebraska, but will short-term contrarians consider booking a flight?
---
05/04/20
Stocks pull back after posting biggest month in decades, while states look to ease lockdown restrictions.
---
05/01/20
Is specialty apparel stock bumping up a key technical level and new lockdown realities?
---