Chipmaker entering the zone?
INTC dropped more than 20% after last month's earnings release
Stock rallied yesterday after news of accelerated buyback program
Calls trading at steep discount to a month ago
Intel (INTC) made some headlines yesterday after the chipmaking giant announced an accelerated $10 billion stock buyback program—part of a $20 billion program announced last November that got interrupted by the COVID crisis.1  
Intel shares got a nice bump yesterday, although it's not that noticeable on the weekly chart: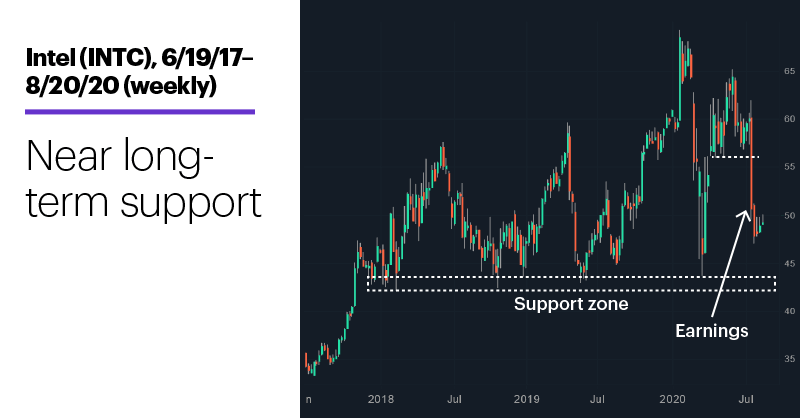 Source: Power E*TRADE
---
Two things about this chart: The most notable recent development was the late-July downturn, which came after INTC released earnings—which, while comfortably topping estimates,1 were accompanied by news that the semiconductor maker's next-generation 7-nanometer chip would be delayed by roughly six months, pushing back initial shipments to late 2022 or early 2023.2 The stock sold off more than 20% over the next six days before rebounding off its July 31 low of $46.97.
The second thing to notice is that the move dropped prices relatively close to a Berlin-Wall-magnitude support zone—call it roughly $42–$44—that has encompassed almost every significant low in the stock since December 2017. Back to that in a minute.
The chart below shows the sell-off's even larger impact on the October $50 call options—which, despite being up 20% on the day at 1 p.m. ET yesterday, were around 84% cheaper than they were the day before the earnings announcement: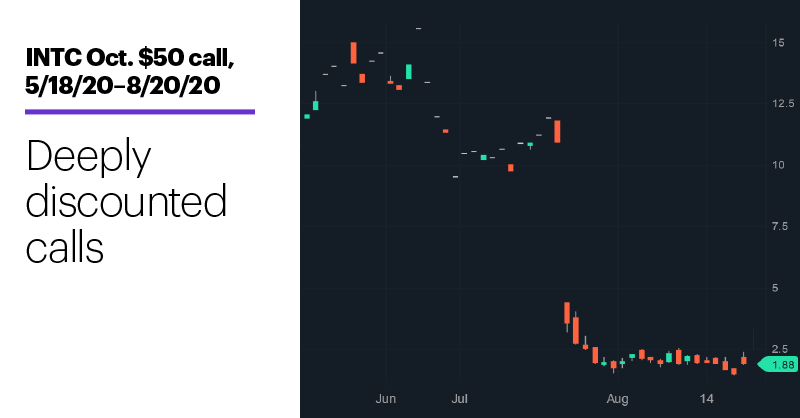 Source: Power E*TRADE
---
While there's no reason to buy something simply because it's cheap—you buy something cheap if you expect it to be less cheap at some point in the future—it's not out of the realm of possibility that some traders are gauging the possibility of upside in a bellwether stock that 1) got some bad news out of the way, 2) recently showed signs of stabilizing, and 3) has the potential backstop of a nearby technical level that has supported prices for nearly three years.
For example, traders focusing on a near-term bounce that could, say, push prices back to the lows that preceded the July downturn (around $56—the short dashed line on the stock price chart) may look to buy calls or put on a limited-risk, limited-reward strategy like an October $50/October $55 bull call spread, which yesterday morning was trading around $1.34: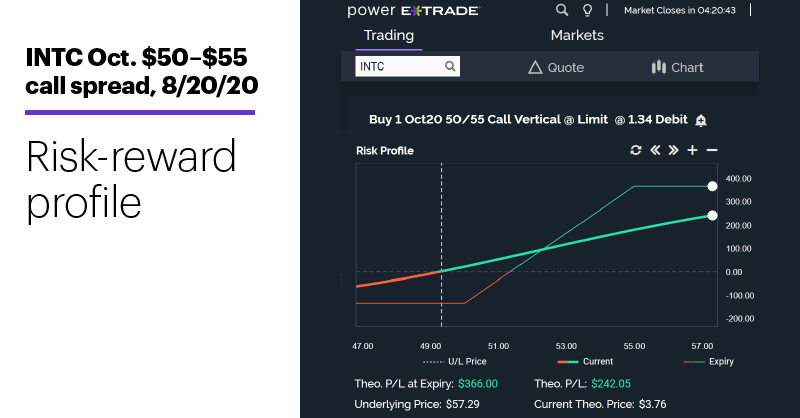 Source: Power E*TRADE
---
Of course, other traders may see the potential for even cheaper options—and more upside—in the event of a test of the support zone, which the stock last reached in March.
In that case, traders would adjust their strike prices accordingly, but the strategy's premise would remain the same.
Market Mover Update: PAR Technology (PAR) didn't need any tailwinds to bust out of its recent trading range. Even though the Russell 2000 (RUT) closed lower yesterday, PAR jumped nearly 6% to a new record high (see "Small caps think big").
Today's numbers (all times ET): Existing Home Sales (10 a.m.).
Today's earnings include: Baozun (BZUN), Deere (DE), Foot Locker (FL).
Click here to log on to your account or learn more about E*TRADE's trading platforms, or follow the Company on Twitter, @ETRADE, for useful trading and investing insights.  
---
1 Reuters. Wall Street closes lower as Intel dives, earnings and pandemic weigh. 7/24/20.
2 CNN.com. Intel shares drop sharply after it announces delay in next-generation chips. 7/24/20.
What to read next...
08/20/20
Is this time different? The Russell 2000 has disappointed before, but some traders may be looking for it to extend one of its best rallies in years.
---
08/19/20
Price action before and after earnings highlights potential opportunities for both stock and options traders.
---
08/18/20
Two stocks—one little, one big—show why we shouldn't assume too much about market trends in the pandemic era.
---