Weighing risks, eyeing rewards
Stocks retreat from latest records with end-of-week dip
Gold, oil continue to roll; Fed on autopilot
This week: Earnings heat up again, GDP
A red-hot February cooled a bit toward the end of last week, as US stocks pulled back after setting new records on Wednesday. A bit of altitude sickness? A tendency to get defensive every time a coronavirus update crosses the wire? A little of both? Regardless, the S&P 500 (SPX) closed last week at a seven-day low: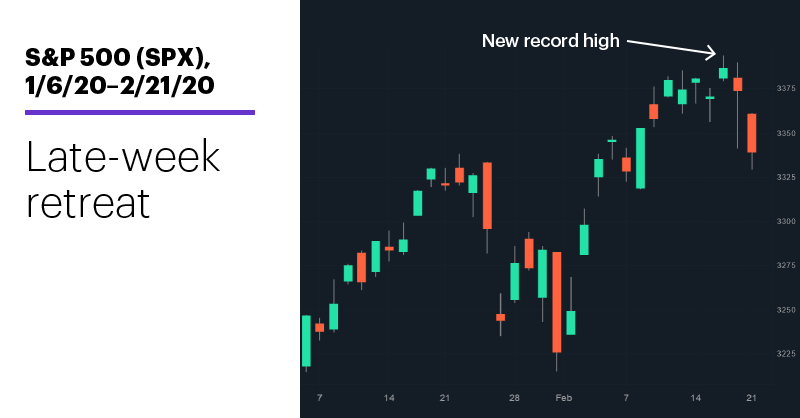 Source: Power E*TRADE
---
The headline: Apple (AAPL) gave investors a heads-up that it wouldn't meet its second-quarter financial guidance because the coronavirus outbreak in China had cut into iPhone production.1
The fine print: Wednesday's Fed minutes release confirmed the central bank is—despite acknowledging the uncertainty surrounding the coronavirus—content to leave interest rates alone. And on Friday, St. Louis Fed President James Bullard downplayed the likelihood that the Fed would cuts rates, arguing there was a "high probability" the coronavirus would turn out to be a "temporary shock."2
The move: Tesla, shmesla—Virgin Galactic (SPCE) went stratospheric, gaining nearly 80% in five days before pulling back 9.1% on Friday.
The number: +0.8%, the unexpectedly large increase in the Leading Economic Index (LEI) for January—more than twice as large as the consensus estimate—driven by a pickup in housing permits, strong consumer sentiment, and a sharp decline in unemployment insurance claims.3
The quote: "While a sustained bear market does not look likely, a near-term correction is looking much more probable." Goldman Sachs strategist Peter Oppenheimer on market risk posed by the coronavirus.4
The scorecard: Small-caps fared the best during a down week for all the major indexes:
Source: Power E*TRADE
---
Sector roundup: "Defense" was the name of the sector game last week. The strongest S&P 500 sectors last week were real estate (+1.2%), utilities (+0.5%), and consumer staples (+0.1%). The weakest sectors were information technology (-2%), energy (-1.7%), and industrials (-1.3%).
Highlight reel: Stamps.com (STMP) soared 66% to $157.99 on Thursday (and tacked on another 10.5% on Friday), while Ducommun (DCO) jumped 33% to $56.95 on Friday. On the downside, Tivity Health (TVTY) tumbled 45% to $12.50 on Thursday, while Fluor (FLR) fell 24% to $14.79 on Tuesday.
Futures action: Gold notched its best week since last August—and hit a seven-year high—as the April futures contract (GCJ0) jumped nearly $60 to around $1,646.50/ounce. After hitting a nearly one-month high of $54.66/barrel on Thursday, April WTI crude oil (CLJ0) took a step back on Friday to close around $53.30.
Last week's biggest futures up moves: March VIX (VIH0) +5.4%, March coffee (KCH0) +5.1%, and March soybean oil (ZLH0) +1.7%. Last week's biggest futures down moves: March E-Mini Nasdaq 100 (NQH0) -1.7%, March wheat (ZWH0) -1.6%, and April Brent crude oil (BRNJ0) -1.57%.
Coming this week
GDP is the big-ticket item on this week's economic calendar, but there's also more housing data and the latest reading from the Fed's preferred inflation barometer:
●Monday: Chicago Fed National Activity Index
●Tuesday: Case-Shiller Home Price Index, FHFA Home Price Index, Consumer Confidence Index
●Wednesday: New Home Sales
●Thursday: GDP, Durable Goods Orders, Core Capital Goods Orders
●Friday: Advance Trade In Goods, Personal Income, Consumer Spending, Core Inflation
It's one of those late-season weeks where earnings ramp up again—high-profile retail names, tech, and a little bit of everything else:
●Monday: Amarin (AMRN), Crispr Therapeutics (CRSP), Palo Alto Networks (PANW), EverQuote (EVER), HP (HPQ), Keysight Technologies (KEYS)
●Tuesday: Toll Brothers (TOL), Medicines Co (MDCO), Home Depot (HD), LGI Homes (LGIH), Salesforce.com (CRM)
●Wednesday: Apache (APA), Booking Holdings (BKNG), L Brands (LB), Weibo (WB), Carvana (CVNA), TJX (TJX), Wendy's (WEN), Lowe's (LOW), Etsy (ETSY), JD.com (JD), Square (SQ), NetEase (NTES), Marriott International (MAR)
●Thursday: Acceleron Pharma (XLRN), Best Buy (BBY), Big Lots (BIG), Beyond Meat (BYND), Baidu (BIDU), Occidental Petroleum (OXY), Dell Technologies (DELL), Keurig Dr Pepper (KDP), Trade Desk (TTD), Servicemaster (SERV), SunRun (RUN), VMware (VMW)
●Friday: AES (AES), Foot Locker (FL), Wayfair (W)
Go to the E*TRADE market calendar (login required) for an up-to-date earnings schedule and a complete list of splits, dividends, IPOs, and economic reports. The Active Trader Commentary also lists earnings announcements, IPOs and economic report times each morning.
The tech barometer. Just as tech often outpaces the market to the upside in "risk-on" phases, it's also likely to lead to the downside during "risk-off" moments—Exhibit A, Friday's 1.9% Nasdaq 100 (NDX) sell-off, the tech index's biggest one-day loss since August.
While every situation is unique, crunching the numbers shows the NDX has tended to bounce back after similar drops. If we look at all the other times (51, since 1986) the NDX 1) dropped 1.75% or more in a day while 2) also making a seven-day (or longer) low, and 3) doing it within three days of hitting a three-month (or longer) high, we find:
●Five days later, the NDX was higher 64.7% of the time, with an average gain of 1.5%. For perspective, for all other five-day periods, the NDX gained ground only 58.6% of the time and had an average return of only 0.33%.
In other words, after pullbacks of this size, the NDX generally rebounded with a little more than its average upside momentum. But not in every instance, obviously, which is what makes the following tidbit interesting:
●If the SPX closed higher the first day after the 2%-or-larger down day (i.e., today), it was two-and-a-half times more likely to be higher after five days than if it closed down the first day.5
The most recent examples of this pattern—January 27, 2020 and May 7, 2019—show this dynamic in action: The SPX closed higher the first day after the January sell-off and kept climbing. But it closed lower the day after the May 7 down day and kept falling for most of the next three weeks.
In other words, keep an eye on whether the NDX closes up or down today. It won't be the final word on the market's near-term price action, but it's worth factoring into your analysis.
Click here to log on to your account or learn more about E*TRADE's trading platforms, or follow the Company on Twitter, @ETRADE, for useful trading and investing insights.
---
1 MarketWatch. Apple says coronavirus effects will cause revenues to fall short of guidance. 2/17/20.
2 CNBC.com. Expectations for a rate cut will fade as coronavirus fear eases, Fed's James Bullard says. 2/21/20.
3 The Conference Board. The Conference Board Leading Economic Index® (LEI) for the U.S. Increased in January. 2/20/20.
4 CNBC.com. Goldman says market underestimating coronavirus risk: 'Correction is looking much more probable.' 2/19/20.
5 Based on daily Nasdaq 100 (NDX) price data, 1/9/86 – 2/20/20. Supporting document available upon request.
What to read next...
02/21/20
As gold tops $1,600, will trend traders keep things shiny?
---
02/20/20
Volatility dynamics highlight price action potential.
---
02/19/20
Will stock's correction turn out to be a heart-healthy development for bulls?
---