Behind the news
Last week a fairly rare volatility event for S&P 500
SPX confined to narrow range despite new highs
Fewer than 50 similar weeks over the past 60 years
To the outside observer, the market may seem to lurch from one piece of news to the next, but one thing traders can do to become more proactive instead of reactive is to identify unusual price action and see if it tends to push the market one way or the other.
For example, last week was a low-volatility period for the S&P 500 (SPX)—in fact, other than the week after Christmas, it had the narrowest relative high-low range in more than a year, and it was less than a third of the size of the previous week's range. But the SPX also pushed to a new high despite its tight range: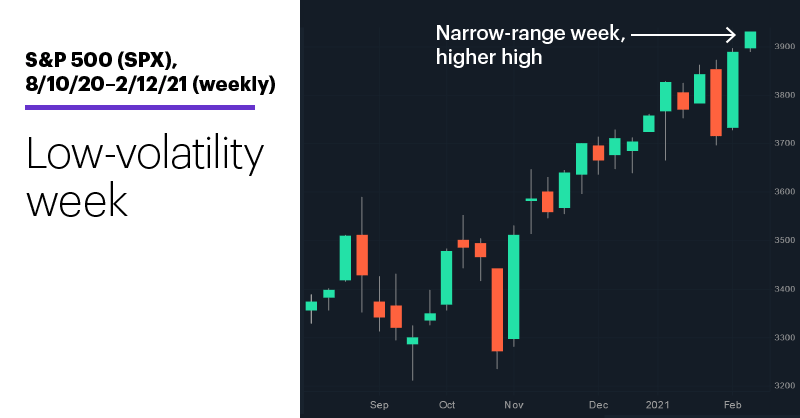 Source: Power E*TRADE
---
While it's not that unusual for the market to slow down a bit after experiencing the type of volatility surge that occurred during the two preceding weeks, scouring the data shows that there have been only 45 other weeks since 1957 that fit the following description:
1. The SPX's high and close is above the preceding week's high and close.
2. The SPX's high-low range is less than half the size of the preceding week's range.
3. The preceding week's high and close are above the highs and closes of the previous 12 weeks.
If we look at how the SPX has performed in the past after such weeks, we find it's often strayed from its typical path. While the SPX has closed higher in 57% of weeks since 1957 with an average gain of 0.2%, after weeks like last week it's gained ground only 46% of the time, and its average return was -0.1%.
Of course, that doesn't mean the market is destined to lose ground this week. Any given moment in the market is unique, and you never know when a piece of news will alter the trading landscape. But knowing when the market has done something out of the ordinary—and knowing what it tends to do after—can provide traders with potentially useful background information in the event that market-moving headlines fail to materialize.
Today's numbers (all times ET): Mortgage applications (7 a.m.), Retail Sales (8:30 a.m.), Producer Price Index, PPI (8:30 a.m.), Industrial Production and Capacity Utilization (9:15 a.m.), Business Inventories (10 a.m.), NAHB Housing Market Index (10 a.m.), FOMC minutes (2 p.m.).
Today's earnings include: Analog Devices (ADI), Baidu (BIDU), Marathon Oil (MRO), Charles River Laboratories (CRL), Hyatt Hotels (H), SunPower (SPWR), Progressive (PGR), Mosaic (MOS), Fastly (FSLY), Q2 (QTWO), Wingstop (WING), Stamps.com (STMP), Shopify (SHOP).
Click here to log on to your account or learn more about E*TRADE's trading platforms, or follow the Company on Twitter, @ETRADE, for useful trading and investing insights.  
---
What to read next...
02/16/21
Stocks notch quiet gains as February rally continues, but loses a little steam.
---
02/12/21
Traders jumped into this soaring fintech stock's put options in the wake of its earnings-beat price surge.
---
02/11/21
Two things savvy energy traders may be monitoring—the path of crude oil, and the relative strength of stocks within the sector.
---