Gauging sentiment with volume and OI
LOVE down more 26% Wed. morning before rebounding
Overall options volume more than 30 times avg.
Volume/open interest comparisons may reveal trader positioning
When a stock makes a big move, it can be tempting to rush to judgment about what it "means" and what it implies about the future. Yesterday offered a good example of how traders may have put together different pieces of data to make sense of one of the market's more notable opening price moves.
First stop, unusual options activity scans. On Wednesday morning, with stock volume in furniture maker Lovesac (LOVE) more than five times its daily average, call options volume was even more exaggerated, running around 30 times average: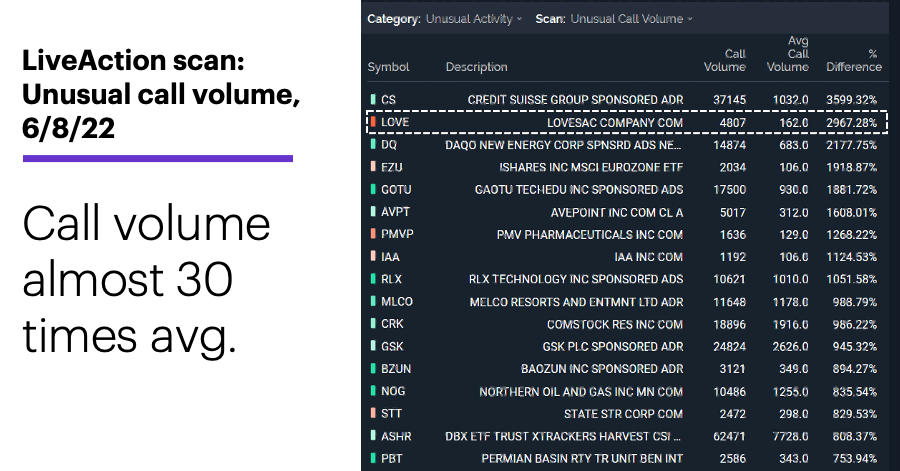 Source: Power E*TRADE. (For illustrative purposes. Not a recommendation.)
---
But this snapshot didn't tell the whole story, because put volume was around 20 times average—not enough for LOVE to land on the scan for unusually high call-put ratios. The reason for the heightened options activity was no secret, though—LOVE released its Q1 performance results yesterday morning, topping both earnings and revenue estimates for the tenth-consecutive quarter.1
All else being equal, some market watchers may interpret more call volume than put volume as net bullish. But experienced options traders know options volume can be misleading outside the context of open interest (OI), which represents the number of existing option positions at the end of the previous trading day. When an options contract's volume is greater than OI, it means at least some traders are establishing new positions; when volume is less than OI, it can mean traders are liquidating existing positions.
Next stop, LOVE's options chain. In this case, most of the activity was in contracts expiring on June 17, concentrated in strike prices just above and below where LOVE was trading mid-morning (around $32.50):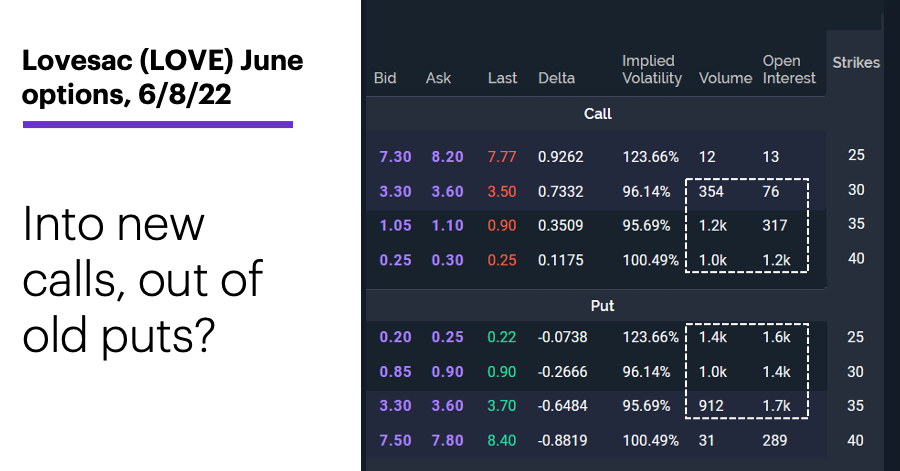 Source (data): Power E*TRADE. (For illustrative purposes. Not a recommendation.)
---
The takeaway here is that while call options volume was greater than OI in two of the three most active contracts, volume was less than OI in all three of the most active put contracts. That means:
1. At least some of yesterday's call volume consisted of traders establishing new positions.
2. All or some of yesterday's put volume was potentially traders getting out of existing positions.
The catch is that the only way to know is to compare a ticker's OI levels from one day to the next: If OI is lower, traders were getting out of positions instead of getting in.
Our final stop is LOVE's price chart, which shows the stock fell as much as 26.3% in early trading before paring that loss to around -10% by noon ET: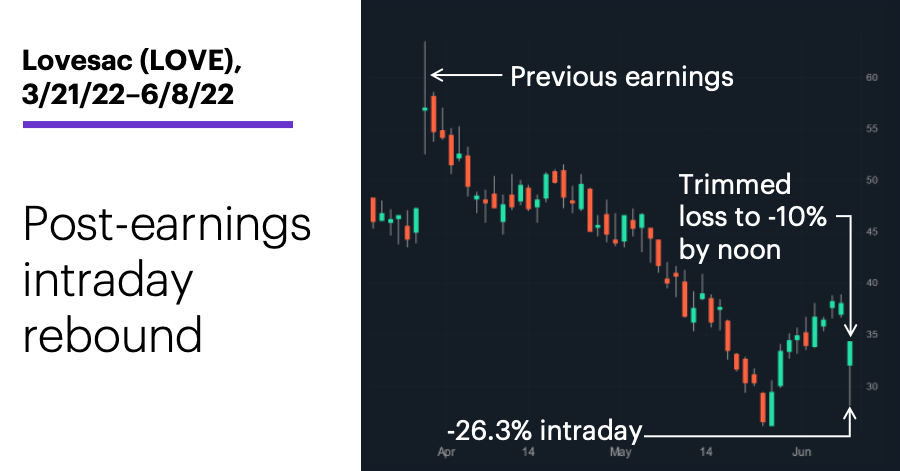 Source: Power E*TRADE. (For illustrative purposes. Not a recommendation.)
---
At the very least, that meant that traders were less bearish later in the day than they were at the outset—although, as LOVE's performance after its late-March earnings shows, it's dangerous to read too much into one day's price action.
Nonetheless, taking a careful inventory of options volume and OI can provide greater insight into a stock's dynamics.
Market Mover Update: Don't search for "FB" anymore. Meta Platforms, the company formerly known as Facebook, begins trading today with its new ticker, META.
Take-Two Interactive Software (TTWO) surrendered an early gain yesterday to close lower (see "The momentum paradox").
July WTI crude oil futures rallied to another contract high—above $123/barrel—on Wednesday (see "Oil, energy, and FOMO").
Today's numbers include (all times ET): Jobless Claims (8:30 a.m.), EIA Natural Gas Report (10:30 a.m.).
Today's earnings include: NIO (NIO), Vail Resorts (MTN), Lakeland Industries (LAKE).
Click here to log on to your account or learn more about E*TRADE's trading platforms, or follow the Company on Twitter, @ETRADE, for useful trading and investing insights.
---
1 StreetInsider.com. The Lovesac Company (LOVE) Earnings. 6/8/22.
What to read next...
06/08/22
Will this gaming stock's rally to multi-week highs need additional players to keep going?
---
06/07/22
Those attracted to this year's energy rally should remember that fast markets don't always reward fast traders.
---
06/06/22
Stocks pull back, oil jumps as markets move into June.
---