The volatility waiting game
UPST shares consolidating after 38% correction
AI-driven lending platform rallied nearly 130% in three weeks before downturn
Options volatility currently well below average
Like prices themselves, volatility goes up and volatility goes down, cycling between extremes as markets continually gain and lose momentum over time—regardless of which direction they're moving.
So, when a stock rallies 128% in a three-week period and then sells off 38% over the next eight days, there's a good chance traders will pause to catch their breath and volatility will throttle down.
That appears to be what happened recently in fintech stock Upstart (UPST), an AI-based lending platform that began trading in December. The stock may have rallied more than 4% yesterday, but that wasn't  enough to break it out of the tight trading range it's been in since June 16, when it closed nearly $75 below its all-time high from June 4:
Source: Power E*TRADE
---
Consolidations, by definition, represent price-movement slowdowns. When your trading range over a seven-day period is $14.10—between one-quarter and one-fifth the size of range of the previous seven days (and the seven days before that)—various volatility measures are going to let you know that things have cooled down, so to speak.
That's certainly been the case for UPST, which appeared on yesterday's LiveAction scan for symbols with 30-day implied volatility (IV) below their 30-day historical volatility:
Source: Power E*TRADE
---
Low IV relative to HV is simply the options market's way of saying it thinks UPST's volatility over the next month could be lower than it's been over the past month.
That basic condition was mirrored in UPST's IV profile, which shows IV (solid line) was also running well below its 30-day average (dashed line) for the next four options expirations: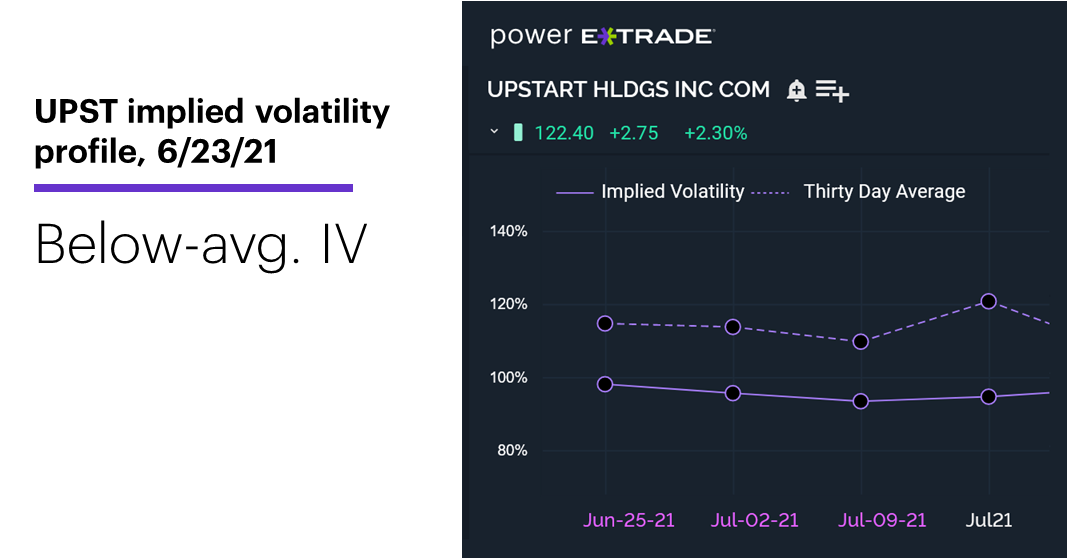 Source: Power E*TRADE
---
Of course, contrarian traders would likely point out that lower-volatility periods are sometimes followed by higher-volatility periods, and breakout traders of all stripes tend to monitor typically fast-moving stocks that settle into tight, horizontal consolidations.
It's impossible to know when a breakout will occur—and there can be many "false breakouts," as prices lurch higher and lower before establishing any kind of meaningful trend—but the initial moves out of them can sometimes be high-momentum events, even if they don't last very long. (J.B. Hunt Transport's (JBHT) two-day, 5.3% breakdown out of a similar consolidation offers a recent example.)
Today's numbers include: Durable Goods Orders (8:30 a.m.), Q1 GDP, final revision (8:30 a.m.), advance International Trade in Goods (8:30 a.m.), weekly jobless claims (8:30 a.m.), advance Retail and Wholesale Inventories (8:30 a.m.).
Today's earnings include: Accenture (ACN), Rite Aid (RAD), BlackBerry (BB), FedEx (FDX), Progress Software (PRGS), Synnex (SNX), Darden Restaurants (DRI), Nike (NKE), Plug Power (PLUG).
Today's IPOs include: Doximity (DOCS), Bright Health Group (BHG), Confluent (CFLT).
Click here to log on to your account or learn more about E*TRADE's trading platforms, or follow the Company on Twitter, @ETRADE, for useful trading and investing insights.
---
What to read next...
06/23/21
Massive options position highlights stock's recent split as it attempts to extend a rebound off its 2021 lows.
---
06/22/21
Was yesterday's call option buying spree a sign of friendlier skies for this cargo aircraft company?
---
06/21/21
Markets recalibrate in the wake of the central bank's new line on inflation and interest rates.
---