Listening to the market's "advice"
FCN rallied more than 2% intraday on Monday
October, November implied volatility up significantly
Stock has rallied since approaching support last week
Sometimes a stock lands on your trading screen because it's moving, other times one can catch your attention because of signs that it has the potential to move.
Yesterday, for example, FTI Consulting (FCN), one of the largest financial consulting firms in world, landed on the LiveAction scan for biggest one-week increases in implied volatility (IV):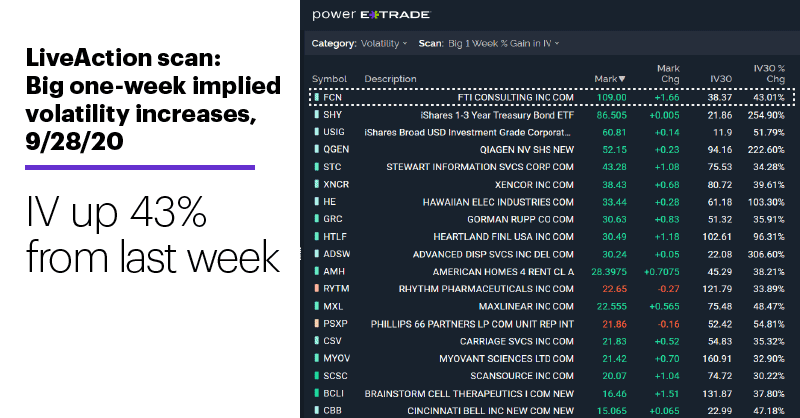 Source: Power E*TRADE
---
Since IV reflects the level of future volatility traders expect to see in a stock, it's not uncommon for it to jump before earnings or some other knowable event with the potential to jolt prices. FCN is, in fact, scheduled to release its numbers in late October, which puts it at the far end of the roughly three-week pre-earnings period when IV often begins ticking higher.
Digging a little deeper showed that the IV for October options (expiring in 17 days) was running around 12 percentage points above its 30-day average (45% vs. 33%), while November options IV was around eight points higher than average (41%).
The first thing to remember about IV is that, all else being equal, the higher the IV, the higher options prices tend to be. But if IV is high—that is, traders are expecting elevated price action in the near future—it's also a good idea to consider the nature of that price action. The following chart shows FCN was up around 2% in early trading yesterday (see inset at upper left), its third up day since approaching a support zone containing most of the stock's notable lows dating back to August 2019:
Source: U.S. Census Bureau
---
In recent weeks FCN has received several upward revisions to its earnings estimates, which some studies have shown can correlate to stock rallies.1 And with the Street apparently still leaning to the upside—FCN's average analyst target is $163,2 roughly 49% above where it was trading yesterday—some traders may have assembled these puzzle pieces and seen the possibility of additional gains before earnings come out.
While the high IV could certainly be seen as a supporting factor, it also means call options could be relatively expensive, which means traders may not view them as the best way to play a bullish outlook. But high IV should also inflate put options prices, which offers another alternative to buying calls or stock: selling puts with the goal of getting assigned the stock.
For example, mid-morning on Monday, the slightly in-the-money October $110 puts (expiring in 17 days) were trading around 4.00 ($400), which means traders who sold these contracts and ended up being assigned shares would effectively lower their entry price on the trade to $106. Of course, traders who expected some near-term weakness before an eventual up move could wait for a down day, which would likely pump up put premiums. (The October $110 puts, for example, traded at 6.37 on September 17 when the stock closed at $105.99.)
In these situations, there's always the "risk" that the stock won't fall, or fall enough, to trigger stock assignment, in which case traders are simply left with the premium they collected from selling the options. That's aside from the risk of getting assigned and watching the stock continue to fall.
But that's a risk all traders have to accept and manage, regardless of the method they use to get into a position.
Market Mover Update: October gold futures (GCV0) held support for a third day since pulling back last week, rallying from an intraday low of $1,843.20/ounce to as high as $1,878 by mid-afternoon.
Today's numbers (all times ET): Advance Trade in Goods (8:30 a.m.), Advance Retail Inventories (8:30 a.m.), Advance Wholesale Inventories (8:30 a.m.), Case-Shiller House Price Index (9 a.m.), Consumer Confidence (10 a.m.)
Today's earnings include: AngioDynamics (ANGO), McCormick (MKC), Progress Software (PRGS), SYNNEX (SNX), IHS Markit (INFO), Micron Technology (MU).
Click here to log on to your account or learn more about E*TRADE's trading platforms, or follow the Company on Twitter, @ETRADE, for useful trading and investing insights.  
---
1 Zacks Equity Research. FTI Consulting (FCN) Moves to Strong Buy: Rationale Behind the Upgrade. 9/18/20.
2 MarketWatch.com. FTI Consulting Inc. 9/28/20.
What to read next...
09/28/20
Broad market loses ground for fourth week as traders get ready for what promises to be an action-packed October.
---
09/25/20
Did earnings sell-off total car dealer, or just give it an unsightly scratch?
---
09/24/20
Stock's recent pivot may have presented options traders with an edge.
---