Volatility loosens grip
WDFC has fallen as much as 18.5% since last week's earnings
Implied volatility down sharply from last week
Some call options trading near multi-month lows
While the adage regarding how to make money in the markets—buy low and sell high—is certainly true, that doesn't mean it's easy to do. That can be particularly true for options, whose prices are affected by much more than whether the underlying market is going up or down.
Yesterday, for example, WD-40 (WDFC) appeared on the LiveAction scan for biggest declines in options volatility, with its 30-day implied volatility (IV) down 37% from a week earlier: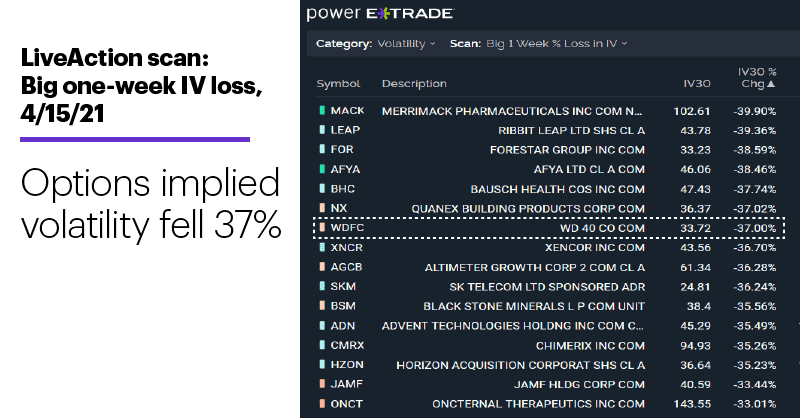 Source: Power E*TRADE
---
There are lots of reasons IV can drop precipitously, but one of the most common explanations is that it was previously higher than normal—and that often happens in the run-up to an earnings release, since traders often inflate options prices to hedge the uncertainty surrounding these events.
And WDFC did, in fact, release its numbers after the close last Thursday (April 8), breaking a two-quarter streak of topping its headline earnings and revenue estimates, as well as its tendency to rally after an announcement.
Although the company also upped its sales outlook for fiscal 2020—anticipating a resolution of the supply chain problems it claims undermined recent performance, despite strong demand for its products1—the stock fell 9.5% on April 9. By yesterday morning it was down more than 18% in five days, although it later rallied to close up on the day: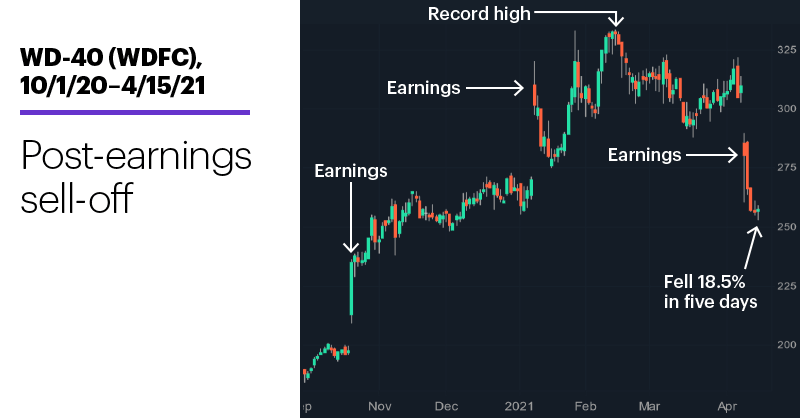 Source: Power E*TRADE
---
Of course, one of the common side effects of a big IV drop is shrinking options premiums—which, in the case of calls, can combine with the premium decline that occurs when the stock price has also dropped sharply.
Yesterday morning, for example, the WDFC May $260 call was trading around $10.20—around half of where it was on April 9 and one-sixth of where it was on February 22.
With options, you can't just assume because the stock has made a big down move that calls will be "cheap." Unless IV has declined, too, they may not be as cheap as you think.
Market Mover Update: No breakout move for Delta Air Lines (DAL), which sold off more than 3% intraday yesterday after missing its earnings number. But June gold futures (GCM1) broke out to a nearly seven-week high of $1,760.60/ounce (see "Gold holds its ground").
Today's numbers (all times ET): Housing Starts and Building Permits (8:30 a.m.), Consumer Sentiment (10 a.m.).
Today's earnings include: Bank of New York Mellon (BK), State Street (STT), Kansas City Southern (KSU), PNC Financial Services (PNC), Morgan Stanley (MS).
Click here to log on to your account or learn more about E*TRADE's trading platforms, or follow the Company on Twitter, @ETRADE, for useful trading and investing insights.
---
1 StreetInsider.com. WD-40 Co. (WDFC) Misses Q2 EPS by 8c. 4/8/21.
What to read next...
04/15/21
The stock market accomplished a relatively rare feat this month—and traders may be taking note for next month.
---
04/14/21
A financial tech stock's recent action illustrates the type of price points many traders like to monitor during corrections.
---
04/13/21
Do traders see more blue sky for airlines with earnings approaching? Also, can a $2.8 billion fine be a good thing?
---