Volatility and market expectations
BIIB implied volatility more than triple its historical volatility
Stock has been in choppy consolidation for most of this year
Potentially pivotal catalyst on the horizon
One reason some traders like to compare historical volatility (HV) and implied volatility (IV) is that the former lets you know what prices have done in the past, while the latter provides an estimate of what the options market expects them to do in the future. Disconnects between the two can sometimes highlight situations where slumbering markets have the potential to awaken.
In this sense, the LiveAction scan for symbols with 30-day IV higher than their 30-day HV provides a list of stocks about which options traders think, "Hey, this thing could move in the next month or so."
Aside from saying nothing about whether that potential move will be up or down, the obvious caveats here are: 1) the options market may simply be wrong, and 2) this may just mean a stock has moved so little over the past 30 days that the market thinks the odds of it moving even less over the next 30 days are pretty low.
But one of the stocks on that scan yesterday—Biogen (BIIB), which had IV more than three times as high as its HV—had an interesting story behind its numbers: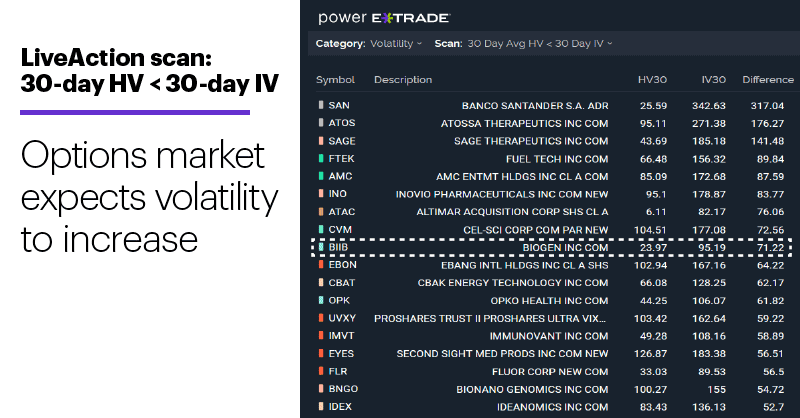 Source: Power E*TRADE
---
As we'll see shortly, there may be a good reason options traders expect BIIB volatility to pick up. First, though, take a look at the following long-term chart, which shows BIIB is near the middle of what amounts to a five-year trading range—if you can call something that includes several 40–90% multi-month price swings a "range:"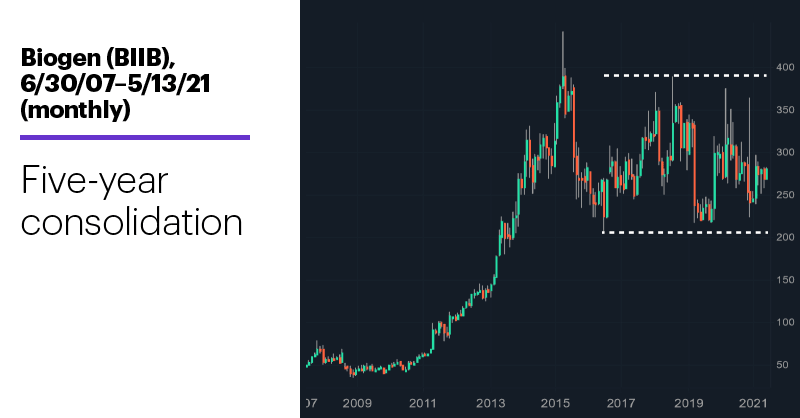 Source: Power E*TRADE
---
To some, BIIB's choppiness in the aftermath of its March 2015 high would be the definition of biotech volatility. A daily chart of the past three years or so shows how the stock has occasionally formed shorter-term consolidations that have given way to explosive breakouts: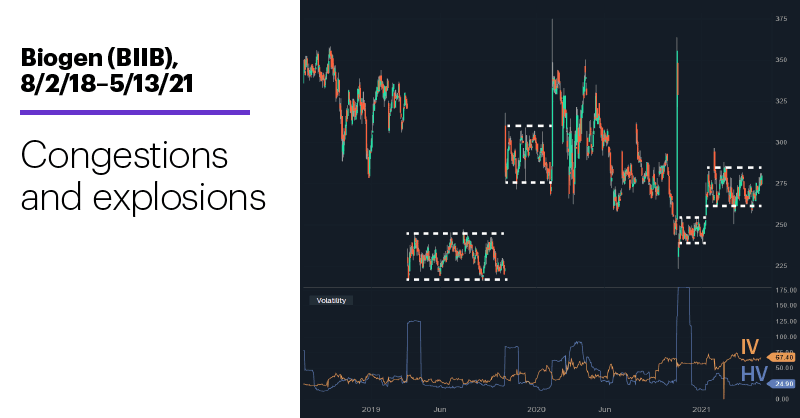 Source: Power E*TRADE
---
The bottom of the chart comparing IV and HV shows how a few of the stock's huge price moves—most recently in November—occurred after prices consolidated and IV climbed well above HV. The stock's current range is its longest since 2019.
That early-November price explosion—up $117 in one day, down $127 over the next two—is important, because it may be tied to why the options market appears to be expecting BIIB's price volatility to pick up again. The move occurred after initial reports that the Food and Drug Administration (FDA) was poised to approve the company's Alzheimer's drug, aducanumab1—news that was soon contradicted by a critical review from an FDA advisory committee, and the decision to delay judgment on the drug's fate pending further review.2 That decision is now expected on June 7.
The critical point here is that while the options market's anticipation of renewed BIIB price momentum doesn't appear to be coming out of thin air, that doesn't have any bearing on which direction the stock will move if, in fact, the FDA renders a decision next month.
For now, though, traders appear to be betting that, one way or the other, BIIB's recent stagnation has a finite window.
Today's numbers include (all times ET): Retail Sales (8:30 a.m.), Import and Export Prices (8:30 a.m.), Industrial Production (9:15 a.m.), Business Inventories (10 a.m.), Consumer Sentiment (10 a.m.).
Today's IPOs include: Zenvia (ZENV).
Click here to log on to your account or learn more about E*TRADE's trading platforms, or follow the Company on Twitter, @ETRADE, for useful trading and investing insights.
---
1 Washington Post. Controversial Alzheimer's drug gets boost from FDA staff. 11/4/20.
2 Biospace.com. Biogen's Aducanumab: A Look at the Drug's History and Recent Updates. 3/26/21.
What to read next...
05/13/21
These combination trades may offer advantages in some situations, but they have drawbacks, too.
---
05/12/21
Restaurant tech stock may provide food for thought for traders as it nears previous lows.
---
05/11/21
Stock sell-off, volatility drop creates cheaper options as stock wrestles with consolidation.
---