When the VIX talks, smart traders listen
Key VIX signal preceded last week's downturn
Pattern has often preceded market pullbacks and slowdowns
Not just for short sellers—potentially useful for bulls, too
Despite the chorus of voices in recent weeks that the stock rally was getting ahead of itself, last week's sharp sell-off still seemed to catch most people off guard.
The market did provide one heads-up, though, courtesy of the Cboe Volatility Index (VIX)—the market fear gauge that tends to spike when investors are anxious (i.e., when the market is falling sharply) and decline when they're feeling  confident (when the market is rising).
As the market sold off last Thursday and Friday, the VIX spiked to its highest level[s] since June. But on Wednesday, when the S&P 500 (top) gained 1.5% and closed at yet another all-time high, the VIX also closed higher (bottom):
Source: Power E*TRADE
---
That's a little unusual. More often than not, when the SPX closes higher—especially when it closes up strongly—the VIX will close lower, and vice versa: Since March 1997 the VIX closed lower on 403 of the 425 days that the SPX gained 1.5% or more. And while days when both close higher aren't that rare—there have been 578 of them since March 1997—when they occur after an extended SPX rally, or when the index is making a significant high or up move, they can take on extra significance.
Think of it this way: A higher VIX can signal traders are more concerned about future market volatility—aka, falling prices. That concern typically kicks in when the market has already started to fall, and they're worried it will fall more. But when it happens on days the market is rallying, it can sometimes indicate fears the market is overbought and susceptible to a downturn. That's what the VIX appeared to be saying last Wednesday.
Not that this type of signal is always correct, or that it signals a crash or a bear market when it is correct. But since 1997, longer-term SPX highs that occurred on days the VIX also closed higher have had better-than-average odds of being followed by short-term selling: The SPX closed lower the next two days after these signals 61% of the time.1 If that doesn't sound like a big deal, remember that the SPX's long-term odds of closing lower on any given day are only around 46%. Statistically, that's a huge difference.
The following chart shows all the times this SPX-VIX signal has appeared this year—February 11, June 8, July 21, August 18, August 26, and last Wednesday: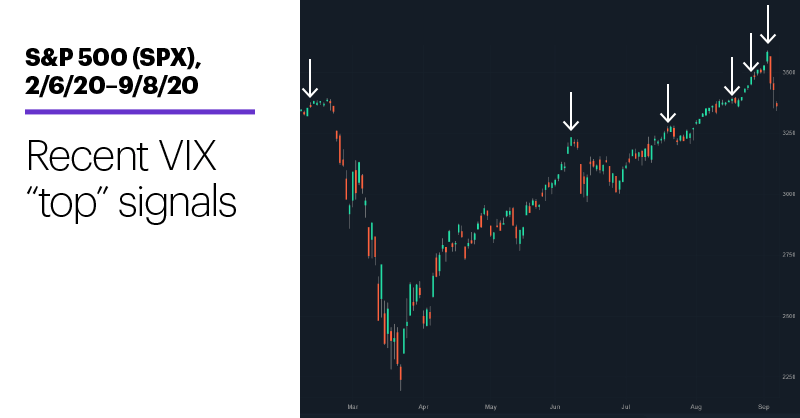 Source: Power E*TRADE
---
Besides being impressive in that four of the last five of these signals did a pretty good job of signaling pullbacks or pauses in one of the strongest stock-market rallies in history, they also underscore an important point: VIX top signals, when they are "correct," are more likely to be followed by short-term pullbacks than full-blown trend reversals, although they do occasionally appear around significant stock-market highs—January 23 and September 20, 2018 being two notable examples (throw in the first signal on this chart if you want to count being five days early).
Another takeaway: Even for traders (and investors) who avoid short-selling entirely, such signals can be a hint to be a little more cautious on the buy side, or to take at least partial profits on existing long positions.
Most people consult the VIX only during market sell-offs when they're trying to figure out where the market may bottom. (Notice the VIX made a lower high yesterday—i.e., less "fear"—even though the SPX fell to a lower intraday low.) But last week showed why it's a good idea to keep this indicator on your radar, even when the market appears to be on bullish autopilot.
Today's numbers (all times ET): MBA Mortgage Applications (7 a.m.) , JOLTs Job Openings (10 a.m.).
Today's earnings include: G-III Apparel Group (GIII), BigCommerce (BIGC), Oracle (ORCL), Navistar (NAV), Zscaler (ZS), Verint Systems (VRNT).
Click here to log on to your account or learn more about E*TRADE's trading platforms, or follow the Company on Twitter, @ETRADE, for useful trading and investing insights.  
---
1 Based on S&P 500 (SPX) and Cboe Volatility Index (VIX) daily prices from 5/27/97–9/4/20. VIX-SPX pattern (141 examples): A day the SPX hits its highest high and closing price in at least 50 trading days, when the VIX closes higher a day after closing lower. Supporting document available upon request.