VIX throttles back
The S&P 500 has jumped more than 8% since March 14
The VIX fell more than 25% over the past six days
Options market signaling potential stock market "breather"?
In the moment, the market's momentum, up or down, can sometimes feel unstoppable. That's why it's helpful to keep tabs on indicators that can sometimes signal how much gas a move may have left in the tank.
Few tools are as widely referenced in this capacity as the Cboe Volatility Index (VIX), which measures the implied volatility (IV) of S&P 500 (SPX) options. Although higher VIX levels represent expectations for higher future market volatility and lower VIX levels reflect the opposite, traders often use VIX extremes as contrarian signals: Extreme highs, for example, sometimes coincide with market lows and upside reversals.
But any time the VIX does something unusual, it's worth taking note. And the volatility gauge has been very busy lately. Over the past couple of months, it has intermittently spiked to its highest levels since late 2020 as the Russian invasion of Ukraine added to the challenges the market has faced so far this year: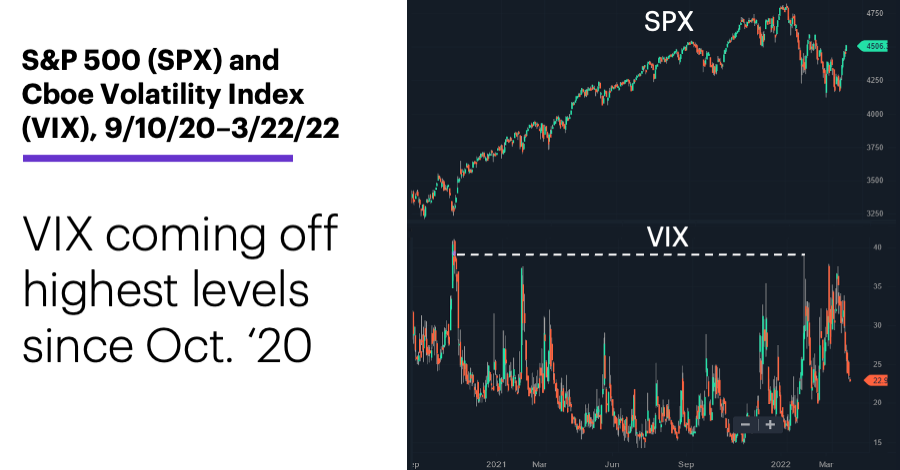 Source: Power E*TRADE. (For illustrative purposes. Not a recommendation.)
---
But with the market building on last week's rebound the first two days of this week—resulting in an 8% SPX rally since March 14—the VIX has retreated dramatically. As of yesterday it was down more than 25% since March 14 and had fallen to its lowest low since February 10.
Although that's what the VIX is "supposed" to do—decline when the stock market rallies, reflecting a lower expectation for future volatility—the way the VIX did it was fairly unique. Yesterday was its sixth-straight day of falling to a lower low and lower close: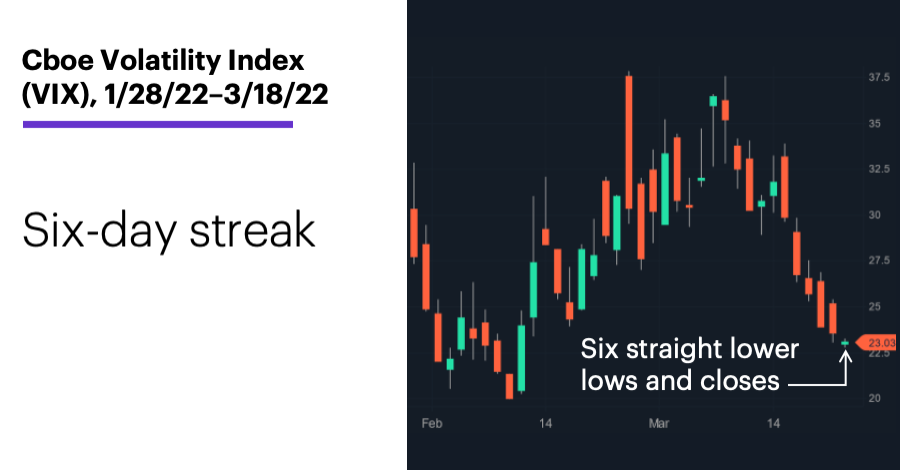 Source: Power E*TRADE. (For illustrative purposes. Not a recommendation.)
---
That's something the VIX hasn't done too often—only 36 other times since 1993, in fact.1 And the only reason it bears mentioning at all is that the SPX paused or pulled back soon after many of the past instances of the pattern.
Although there have been only a half-dozen instances of the pattern over the past five years, one occurred fairly recently, on December 29: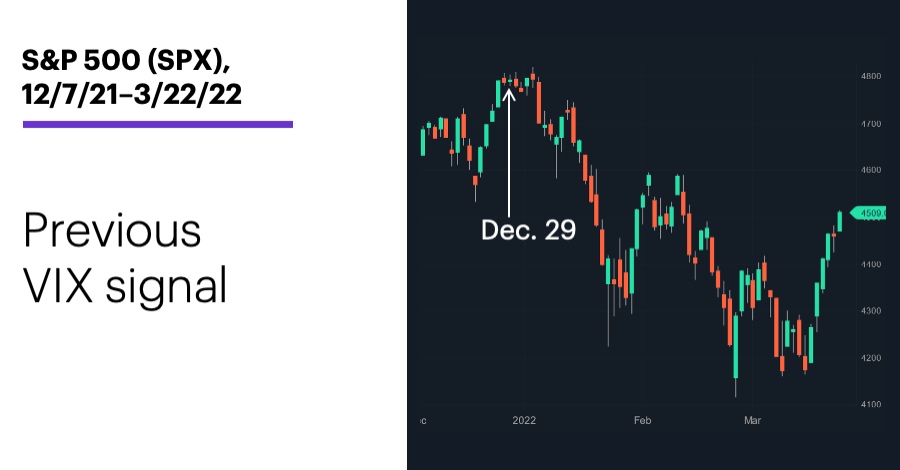 Source: Power E*TRADE. (For illustrative purposes. Not a recommendation.)
---
While the SPX turned sharply lower just a few days later, it's important to point out that this type of signal doesn't mean the market is about to put in a longer-term high. In most cases, the six-day VIX pattern was followed by a reduction of upside momentum or smaller market downturns (check out the run-of-the-mill pullback after the signal that occurred on March 16, 2021, for example).
Nonetheless, unusually strong VIX pullbacks like the pattern described here can sometimes serve as a heads-up that the market may be getting ready to catch its breath after an upside sprint.
Market Mover Update: Plug Power (PLUG) rallied more than 5% on Tuesday, extending its five-day gain to more than 15% (see "EU generating clean energy tailwinds?").
Only half of the big options position in Tapestry (TPR) from March 14 appears to be intact. The 6,600 May $27.50 puts are still on the books, but all or most of the 6,600 May $40 calls that traded at the same time have been closed—open interest in the contract was less than 900 yesterday (see "Buying and selling volatility").
Today's numbers include (all times ET): Mortgage Applications (7 a.m.), Jerome Powell speech (8 a.m.), New Home Sales (10 a.m.), EIA Petroleum Status Report (10:30 a.m.).
Today's earnings include: General Mills (GIS), Cintas (CTAS), Winnebago (WGO), JinkoSolar (JKS), Ollie's Bargain Outlet (OLLI), KB Home (KBH), Steelcase (SCS).
Click here to log on to your account or learn more about E*TRADE's trading platforms, or follow the Company on Twitter, @ETRADE, for useful trading and investing insights.
---
1 All references reflect Cboe Volatility Index (VIX) and S&P 500 (SPX) daily prices, 1/4/93–3/22/22. Supporting document available upon request.
Important note regarding economic sanctions. This event may involve the discussion of country/ies which are generally the subject of selective sanctions programs administered or enforced by the U.S. Department of the Treasury's Office of Foreign Assets Control ("OFAC"), the European Union and/or by other countries or multi-national bodies. The content of this presentation is for informational purposes and does not represent Morgan Stanley's view as to whether or not any of the Persons, instruments or investments discussed are or may become subject to sanctions. Any references in this presentation to entities or instruments that may be covered by such sanctions should not be read as recommending or advising on any investment activities involving such entities or instruments.  You are solely responsible for ensuring that your investment activities in relation to any sanctioned country/ies are carried out in compliance with applicable sanctions.
What to read next...
03/21/22
Stocks rebound as Fed raises rates, China pledges market support.
---
03/18/22
The Fed didn't surprise anyone on Wednesday, but that didn't prevent the markets from making some big moves.
---
03/16/22
Europe plans to accelerate renewable initiatives to reduce reliance on Russian energy.
---