Keeping tabs on the VIX
VIX elevated in recent weeks, but not as high as in early March
Lower VIX when stocks hit new lows can reflect reduced volatility concerns
Pattern preceded late-Feb. and mid-March rebounds
Things like 4% down days, possible seven-week losing streaks, and "bear talk" can make even the most detached investors spend a little more time pondering the twists and turns of the market.
When negative sentiment appears to be reaching new levels, longtime traders often consult the Cboe Volatility Index (VIX), which tends to jump during sharp stock market sell-offs and drift to lower levels when the market rallies.
But the VIX is actually a much more nuanced tool than many people may think—and it has sometimes signaled sentiment shifts that weren't immediately apparent in the stock market's price action, including more than once this year.
The VIX has a major contrarian component, which is why many traders watch it closely during stock sell-offs.
That has something to do with the way the VIX is constructed. Because it's derived from the implied volatility (IV) of S&P 500 (SPX) options, the VIX represents the options market's estimate of the SPX's near-term (30-day) volatility: The more volatile traders expect stocks to be, the higher the VIX—and when the market drops particularly sharply or unexpectedly, or falls to new lows, the VIX typically does the opposite.
Of course, this behavior suggests the VIX has a major contrarian component: Many significant market lows have been accompanied by higher-than-average VIX highs. In other words, those highs sometimes signal bearish sentiment extremes that are followed by upside reversals, either temporary or longer-term.
A related way many traders use the VIX is to watch for departures from the usual market-up/VIX-down pattern. For example, the following chart highlights two times the SPX (top) fell to a lower low (or tested a previous low) and the VIX (bottom) also declined: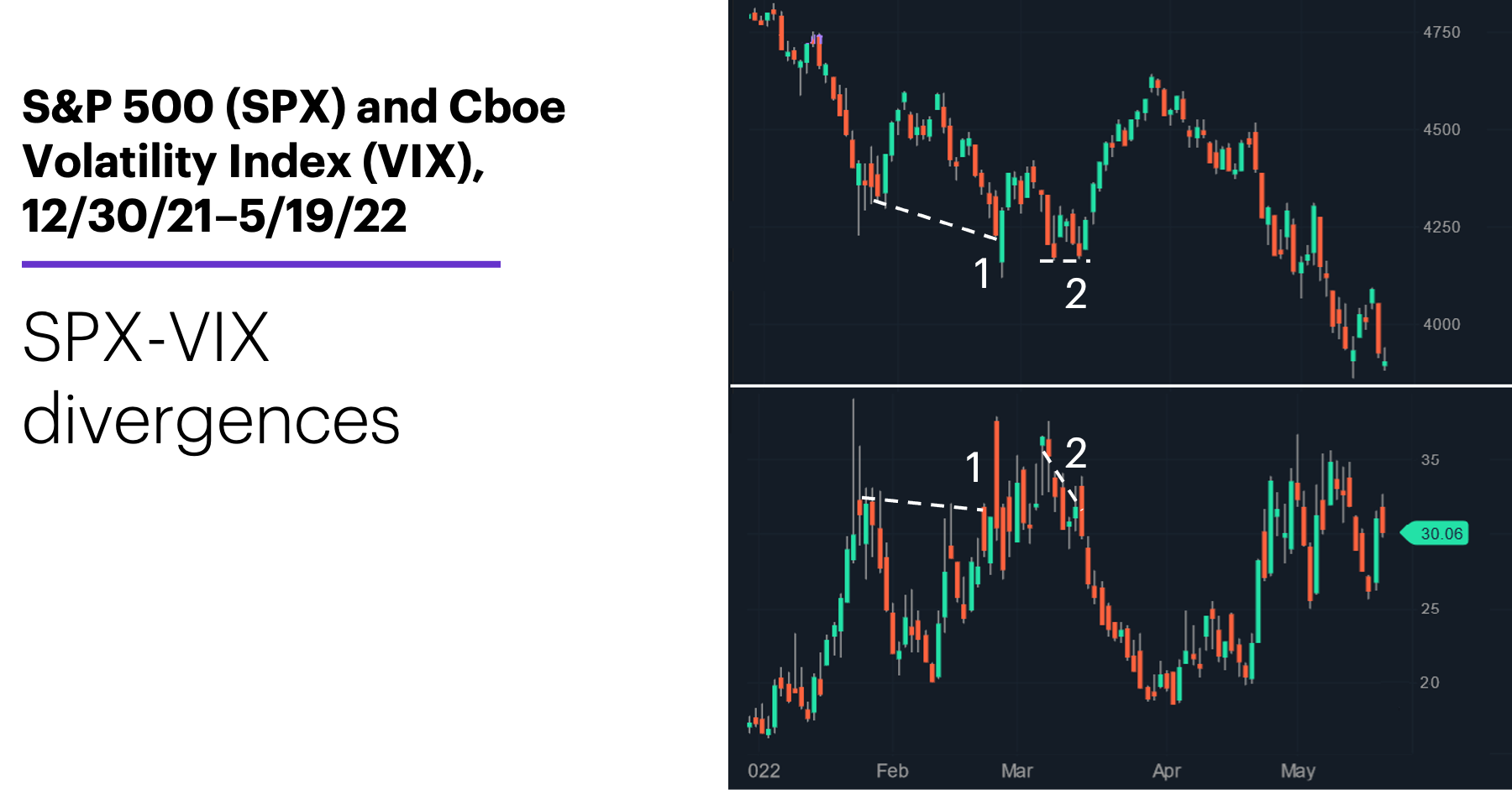 Source: Power E*TRADE. (For illustrative purposes. Not a recommendation.)
---
In the first case, on February 23 both the SPX and VIX closed below their January 27 closes, which means the options market was indicating it was less concerned about volatility even though the market was hitting new lows. The SPX bounced over the next several days.
In the second instance, on March 14 the SPX closed less than three points above its March 8 close—its lowest close of the year up to that point—while the VIX closed much lower than it had on March 8. Again, the market rebounded.
On a broader note, some traders have probably noticed that, so far, the VIX has mostly remained below its March highs, even though stocks have fallen much more since then. Also, yesterday marked the second day in a row both the SPX and VIX closed below their May 11 closes.
There's no way to know when a sell-off will ultimately end, but tools like the VIX can help traders and investors navigate the market when there doesn't appear to be a lighthouse in sight.
Market Mover Update: A day after bucking the market with a 7% earnings rally, TJX (TJX) initially pulled back on Thursday before turning higher and closing up 2% (see "Retail stocks—discounts and markups").
Today's earnings include: Deere & Co. (DE), Foot Locker (FL).
Click here to log on to your account or learn more about E*TRADE's trading platforms, or follow the Company on Twitter, @ETRADE, for useful trading and investing insights.
---
What to read next...
05/19/22
Unusual options activity in retailer about to release earnings shines light on overlapping market dynamics.
---
05/18/22
Stock dip-buyers have to worry about falling prices, but options buyers also need to account for falling volatility.
---
05/17/22
Few market moves are without precedent: Find out what the stock market has done in situations like the one it's in now.
---