A viral story
Monday was worst day for stocks since October amid coronavirus fears
Volatility, not extended losses, the hallmark of past viral outbreaks
Some similar health scares have occurred near significant market lows
With market news seemingly beginning and ending with the coronavirus story, it may be worthwhile to point out a couple of things—one small point and one big one.
First, yesterday the S&P 500 (SPX) may have suffered its worst day (-1.6%) since October, but it was also just 2.6% away from its highest close ever. Tomorrow's another day.
Second, even if there's more near-term volatility in store, there's no evidence in recent history that outbreaks of diseases like the coronavirus meaningfully impact equity markets in the long-term. On the contrary, data suggests most of these episodes have corresponded to short-term volatility and relative market lows.1
For some perspective, the deadliest pandemic of the past couple of centuries was the Spanish flu outbreak of 1918, which is estimated to have killed at least 50 million people—around 3% of the global population.2 That would translate into around 231 million deaths today.
Take a breath. No other virus since then has come even close to that type of carnage, and there's currently no indication the coronavirus will be markedly different from other viral outbreaks in recent decades. To make things a bit more concrete, let's look at a couple of the best-known examples—the 2003 SARS episode and the 2014 Ebola scare, with a quick nod toward the 2009 swine flu outbreak.
Source: Power E*TRADE
---
In the first quarter of 2003, Severe Acute Respiratory Syndrome (SARS)—the same type of illness as today's coronavirus—rattled the globe. According to the World Health Organization (WHO), around 8,100 people worldwide contracted SARS during the 2003 outbreak, 774 of whom died.3 The chart above shows the S&P 500, which in March 2013 was testing the lows of the 2000–2002 bear market, barely missed a beat—in fact, it surged as the SARS story was gaining traction in March–April.
The 2014 Ebola outbreak was arguably a more serious medical event—the WHO estimates more than 11,000 people (mostly in Africa) died from the disease in the 21 months after the first case was reported on March 214—but the market disruption was relatively contained, if more volatile than during the SARS episode.
The chart below shows the SPX initially bottomed on August 7, the day before the WHO designated the Ebola outbreak as a Public Health Emergency of International Concern (PHEIC)—something it has not yet done for the coronavirus, by the way. The SPX rallied more than 4% in less than two weeks after that announcement, but fell to a lower low in mid-October: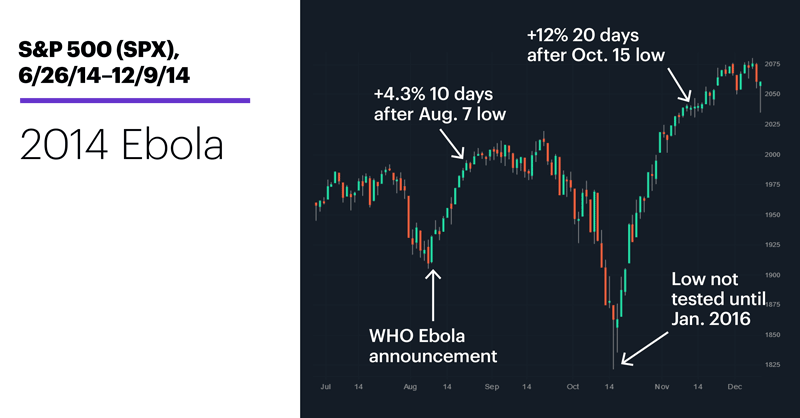 Source: Power E*TRADE
---
However, it's difficult to attribute the October sell-off exclusively to Ebola, since several other potential catalysts were in the mix at the same time, including unexpectedly weak economic data (both at home and abroad) and the rise of ISIS.5 Regardless, 20 days after the October 15 low the SPX was up 12%, and it kept rallying into mid-2015; it didn't test the October 2014 low until January 2016.
Finally, there's the 2009 swine flu outbreak, which scientists believe killed around 284,000 people globally (nearly 12,500 in the US) between April 2009 to April 2010.6 In lieu of reviewing another chart, it's enough to note that the SPX was entrenched in a strong uptrend for most of this period, gaining nearly 50% from March 31, 2009 to April 30, 2010.
The moral of the story? For buy-and-hold investors, the moral may be that there isn't a story here. For those operating on a shorter-term horizon, it may be that the volatility that has tended to accompany health scares could offer short-term opportunities for disciplined, risk-conscious traders.
Today's numbers (all times ET): Apple (AAPL), Lockheed Martin (LMT), Starbucks (SBUX), eBay (EBAY), Pfizer (PFE).
Today's earnings include: Durable Goods Orders (8:30 a.m.), S&P Corelogic Case-Shiller Home Price Index (9 a.m.), Consumer Confidence (10 a.m.), FOMC meeting starts.
Click here to log on to your account or learn more about E*TRADE's trading platforms, or follow the Company on Twitter, @ETRADE, for useful trading and investing insights. 
---
1 MarketWatch. How the stock market has performed during past viral outbreaks, as coronavirus infects thousands. 1/27/20.
2 CDC.gov. 1918 Pandemic (H1N1 virus).
3 CDC.gov. SARS Basics Fact Sheet.
4 BBC.com. Ebola: Mapping the outbreak. 1/14/16.
5 BusinessInsider.con. Traders Are Blaming Today's Sell-Off On 7 Things. 10/15/14.
6 CDC.gov. 2009 H1N1 Pandemic (H1N1pdm09 virus).
What to read next...
01/27/20
Friday downturn helps usher in the first losing week of 2020.
---
01/24/20
Does options action in gaming tech stock support the picture on the price chart?
---
01/23/20
History suggests virus scares may be bigger challenges for medicine than markets.
---