Viral market action
SNAP up more than 35% after earnings beat, ad revenues surge
Other social media stocks jumped on the news
Key names—TWTR, FB, PINS—set to announce next week
Everyone always says the markets don't like surprises, but tell that to Snap (SNAP) shareholders.
The social media platform surged more than 35% yesterday morning in the wake of its "surprise" earnings beat.1 The stock skyrocketed past its previous all-time high of $29.44 (which it set on its second day of trading in March 2017, by the way), topping out just shy of $39:
Source: Power E*TRADE
---
SNAP's good fortune appeared to go viral, too. On a day the major stock indexes were fighting to stay in positive territory, fellow social media stocks Twitter (TWTR), Pinterest (PINS), and Facebook (FB) were up roughly 10%, 7%, and 4%, respectively, around noon ET.
The following chart shows the returns of all three since early August, around the time they (and SNAP) got back into gear after some stagnation in July. Yesterday was just the latest of many all-time highs for PINS, and the highest high in more than five years for TWTR: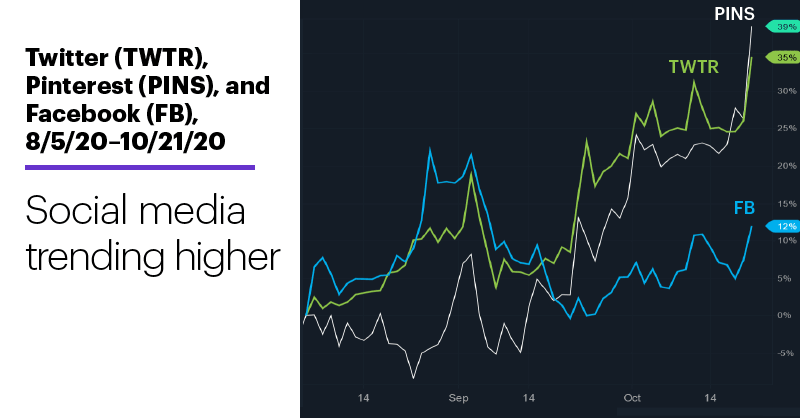 Source: Power E*TRADE
---
Why even talk about what these stocks did yesterday? For starters, there's all the Street chatter about how SNAP's results bode well for online advertising, which contracted mightily in the early portion of the COVID crisis. Social media is driven by ad revenue, plain and simple, and SNAP's ad revenues were up 52% year-over-year.2
Oh yeah, then there's the fact that TWTR, PINS, and FB are all scheduled to release earnings next week.
Whether or not SNAP's numbers mean other social media companies could dish up similar "surprises" is one thing; what their stocks will do is another. Aside from the influence of the broad market, traders looking ahead to next week will likely keep an eye on SNAP's performance over the next few days. That, as much as yesterday's rally, may provide some insight into how things could play out for other social media stocks.
A final thought for options traders: The surge these stocks experienced yesterday pumped up their call options premiums—which were already likely inflated by increased implied volatility in the run-up to earnings. Even exceptionally bullish traders need to be wary of giving up any potential edge by snapping up potentially overpriced options.
Market Mover Update: Yesterday December copper futures (HGZ0) extended Tuesday's upside breakout by pushing to a new contract high above 3.20. The contract is now up around 47% since March 20—neck-and-neck with the S&P 500 (SPX) over that span, and way ahead of gold: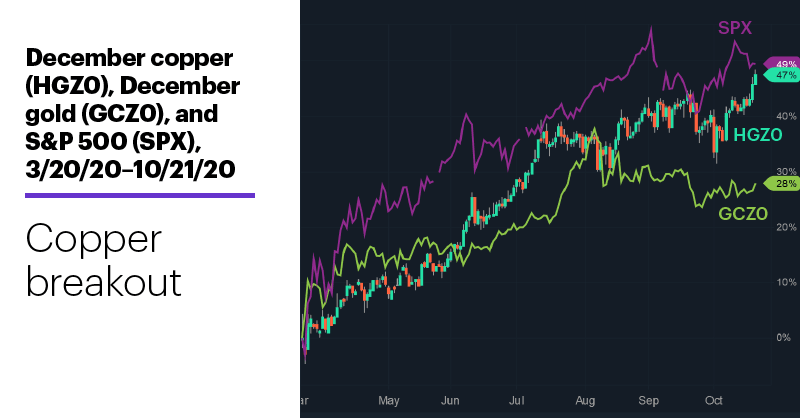 Source: Power E*TRADE
---
Unlike gold, though, copper is a big part of home construction—one of the hottest areas of the US economy (and stock market) in recent months.
Today's numbers (all times ET): Weekly Jobless Claims (8:30 a.m.), Existing Home Sales (10 a.m.), Leading Indicators (10 a.m.).
Today's earnings include: American Airlines (AAL), Southwest Airlines (LUV), AT&T (T), Fifth Third Bancorp (FITB), Coca-Cola (KO), Intel (INTC), Check Point Software (CHKP), Union Pacific (UNP), Kimberly-Clark (KMB), Northrop Grumman (NOC).

Click here to log on to your account or learn more about E*TRADE's trading platforms, or follow the Company on Twitter, @ETRADE, for useful trading and investing insights.  
---
1 StreetInsider.com. Snap (SNAP) Earnings. 10/20/20.
2 CNBC.com. Snap had a blowout quarter—it could signal a 'bonanza' for social companies. 10/21/20.
What to read next...
10/21/20
Bulls are known for charging, but stock's price action may reward traders who play a more tactical game.
---
10/20/20
Does recent options activity suggest traders are marking down retailer in the near-term?
---
10/19/20
Stocks weather first pullback in three weeks as tech gets back on track.
---