Value proposition
Rotation has emerged as a major investment theme in Q4
Some analysts see investment flows continuing to shift to value stocks
Value story may support stocks that also have short-term trade setups
The Great Rotation story—that "value stocks" are gaining traction over momentum and growth stocks—may be of interest mostly to long-term investors, but shrewd traders are unlikely to overlook short-term opportunities that have the bonus of a major investment theme backing them up.
First, the rotation story that has gotten a great deal of attention in the press lately, as some analysts (including those at J.P. Morgan) have argued that the recent flow of investment funds out of previous high-flyers and into value names could continue into next year.1
Second, while "value" may make some traders think of stodgy, low-priced stocks that haven't gone anywhere for a long time (which can be true), it simply refers to stocks that may be "cheap" based on one or more fundamental metrics—e.g., earnings, revenues, dividends, and so on. Some of those stocks may have relatively low prices, others may be trading at record highs.
For example, here are three stocks that have appeared on many value-stock lists, but which also may hold interest for short-term traders (for different reasons):
1. Travelers Companies (TRV)
2. Sony (SNE)
3. Phillips 66 (PSX)
Insurance company Travelers (TRV) may be a value stock, but it also may look underpriced to some traders in the wake of its late-October sell-off, which dropped shares to their lowest level (around $129) since February: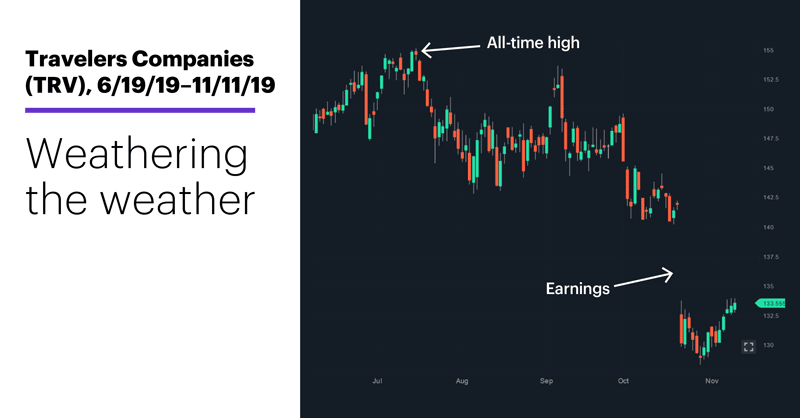 Source: Power E*TRADE
---
The main culprit was a big earnings miss on October 22 that knocked around 8.3% off the stock's price, and which followed a similar-sized decline from TRV's July all-time high around $155.
As of yesterday the stock had rebounded to reach the bottom of the October 21–22 down gap—a vacuum on the price chart some bulls may expect the stock to try to fill in light of the fact that the October earnings miss was attributed to one-off catastrophic weather payouts (the company topped revenue estimates handily, by the way).2
Our second value name, Sony (SNE), hit a new record high yesterday after a four-day pullback that tagged the stock's late-October breakout level (dashed line):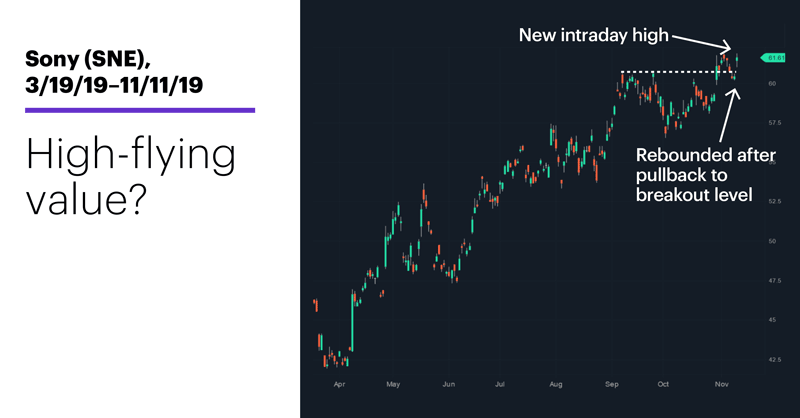 Source: Power E*TRADE
---
While Sony isn't necessarily thought of as a cutting-edge gaming company, it does have this little product called PlayStation, and it's reportedly taken steps to power up the streaming side of its gaming universe.3 Although SNE has already rallied more than 45% off its March low, yesterday's pullback-reversing rally may encourage bulls who may have been buying dips the past several months.
Regular visitors to this space may already be familiar with oil refiner Phillips 66 (PSX), which has rallied more than 19% since October 8 (see "Priming the momentum pumps"). There may not seem to be anything more to say about the stock, except that it's formed a tight consolidation near its recent highs over the past seven days—something that may have attracted a new set of short-term traders who missed out on the previous surge: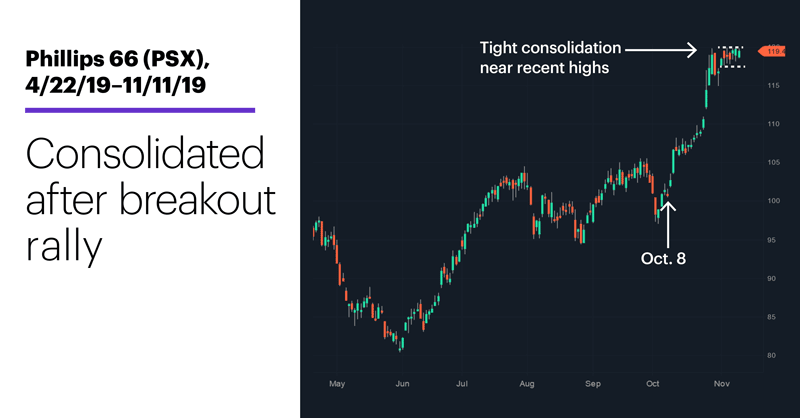 Source: Power E*TRADE
---
Different stocks, different situations—but all falling under the "value" umbrella. If the Great Rotation does, in fact, pan out, traders may find that short-term setups in some of these stocks could have an edge.
Market Mover Update: Facebook (FB) extended its post-earnings pullback yesterday (see "The numbers are in"). The stock has now pulled back below the resistance level (roughly $191) it broke out above on October 31 after releasing its quarterly numbers. Enough of a drop to entice buyers?
Today's numbers (all times ET): NFIB Small Business Optimism Index (6 a.m.), Reserve Bank of New Zealand announcement (8 p.m.).
Today's earnings include: 58.com (WUBA), Jumia Technologies (JMIA), Advance Auto Parts (AAP), Rockwell Automation (ROK), CBS (CBS), Dillard's (DDS), D.R. Horton (DHI), Tyson Foods (TSN), Huazhu Group (HTHT), Tilray (TLRY), YY (YY), SAGE Therapeutics (SAGE).
Click here to log on to your account or learn more about E*TRADE's trading platforms, or follow the Company on Twitter, @ETRADE, for useful trading and investing insights. Online stock, ETF, and options trades1 are now commission-free.
---
1 CNBC.com. JP Morgan's top quant says the 'once in a decade' rotation into value stocks will continue. 11/8/19.
2 TheStreet.com. Travelers Takes Weather-Related Second-Quarter Earnings Hit. 10/23/19.
3 The Motley Fool. Sony Is Shaking Up Its Streaming Gaming Offerings. 10/17/19.
What to read next...
11/11/19
Dow scales new heights as market tacks on another record-setting week.
---
11/08/19
Some bullish utility stocks may have given deceptive signals recently.
---
11/07/19
Underpriced options may be one way for traders to play a potential year-end energy rally.
---