Next chapter of vaccine story?
NVAX jumped on yesterday's vaccine news
Stock has held support level after August retracement
Potentially inexpensive options may attract bulls
Although Monday COVID-vaccine announcements are starting to feel routine, yesterday's market action following news of AstraZeneca's (AZN) successful results was far from it. While several other vaccine stocks posted solid gains, AZN actually ended the day in the red.
Novavax's (NVAX) rally was so strong it probably led some casual observers to think this was the company that had just released trial results. NVAX jumped 14% in early trading, adding a little daylight to the move off the support level it formed after falling from its August 6 high of $189.40: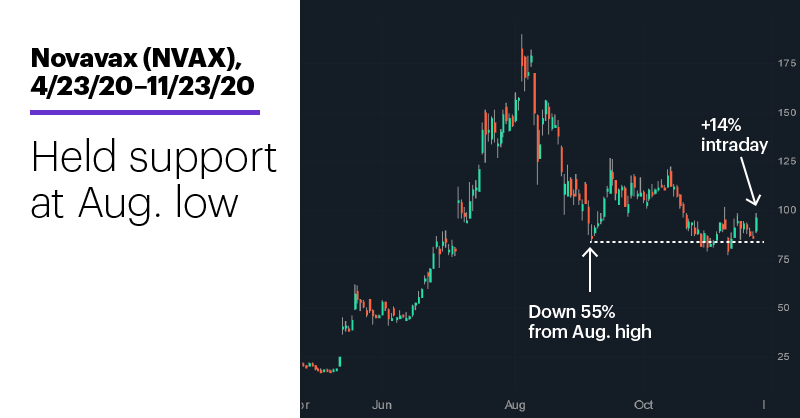 Source: Power E*TRADE
---
The rally to that roughly five-year peak was part of the gold rush that propelled many stocks as the vaccine race got underway. Yesterday's NVAX rally (and the gains in other vaccine names) may suggest traders don't think the past couple of weeks marks the end of this story—perhaps since these vaccines have important differences, and there appears to be a growing consensus that more than one will be needed to get the virus under control.1
Are traders betting that NVAX's vaccine—which showed a potentially stronger antibody response than other vaccines in early testing2—still has a role to play? Perhaps. More importantly from a trading perspective, the stock has been resilient since its August sell-off—it's bent at its support level (dropping to slightly lower lows twice in October), but it hasn't broken.
Also, yesterday morning NVAX appeared briefly on the LiveAction scan for biggest one-day implied volatility (IV) declines, and the following chart shows IV for December and January options were well below their 30-day averages:
Source: Power E*TRADE
---
Lower IV often results in lower options premiums, so bulls ultimately anticipating positive vaccine news from NVAX may look to use call options in their trades—perhaps after the stock gives back some of Monday's surge and those contracts are even cheaper, of course.
Market Mover Update: Has the stay-at-home shakeout trade played out? In addition to the broad market rallying less on each positive vaccine report the past three Mondays, many pandemic winners that initially got hammered on the prospect of a "return to normal," such as Zoom Video Communications (ZM), appear to be developing some immunity to these events.
Source: Power E*TRADE
---
The chart above shows ZM took a 20% intraday hit on November 9 when the Pfizer-BioNTech vaccine story broke (and sold off another 9% the next day), but fell only 7% intraday on November 16 (and rallied intraday to close down only 1.1%) after Moderna released its vaccine news. In the wake of yesterday's AstraZeneca announcement, ZM's intraday loss was only -5% and the stock never traded below Friday's low. Shares are up roughly 14% since November 10.
Finally, what was that stock at or near the top of almost every LiveAction scan for unusual options activity yesterday (including call volume that was 35 times average)? That would be Switchback Energy Acquisition Corp. (SBE), the latest SPAC getting ready to launch a reverse merger and throw its hat in the busy electric vehicle (EV) space. SBE, which has skyrocketed nearly 100% over the past six days, will (next month) morph into ChargePoint, which is the largest independent operator of EV charging stations.
Today's numbers (all times ET): Case-Shiller House Price Index (9 a.m.), FHFA House Price Index (9 a.m.), Consumer Confidence (10 a.m.).
Today's earnings include: Analog Devices (ADI), Burlington Stores (BURL), Best Buy (BBY), Tiffany (TIF), Dollar Tree (DLTR), Dell Technologies (Dell), HP (HPQ), Pure Storage (PSTG), Nordstrom (JWN), VMware (VMW), Medtronic (MDT).
Click here to log on to your account or learn more about E*TRADE's trading platforms, or follow the Company on Twitter, @ETRADE, for useful trading and investing insights.  
---
1 Wired. We'll Need More Than One Vaccine to Beat the Pandemic. 11/13/20.
2 ScienceMag.org. Will a small, long-shot U.S. company end up producing the best coronavirus vaccine? 11/3/20.
What to read next...
11/23/20
Stocks got another vaccine boost last week, but follow-through stalled as virus cases mounted.
---
11/20/20
Economic optimism and housing strength have helped this market become one of the more surprising stories of 2020—but the market could be facing a technical challenge.
---
11/19/20
An electric-vehicle angle? Check. A SPAC reverse merger? Check. And the stock is on the move, too.
---