Vaccine stock in search of booster shot
BNTX in three-week consolidation after pullback from record high
Stock recently bounced after testing correction low
Volatility pattern highlighting potentially underpriced options?
Perhaps the most unusual thing about BioNTech's (BNTX) appearance on a list of stocks with relatively low volatility was the fact that it was on it, period. After all, the COVID vaccine maker and Pfizer (PFE) partner skyrocketed more than 1,100% between March 2020 and August 2021 before correcting around 28%.
In other words, volatility has not been in short supply.
Nonetheless, BNTX landed on yesterday's scan for symbols with 30-day implied volatility (IV) below their 30-day historical volatility (HV), which basically means the options market was expecting the stock to be less volatile over the next 30 days than it had been over the past 30: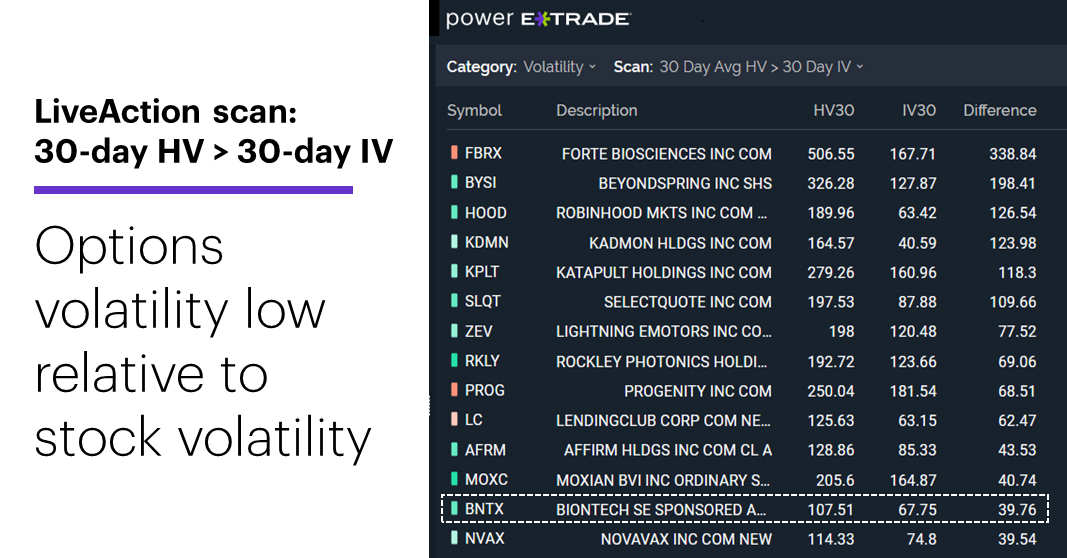 Source: Power E*TRADE (For illustrative purposes. Not a recommendation.)
---
As is often the case, though, "relatively" is key to understanding what's been going on in BNTX. The stock's IV may be low relative to its HV, but its HV—i.e., its price movement—had been through the roof until about three weeks ago.
The last leg of the stock's nearly 17-month rally was a 68% surge between July 13 and August 9 (when it set a record close), which gave way to a 28.5% correction, followed by the current reduced-volatility consolidation:
Source: Power E*TRADE (For illustrative purposes. Not a recommendation.)
---
Amid reports that Pfizer-BioNTech's COVID booster shot could be ready before Moderna's (MRNA),1 some bullish traders may be inclined to view BNTX's bounce over the past four days as a successful test of the mid-August correction low. While that may turn out to be true, four days does not a trend make.
Other traders—especially those who expect a stock's volatility to increase but are unsure about its price direction—sometimes consider using non-directional options spreads like long straddles, strangles, condors or butterflies. "Trading breakouts with options" highlighted some of the potential advantages and drawbacks of these strategies, but one of the key conditions traders generally look for when attempting to implement them is relatively low IV—because, if you're "buying" volatility, you want to buy it as cheaply as possible. In this case, BNTX's current IV is significantly lower than it was most of last year and much of this year, although it's higher than it was at its March and July 2021 lows.
While it's only natural to expect formerly fast-moving stocks to revert to form after a pause, forecasting volatility is subject to the same uncertainties as forecasting price direction—in other words, a low-volatility consolidation can last longer than you think. The key is to structure trades that account for that reality.
Today's numbers include (all times ET): Producer Price Index, (8:30 a.m.), Preliminary Wholesale Inventories (10 a.m.).
Today's earnings include: Kroger (KR).
Click here to log on to your account or learn more about E*TRADE's trading platforms, or follow the Company on Twitter, @ETRADE, for useful trading and investing insights
---
1 Investor's Business Daily. IBD/TIPP Poll Shows Huge Booster Interest; Why Pfizer Might Beat Moderna To The Punch. 9/9/21.
What to read next...
09/09/21
When a dormant stock surges, it's good to remember the first rule of breakouts: Don't chase the breakout.
---
09/07/21
Market coming off another winning week despite Friday's jobs miss.
---
09/03/21
Fading a trend without reason often results in financial pain, but many traders and investors may be more contrarian than they realize.
---