Vaccine stock booster shot
SIGA up more than 30% in 7 days
Vaccine maker hit high 11-year high in May
Call volume heavy—but so was put volume
Yesterday morning, volume in SIGA Technologies (SIGA) call options was nearly 40 times average—the second-highest percentage increase among individual stocks: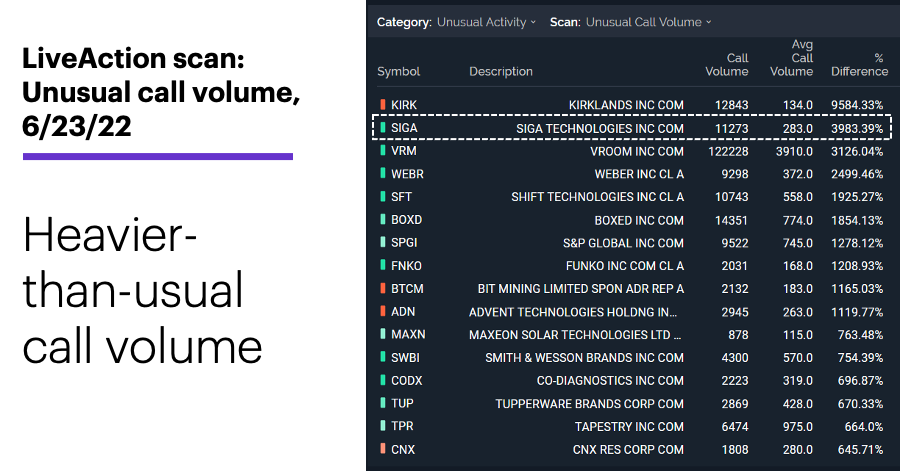 Source: Power E*TRADE. (For illustrative purposes. Not a recommendation.)
---
Viewed in the context of SIGA's seventh-straight up day on Thursday, it looked like a fairly price-positive situation—since, all else being equal, calls are more likely than puts to be used to take bullish positions on the underlying stock.
That view may have been tempered somewhat by SIGA's simultaneous appearance on top of the LiveAction scan for unusual put volume: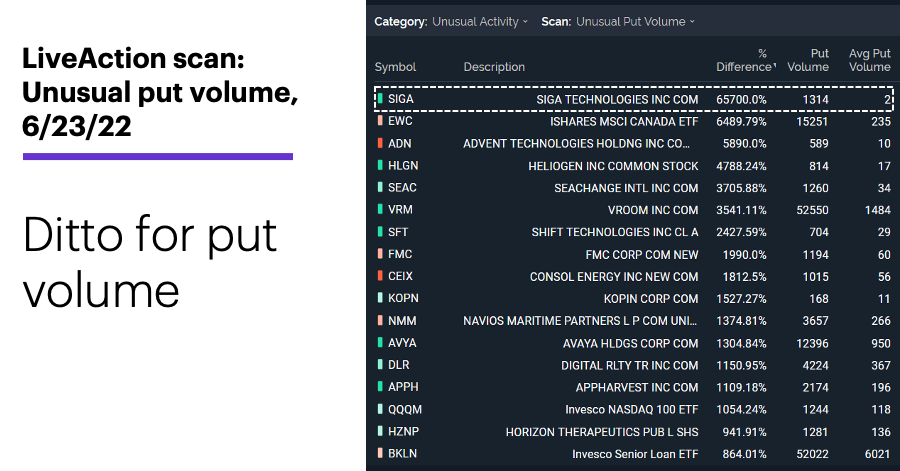 Source: Power E*TRADE. (For illustrative purposes. Not a recommendation.)
---
Given put volume was 657 times average, was the picture suddenly bearish? Not necessarily, since SIGA's average daily put total is only two contracts. On an absolute basis, SIGA's call volume was still more than eight times its put volume (11,273 contracts vs. 1,314 contracts). But that's not an exceptionally high call-put ratio, since call volume is typically greater than put volume.
But there's a story behind this unusual options volume. After closing at $7.39 on May 18, SIGA doubled over the next three days (tagging $14.80 intraday) after the Food and Drug Administration approved the liquid form of its smallpox vaccine,1 and the company received requests to use the drug to combat the monkeypox virus.2
After pulling back below $10 by June 13, SIGA rallied as much as 34% over the past seven trading days, although it lost some of its momentum on Thursday, retreating toward its intraday lows by midday: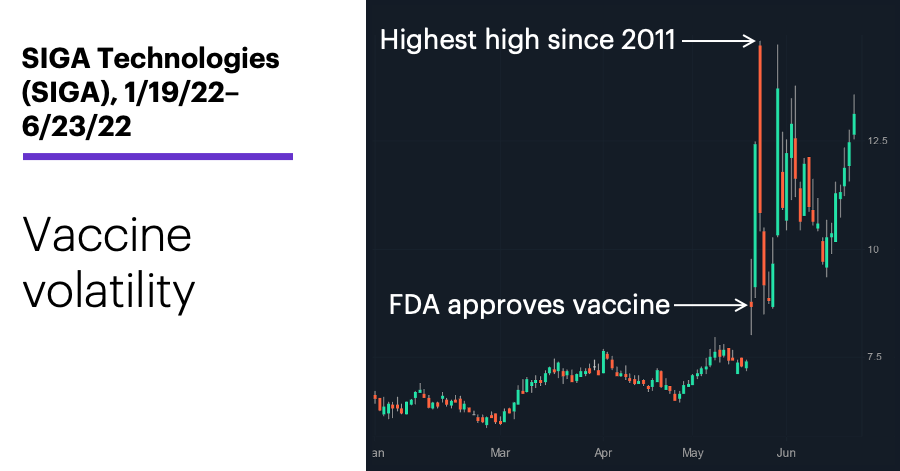 Source: Power E*TRADE. (For illustrative purposes. Not a recommendation.)
---
With the sharp 2021–2022 rallies in some COVID vaccine stocks still a very fresh memory, it's probably not surprising that stocks like SIGA—which before last month hadn't traded above $10 since 2011—have attracted such interest.
The recent options activity underscores that interest, but it also suggests traders may be positioning themselves on both sides of the market. Two things experienced traders may be considering: First, the monkeypox story may not play out the same way COVID did. Second, when all was said and done, there were fewer COVID vaccine winners than losers, and even some of the winners (e.g., Moderna and BioNTech) later gave back the majority of their pandemic gains.
Today's numbers include (all times ET): New Home Sales (10 a.m.), Consumer Sentiment (10 a.m.).
Today's earnings include: CarMax (KMX).
Click here to log on to your account or learn more about E*TRADE's trading platforms, or follow the Company on Twitter, @ETRADE, for useful trading and investing insights.
---
1 Bloomberg.com. Monkeypox's Spread to the US Pushes Antiviral, Vaccine Stocks Higher. 5/19/22.
2 Reuters. Siga gets requests for smallpox drug in Europe as monkeypox spreads. 5/19/22.
What to read next...
06/23/22
Find out what the data says—and doesn't—about this building supplier's pre-earnings sell-off.
---
06/22/22
The upside of market downside is that sell-offs can pump up option prices.
---
06/21/22
Stocks extend losses as Fed dials up its inflation fight.
---