Traders planting flags in vaccine biotech?
BNTX options open interest more than four times average yesterday
Company working with Pfizer on COVID vaccine
Call positions outnumber puts, especially for Sept. expiration
Trader eyeballs tend to get grabbed by extremes—biggest gainer, highest-voume, record high or low—but sometimes it's the numbers just outside the spotlight that prove to be the most interesting.
Late Thursday morning, German biotech BioNTech's (BNTX) options open interest (OI) was running around four-and-a-half times its average level: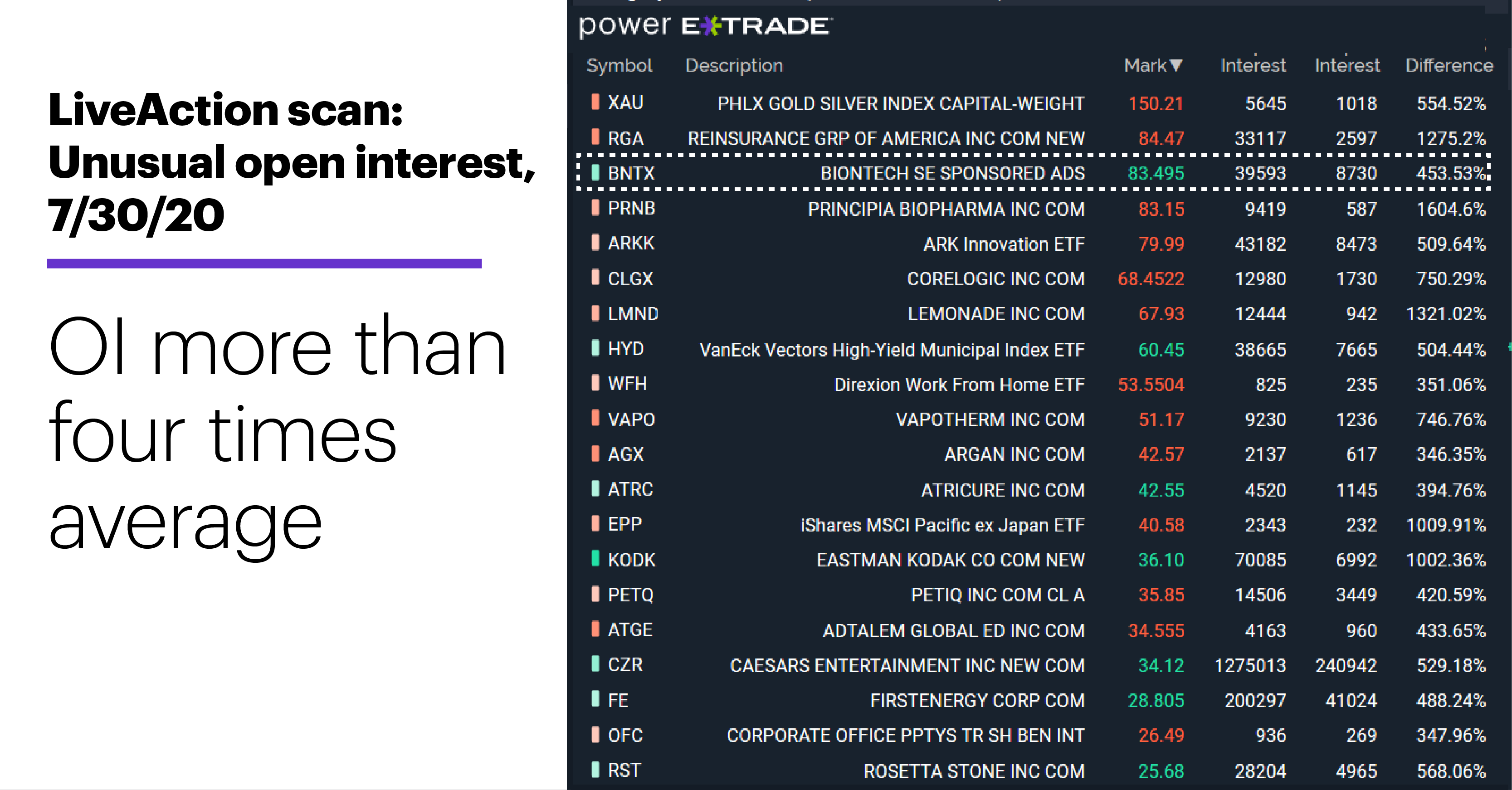 Source: Power E*TRADE
---
Many people use OI (the number of unclosed options positions) as a general gauge of how much market interest there is in a particular symbol—the higher the OI, the higher the level of trader engagement, or commitment.
Now, although BioNTech didn't have the highest OI on yesterday's LiveAction scan, it did happen to be the only stock on the list in the thick of the coronavirus vaccine race, having hooked up with pharma giant Pfizer (PFE) back in April. And like many other biotech stocks that have thrown their hats in that ring, BNTX, which began trading in the US less than a year ago, has been on quite a ride the past few months.
Knowing a stock has high OI is potentially interesting, but it can help to see which options traders are staking their claims to. In this case, they seemed to favor calls over puts:
1. OI in August BNTX calls was 10% more than the OI in August puts.
2. OI in September calls was nearly 2.5 times the OI in September puts.
While big call positions could always be initiated by traders who expect a price drop and want to collect premium, all else being equal, traders tend to interpret heavy call OI relative to put OI as a sign of potential bullish positioning.
The following chart, which compares BNTX's and PFE's returns since mid-March, shows how much more BNTX has gained than its mainstream-pharma partner, but it also highlights the biotech stock's sharp pullback since hitting a record high last week: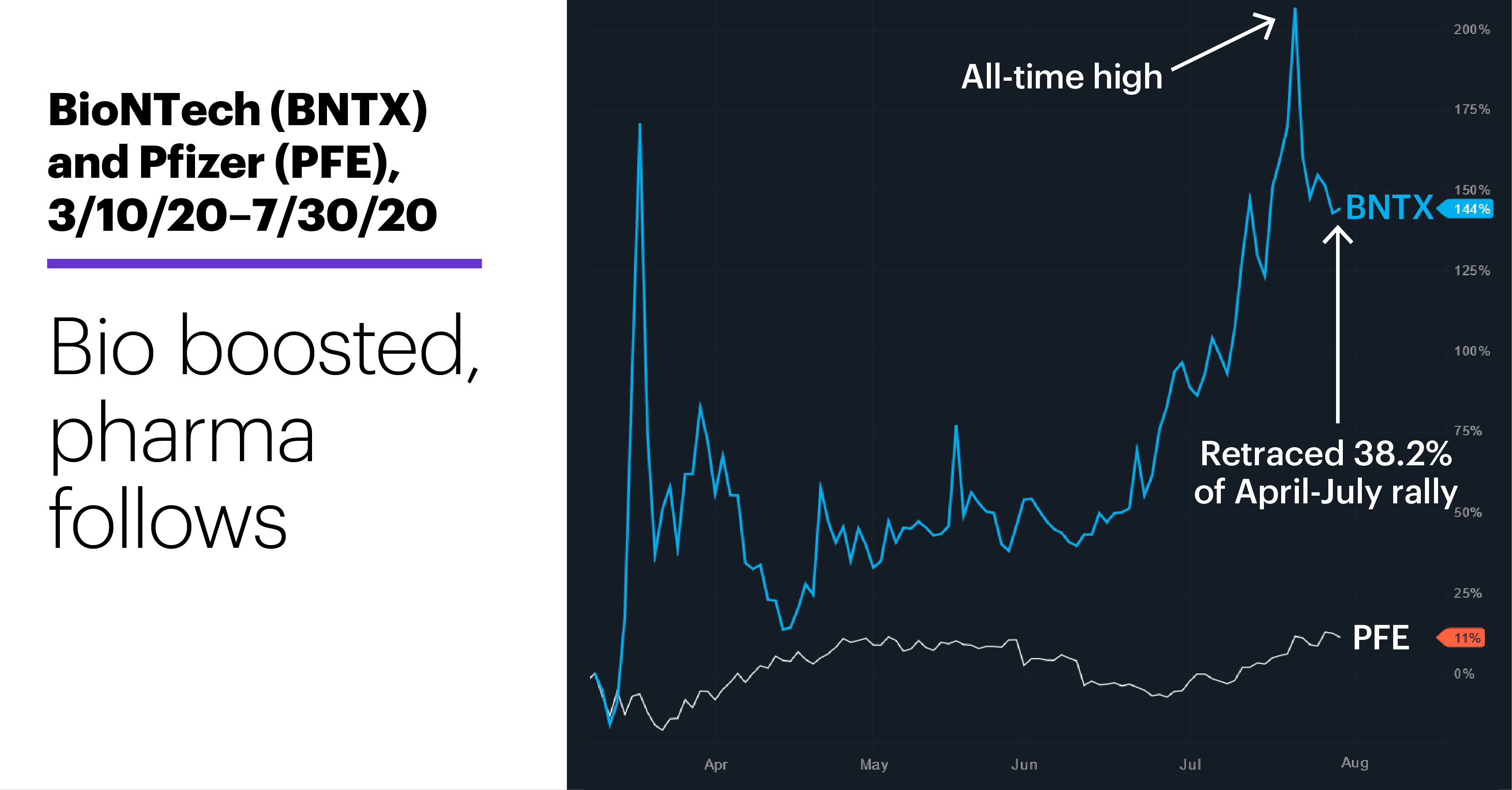 Source: Power E*TRADE
---
Such moves are a good reminder that volatility is par for the biotech course—a tendency that will likely be magnified by the ups and downs of the vaccine story. (Fib alert: BNTX rallied more than 2% intraday yesterday after tagging the 38.2% Fibonacci retracement level of its April 16–July 22 rally.)
On Monday, Pfizer and BioNTech announced they were entering a new stage of vaccine testing—a combined Phase 2/3 trial that will test up to 30,000 participants.1 The vaccine race is likely closer to its beginning than its end, though, so stocks like BNTX have a good chance of remaining in play for the foreseeable future.
Today's numbers (all times ET): Personal Income and Outlays (8:30 a.m.), Employment Cost Index (8:30 a.m.), Chicago PMI (9:45 a.m.), Consumer Sentiment (10 a.m.).
Today's earnings include: Phillips 66 (PSX), Abbvie (ABBV), Exxon Mobil (XOM), Colgate-Palmolive (CL), Caterpillar (CAT), Chevron (CVX).
Click here to log on to your account or learn more about E*TRADE's trading platforms, or follow the Company on Twitter, @ETRADE, for useful trading and investing insights.  
---
1 CNN.com. Pfizer and BioNTech begin large-scale trial of coronavirus vaccine in the United States. 7/28/20.
What to read next...
07/30/20
Bears initially drive post-earnings trade in cloud-tech stock, but bulls may be waiting in the wings.
---
07/29/20
Was yesterday's heavy call options volume a sign of bullishness or classic misdirection?
---
07/28/20
A falling dollar may favor certain types of stocks, but traders can't rely too heavily on a single "macro" theme.
---