To V or not to V
Monday was the S&P 500's biggest up day since December 2018
It reversed more than 35% of the Feb. 19-28 sell-off
The beginning of a "V reversal?"
Way back in ancient history—Christmas Eve, 2018—the stock market was in a mini-meltdown, as four-straight big down days nudged the S&P 500 (SPX) into bear-market territory after a nearly three-month slide.
The next trading day, December 26, the SPX roared back 5%; within 10 days it was 10% higher, and after two months, the index was nearly 19% above its December 24 close.
It wasn't quite a "V" reversal—what many traders like to call a sharp upside rebound that almost immediately erases a sharp sell-off—but it was awfully close. And the reason some people care about V reversals is that, according to traditional technical-trading wisdom, these patterns are often followed by significant rallies.
So when the SPX pole-vaulted 4.6% on Monday after last week's sell-off, plenty of traders were likely wondering if we were in for a repeat of the late-2018 don't-look-back rebound: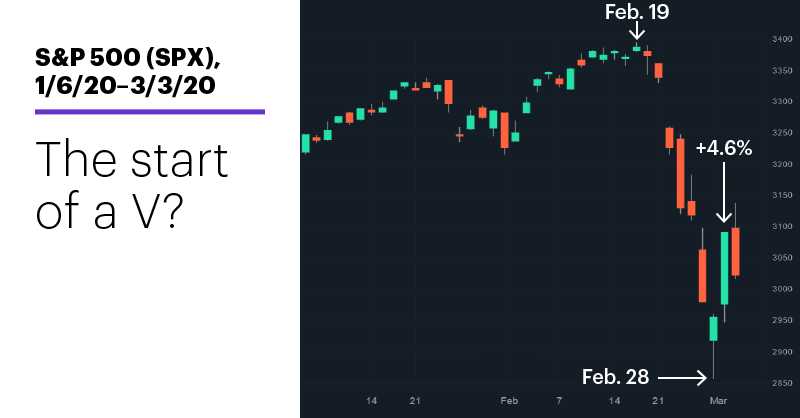 Source: Power E*TRADE
---
Yesterday's downturn (more on that later) may have thrown cold water on that idea for some people, but it didn't really negate the premise. Regardless, it's easy enough to get a handle on whether days like Monday—big up days that interrupt sharp sell-offs—tend to portend more upside, or if they're just random events.
The following table shows the SPX's performance one week to six months after 42 other days like Monday, when the index regained at least one-third of a sharp, multi-day sell-off in a single day:1
Source (data): Power E*TRADE, Standard & Poor's
---
Long story short, these results suggest that while the market tended to continue to rebound after these big up days, the gains weren't necessarily huge, and there was often a bit of retrenchment somewhere around the two-week mark: The SPX was higher only 45% of the time at that point, and its average return was negative.1
If you've visited this space recently, you know there are more than a few historical examples illustrating how the market often tests dramatic lows like last Friday's—or at least pulls back after an initial rebound—something that may dovetail with the week-2 weakness in this table.  
Bottom line: The market doesn't need to make a V reversal to put the coronavirus in the rear-view mirror, but many experienced traders will tell you it may have to test last week's lows before that can happen.
Fed whips out the scissors: The Fed's "surprise" rate cut yesterday (which Monday's rally suggested wasn't that much of a surprise) was the first time since 2008 that the central bank lowered rates between scheduled meetings.
Traders who were confused and/or disappointed by the market's reaction—the SPX closed down nearly 3%—may want to check out what stocks have done after other surprise cuts since 1998:
Source (data): Power E*TRADE, Standard & Poor's
---
Since the Fed typically takes such action only when it thinks—rightly or wrongly—the economy and/or the markets are facing an unusual risk or experiencing a shock, the fact that the SPX was lower five days later after four of the seven cuts isn't surprising: Volatility is par for the course in these situations. One month later, though, the SPX was higher in all but one instance, and in each of those cases its return was much higher than the index's historical average one-month return of around 0.65%.
No Fibbing: Yesterday's high was just a bit above the 50% retracement level of the February 19–28 sell-off.
Market Mover Update: Gold bugs returned with a vengeance yesterday, pushing up April futures (GCJ0) more than 3% intraday to a high of $1,650.50. Microsoft (MSFT) gave back all of Monday's gain, falling more than 5% intraday and pumping up put options (see "Going long with puts").
Today's numbers (all times ET): ADP Employment Report (8:15 a.m.), PMI Services Index (9:45 a.m.), Bank of Canada Announcement (10 a.m.), ISM Non-Manufacturing Index (10 a.m.), EIA Petroleum Status Report (10:30 a.m.), Beige Book (2 p.m.).
Today's earnings include: 58.com (WUBA), American Eagle Outfitters (AEO), Zoom Video Communications (ZM), Campbell Soup (CPB), Dollar Tree (DLTR).
Click here to log on to your account or learn more about E*TRADE's trading platforms, or follow the Company on Twitter, @ETRADE, for useful trading and investing insights.  
---
1 All figures based on S&P 500 (SPX) daily price data, 1/1/60–3/4/20. Pattern defined as a day that reverses at least 33% of a -5% or larger sell-off that occurred over the course of the preceding seven days. Supporting document available upon request.
What to read next...
03/03/20
Some traders looking for a long-side edge may find it in put options.
---
03/02/20
Stocks sink, Treasuries soar, yields plunge as coronavirus spread tips market into correction.
---