Utility player with all-star numbers
AEP kept pace with S&P 500 in '19
Stock hit multiple record highs in recent weeks
Rallies have come during both broad-market upturns and sell-offs
You know the drill: When the market sells off sharply and investors go into their "defensive crouches," utility stocks can suddenly jump to prominence after days, weeks, or months of neglect.
That doesn't necessarily mean these stocks go up, it may just mean they lose less than others. But for long-term investors, that's what playing defense is all about. Traders, who typically favor being on offense regardless of which direction that takes them, understandably look at utility stocks the way most people look at paint drying on a wall.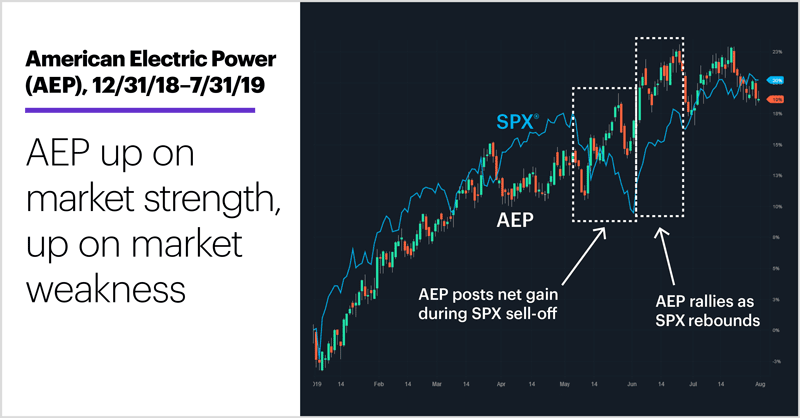 Source: Power E*TRADE
---
But sometimes, some utility stocks do go up—even when the broad market is going up, too. American Electric Power (AEP), which generates and sells electricity on a wholesale and retail basis, is a good example, having traded pretty much neck-and-neck with the S&P 500 (SPX) so far during this record-breaking year (chart above). If your reaction is, "so what?" keep in mind that utilities have been the third-weakest SPX sector in 2019, lagging the index by roughly seven percentage points. So, AEP hasn't exactly been your dad's utility stock.
AEP certainly appears to have done its job from a defensive standpoint. For example, when the SPX dropped 6.8% from May 3–June 3, AEP gained 2.3%, and even managed to hit a new all-time high of $89.01 on June 7, at which point that gain had expanded to 4.2%.
Bulls didn't abandon AEP when the SPX was steamrolling to its biggest 13-day gain since January.
But the next 13 trading days were more interesting, because even though the SPX rebounded spectacularly (7.6%) to close at a new record high on June 20, AEP rallied 4%, hit another all-time high of its own, and set new records the next couple of days after that. In other words, traders didn't abandon this "humble" utility stock when the SPX was steamrolling to its biggest 13-day gain since January.
Even (as of yesterday) amid a 3.3% pullback from its record close of $91.76 from July 18, AEP was still up nearly 20% on the year, and was 41% higher than it was at its June 2018 low.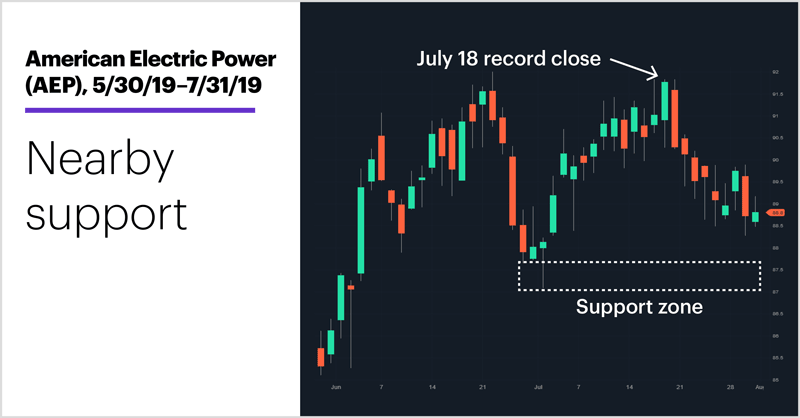 Source: Power E*TRADE
---
Although AEP hasn't made a new all-time (intraday) high since June, many technicians would consider its uptrend intact until the stock drops below the support represented by its late-June, early-July lows, a zone from roughly $87–$87.75.
None of this is to say AEP is a "Teflon stock" that never goes down. It had a crummy second half of 2016, for example, a rough December 2017–January 2018, and it sold off with the rest of the market in December 2018 (although only about half as much as the SPX).
But until its current uptrend is definitely broken, AEP is a stock to watch as the market enters a traditionally volatile period.   
Dog days? It's August, a month historically known for its "meh" returns and its…well, basically, its "meh" returns.
It wasn't always that way. August was a positive month for the S&P 500 (SPX) in 19 of 30 years from 1960–1989, and it actually had the fourth-highest median return (1.54%) of any month of the year during that stretch.
Over the past 30 years, though, the SPX has posted a gain in August 16 times, and it's median monthly return has shrunk to 0.23%. Over the past decade, August has been up five times and down five times.
Also, August has more often than not started off with a stumble: Since 1960, the SPX dropped on the first trading day of the month 56% of the time, and it's closed lower in six of the past 10 years.
Market Mover Update: Don't look now, but small caps just made a move—as of yesterday, the Russell 2000 (RUT) was the only major US index in the green for the  week, and it had pushed to its highest level since early May.
Today's numbers: PMI Manufacturing Index (9:45 a.m.), ISM Manufacturing Index (10 a.m.), Construction Spending (10 a.m.), EIA Natural Gas Report (10:30 a.m.).
Today's earnings include: Archer Daniels Midland (ADM), Arista Networks (ANET), Yum Brands (YUM), Dunkin' Brands (DNKN), Crocs (CROX), Kellogg (K), Clorox (CLX), General Motors (GM), United States Steel (X), Verizon Communications (VZ), Kraft Heinz (KHC), Intercontinental Exchange (ICE), Etsy (ETSY), GoDaddy (GDDY), HanesBrands (HBI), Yeti Holdings (YETI), Qorvo (QRVO), Motorola Solutions (MSI), Pinterest (PINS).
Click here to log on to your account or learn more about E*TRADE's trading platforms, or follow the Company on Twitter, @ETRADE, for useful trading and investing insights.
---
What to read next...
07/31/19
A bull trap, or just a run-of-the-mill pullback?
---
07/30/19
Surging financial stock gets unusual interest from options traders.
---
07/29/19
Earnings season still in overdrive as closely watched interest-rate announcement looms.
---