Upstream trading
ROKU shares surged more than 10% intraday
Stock recently rallied off 50% retracement level
Earnings scheduled for next week
There's a bit of wisdom about the desirability of price breakouts that occur on heavy volume rather than light volume: More volume implies more trader interest, which in turn suggests there's a greater chance the move could have some staying power.
Such inherited advice aside, streaming tech company Roku (ROKU) certainly appeared to have trader interest in spades yesterday, busting out of a short-term consolidation (up more than 10% intraday) on volume of nearly 15 million shares only halfway through yesterday's trading session: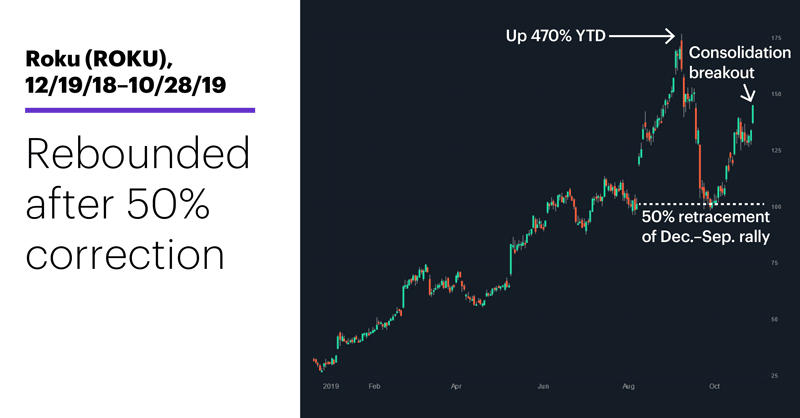 Source: Power E*TRADE
---
Options traders were in on the action, too. Even though ROKU appears at the bottom of the following LiveAction scan, it actually had the eighth-highest total options volume among individual stocks yesterday morning (half the tickers shown here are ETFs):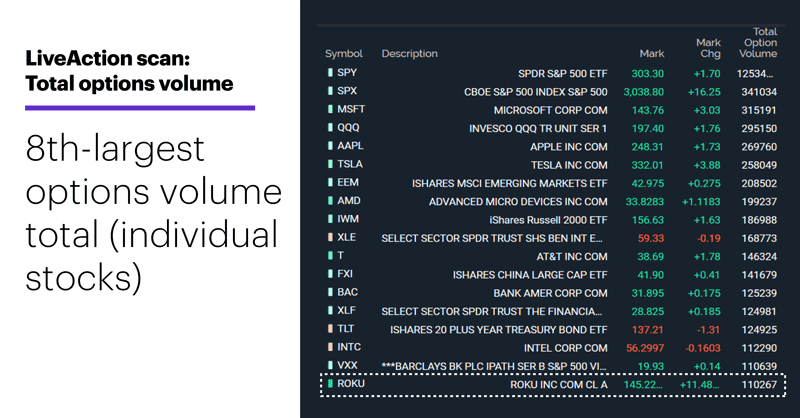 Source: Power E*TRADE
---
Although ROKU is up more than 385% year to date (YTD), as recently as early September it was up as much as 470%, having rallied from around $31 to $176.55. At that point, though, some investors seemed to say, "Okay, maybe that was a little much," and the stock subsequently tumbled below $100 over the course of three weeks.
It was during this period, predictably, that some analysts voiced skepticism about ROKU's stock price given the level of competition in the streaming device industry.1 (Nothing like a sell-off to bring out the bears.)
But not everyone threw in the towel. On September 24, for example, Oppenheimer analysts reiterated their "outperform" rating on the stock, saying the sell-off was overdone.2 As of yesterday, ROKU had rebounded to the tune of 42%.
And yesterday's move didn't occur in a vacuum. News crossed the wire early in the morning that Bank of America had initiated coverage on the company (which began trading in September 2018) with a "buy" rating, citing the company's "superior" name recognition, increasing consumer demand, and overestimated competition.3
Unlike Oppenheimer's late-September vote of confidence in ROKU, which was accompanied by a lower close and followed by a few more days of selling, yesterday's favorable analyst call came after the stock had rallied off a significant support point—the 50% retracement level of the December–September rally—and consolidated for several days.
There's another bit of market wisdom about prices tending to break out of a consolidation in the same direction they entered it—that is, to the upside if prices were trading higher before the consolidation. ROKU did that yesterday, but one day is just one day.
And that leads us to one final trader proverb: Exceptionally Big Moves Tend to Have Counterreactions. Experienced traders would hardly be surprised to see a stock that rallied 10% in a single day to give back at least some of that move in the near term. If the stock is serious about continuing to move higher, such traders may expect it to remain above its recent consolidation lows, but they'd also see the potential for it to pull back before resuming any uptrend.  
Note: ROKU is currently scheduled to release earnings a week from tomorrow (November 6).
Market Mover Update: After incrementally missing a new record on Friday, yesterday the S&P 500 (SPX) removed any ambiguity by gapping to new all-time intraday and closing highs yesterday. The Nasdaq 100 (NDX) notched its second-straight day of records.
Today's numbers (all times ET): Amgen (AMGN), Advanced Micro Devices (AMD), ConocoPhillips (COP), Merck (MRK), Maxim Integrated Products (MXIM), Shopify (SHOP), General Motors (GM), GrubHub (GRUB), Seattle Genetics (SGEN), Pfizer (PFE), Mastercard (MA), Martin Marietta (MLM), Verisk Analytics (VRSK).
Today's earnings include: S&P Corelogic Case-Shiller HPI (9 a.m.), Consumer Confidence (10 a.m.), Pending Home Sales Index (10 a.m.).
Click here to log on to your account or learn more about E*TRADE's trading platforms, or follow the Company on Twitter, @ETRADE, for useful trading and investing insights. Online stock, ETF, and options trades1 are now commission-free.
---
1 CNN.com. Roku has lost 40% of its value as competition heats up. 9/24/19.
2 Barron's. Roku Stock Is Getting Hammered. It Might Be Time to Buy. 9/24/19.
3 CNBC.com. Bank of America initiated Roku as 'buy'. 10/28/19.
What to read next...
10/28/19
A key week opens with the Nasdaq 100 coming off a new record high and the S&P 500 as close as it's been in three months.
---
10/25/19
Options activity may have signaled interest in a formerly high-flying IPO that's been trading closer to earth lately.
---
10/24/19
The summer gold rush lost some momentum as the weather turned cooler, but the market may be poised to turn up the heat again.
---