Breaking down the options chain
CB and H both had heavy call options trading on Wednesday
Both stocks at or near record highs
Traders were taking positions in one, not necessarily the other
Similar options activity in two companies yesterday showed why it's important not to jump to conclusions about "splashy" data points or news.
Casual observers may be inclined to view heavy call volume as more bullish than bearish, but aside from the reality that there's a seller for every buyer—i.e., a potential bear for every bull—there are a few key details that can make comparable call trading in one symbol very different from that in another.
On Wednesday morning, Hyatt Hotels (H) and insurance company Chubb (CB) both appeared on the LiveAction scan for heavy call options trading. Hyatt's call volume was more than five times its daily average, while Chubb's was more than 11 times its average: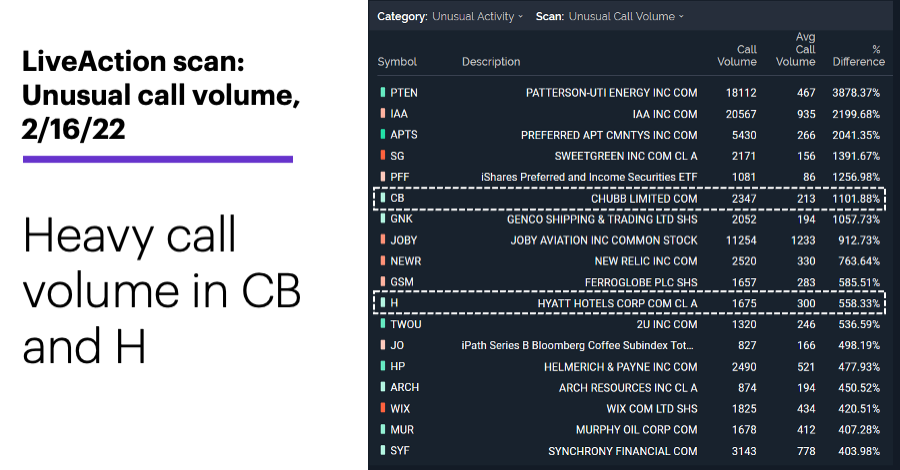 Source: Power E*TRADE. (For illustrative purposes. Not a recommendation.)
---
Although CB and H have both bucked the broad market by gaining ground this year, there were some key differences between the two stocks and the nature of their call activity. For starters, H was due to release earnings after the closing bell and had hit a second straight record high, topping out intraday above $108.
Most of H's options activity Wednesday morning was in the March $95 calls, which accounted for 1,300 of the 1,675 calls that had traded: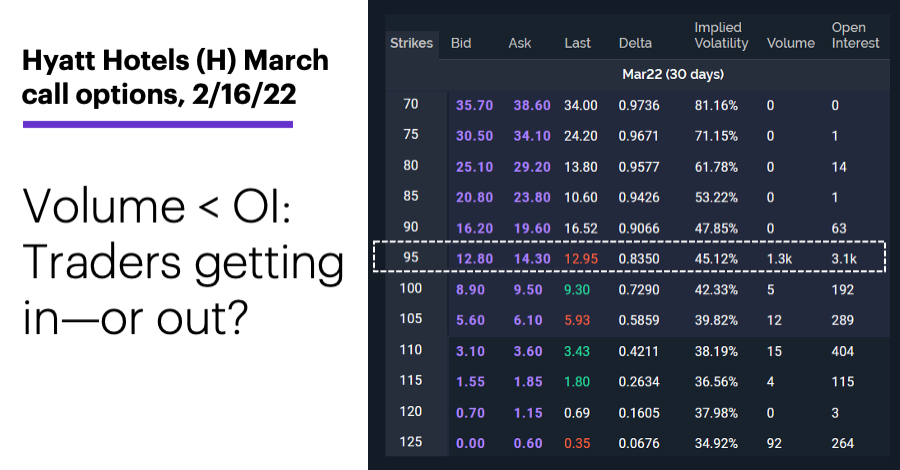 Source: Power E*TRADE. (For illustrative purposes. Not a recommendation.)
---
Options volume often jumps before an earnings release, but an important detail in this case is that the open interest (OI) for the March $95 calls was 3,100 contracts—more than the volume. That means at least some of yesterday's trading could have been initiated by traders getting out of positions rather than putting on new ones. After all, the March $95 calls rallied from $2.36 on January 24 to more than $14 yesterday, so it's entirely plausible that some traders who caught that rally would decide to take profits before an earnings release—an event that always has a high level of uncertainty.
Ultimately, though, there's no way to know what yesterday morning's call volume represented, because OI data always reflects the number of open positions as of the previous day's close. Comparing today's OI to yesterday's is the only way to know if traders were getting in or out of the market yesterday.
In contrast, CB's options chain shows most of its call activity had to consist of traders establishing new positions, since the volume in the May $230 calls was nearly 10 times the existing OI: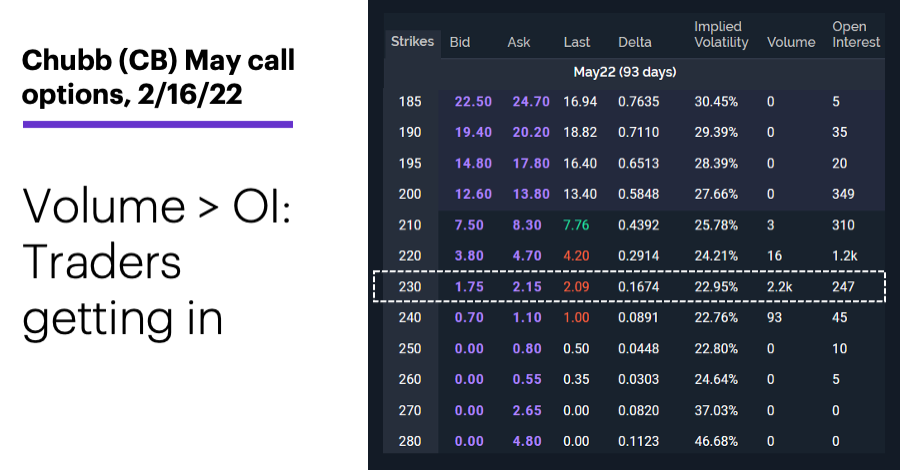 Source: Power E*TRADE. (For illustrative purposes. Not a recommendation.)
---
Another difference between CB and H: Chubb's earnings were in the rearview mirror yesterday. The company topped its numbers on February 1 and subsequently rallied to a few record highs before pulling in recent days and testing its January highs. In other words, its heavy call volume wasn't connected to an imminent earnings release.
The takeaway: Unusual options activity scans can highlight similar developments in different stocks, but that doesn't mean those developments represent the same thing.
Today's numbers include (all times ET): Housing Starts and Building Permits (8:30 a.m.), Weekly Jobless Claims (8:30 a.m.), EIA Natural Gas Report (10:30 a.m.).   
Today's earnings include: Baxter International (BAX), AutoNation (AN), US Foods (USFD), Walmart (WMT), Roku (ROKU), Dropbox (DBX), Keysight (KEYS).
Click here to log on to your account or learn more about E*TRADE's trading platforms, or follow the Company on Twitter, @ETRADE, for useful trading and investing insights.
---
What to read next...
02/16/22
Options volatility jumps to one-year highs as biopharma stock climbs off longer-term low.
---
02/15/22
What could be behind the UK stock market's recent relative strength?
---
02/14/22
Stocks pull back, yields jump after hot inflation data and heightened international tensions.
---