Untapped potential?
Crude oil, energy sector have rallied over the past month
Sector positioned to benefit from year-end rotation?
Options traders can gain edge by finding potentially underpriced options
Almost exactly one month ago, "Priming the momentum pumps" asked the question, "Is the energy sector poised to power up after a rough two weeks?"
It was, to a certain extent. December WTI crude oil futures (CLZ9) have pivoted nearly 9% higher since October 8, and yesterday rallied to their highest level ($57.85/barrel) since September 24. And although energy stocks are still the year-to-date S&P 500 (SPX) cellar-dweller, they've been the fifth-strongest sector over the past month and, led by outsized gains in stocks like Phillips 66 (PSX, +19% since October 8), have outgained the SPX.
While some traders may point to the fact that, despite a recent bounce, crude oil is still trading within the confines of a wide consolidation that dates back to June, others may see the potential for more gains heading into year-end:
1. As a global economic barometer, crude oil (like the stock market) has tended to respond bullishly to favorable news from the trade-war front.
2. With the stock market pushing to new record highs (and history on the side of a rally in the last two months of the year), neglected sectors like energy may benefit from rotation by default—i.e., with other sectors possibly stretched to the upside, money managers may need to put capital to work in other areas of the market.
If that scenario plays out, some traders may be looking at a wider range of opportunities in energy stocks.
Aside from simply buying pullbacks in crude oil futures or oil stocks already exhibiting relative strength (like PSX), traders may also see opportunities in overlooked energy names like oil equipment and support supplier Schlumberger (SLB), which fell to a nearly 15-year low in October, but has nonetheless outpaced crude oil's rally over the past month: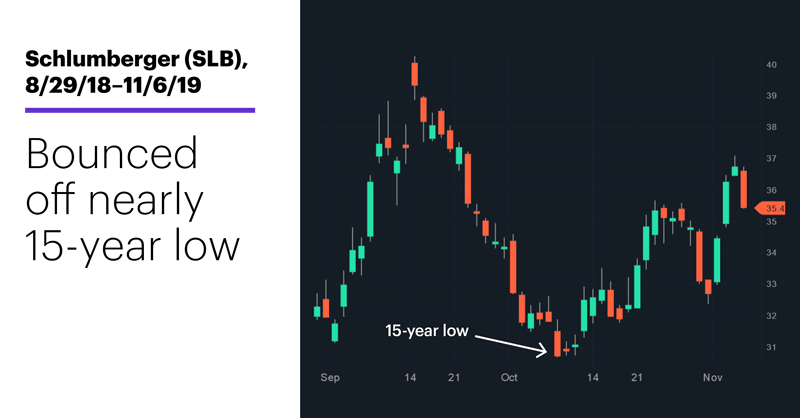 Source: Power E*TRADE
---
SLB shares pulled back—sharply—yesterday after a three-day pop, but the stock also appeared on a LiveAction scan for large intraday implied volatility (IV) declines (below).
Many traders interested in playing a potential energy rally using options would be on the lookout for call options with relatively low IV, since low IV typically translates into lower options prices.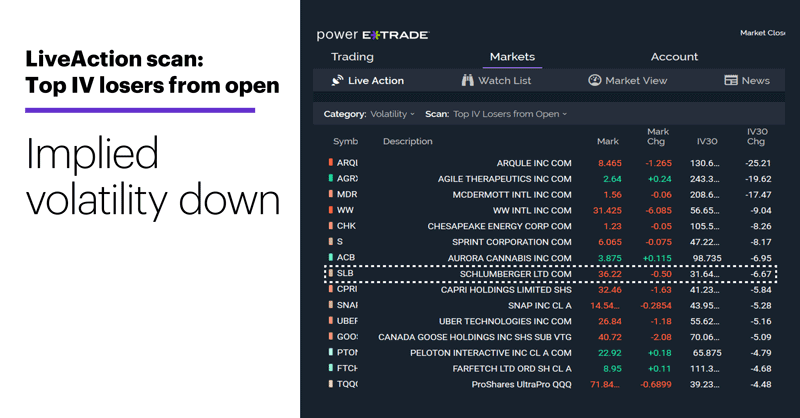 Source: Power E*TRADE
---
Also, in this case, yesterday's pullback in SLB shares dropped call prices dramatically—the roughly at-the-money January $35 calls had fallen more than 33% from a day earlier.
Options offer traders more leverage than stock, which is a benefit if your market forecast is correct, but a drawback when you're wrong. That's why some traders prefer to manage that risk by creating a spread—a combination of options—that protects the position in the event of an adverse move.
The following chart, for example, shows a bull call spread consisting of a long SLB January $35 call and a short January $40 call, which yesterday would have cost around $171 per spread (around $0.55 cheaper than an outright January $35 call position):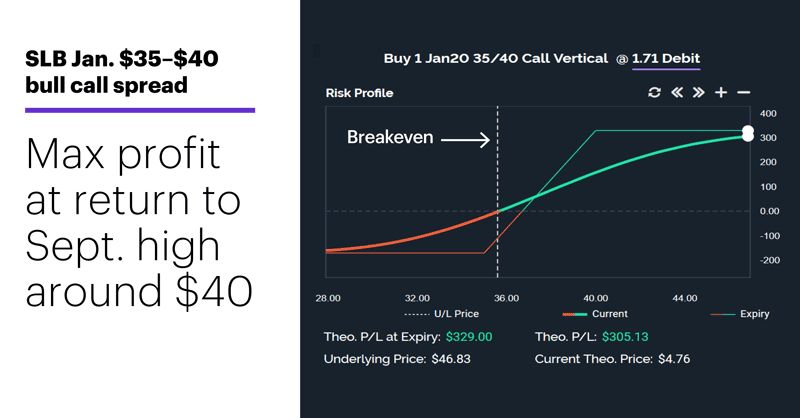 Source: Power E*TRADE
---
The lower-strike long $35 call is positioned to gain value if SLB continues to rally, but the position's potential profit ($350 per spread, a little more than twice what it cost) is also capped on any move above the strike price of the short option ($40, which also happens to be just below SLB's September swing high).
It's not just stock prices that go up and down—volatility does, too, and options traders know that buying options with relatively low IV, and selling those with high IV, is one way to gain a potential edge.
Market Mover Update: McDonald's (MCD) rallied for a second-straight day after tagging an important support level on Monday (see "Stocks near high-profile retracement levels").
Today's numbers (all times ET): EIA Natural Gas Report (10:30 a.m.), Consumer Credit (3 p.m.).
Today's earnings include: Activision Blizzard (ATVI), Booking Holdings (BKNG), Ralph Lauren (RL), Progressive (PGR), Walt Disney (DIS), Scientific Games (SGMS), Keurig Dr Pepper (KDP), Dropbox (DBX), Fastly (FSLY), Revolve Group (RVLV), Yelp (YELP), Take-Two Interactive Software (TTWO), Ubiquiti (UI), Shockwave Medical (SWAV).
Click here to log on to your account or learn more about E*TRADE's trading platforms, or follow the Company on Twitter, @ETRADE, for useful trading and investing insights. Online stock, ETF, and options trades1 are now commission-free.
---
What to read next...
11/06/19
Do burgers and coffee go together? The price action of their stocks may.
---
11/05/19
Health care stocks have been under the weather for a long time, but the color has recently returned to the cheeks of certain stocks.
---
11/04/19
Last week started with a bang—and ended that way, too.
---