Trend reversal or interruption?
Autoworkers began strike against GM yesterday
GM stock dropped more than 4% intraday
Stock rallied after strike was authorized on September 3
Among the many stories that got pushed aside yesterday amid the attack on Saudi oil production facilities and the explosion in crude oil prices was the United Auto Workers (UAW) strike against General Motors (GM)—the biggest US labor walkout since 2007.1
Almost 50,000 workers took part in the strike, which has among its objectives the reopening of a GM factory in Lordstown, Ohio, better wages, and a narrowing of the pay gap between new hires and veteran employees.2
Yesterday's strike—not a surprise, since the UAW had formerly approved the measure on September 33—had the anticipated effect in the stock market, knocking GM shares around 4.5% lower by 1:30 p.m. ET: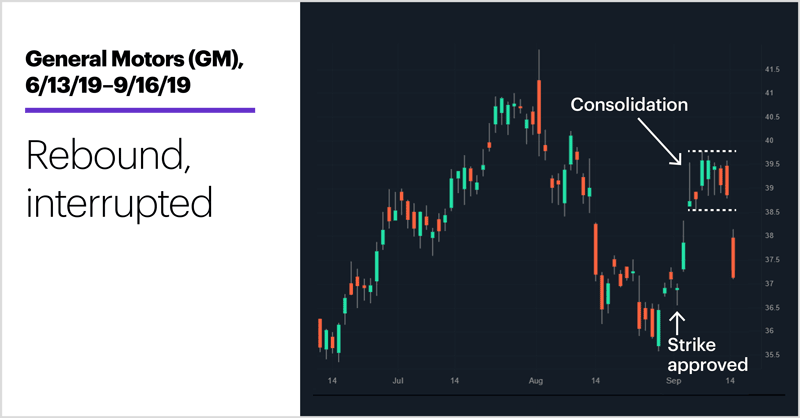 Source: Power E*TRADE
---
Also no surprise: GM put options were in fairly heavy demand, with volume around 300% of its typical level: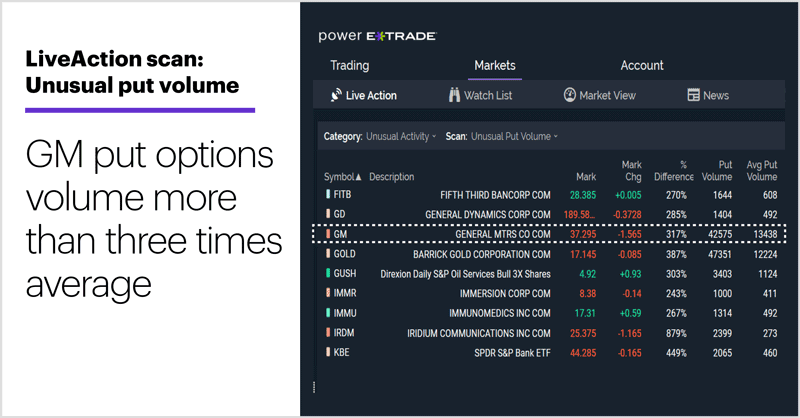 Source: Power E*TRADE
---
Interestingly, though, while GM also appeared on the LiveAction scan for stocks with high put/call ratios, it had disappeared from that list by the early afternoon. The possible takeaway: While put volume was elevated (a possible indicator of bearish sentiment), it backed away significantly from its most extreme levels as the day progressed.
Contrarians may be mulling over this bit of information as they take a second look at the GM price chart. While the stock turned lower with the rest of the market in early August, it's worth noting that its biggest upside spurt since then occurred in the four days immediately after the September 3 strike authorization (a roughly 7% gain by September 9). The stock then consolidated for about a week before yesterday's downturn.
If the strike has been factored in, exacerbated weakness in GM could be an opportunity for bulls.
Some may argue that the rally off the late-August lows amounted to overly optimistic traders betting the strike would be avoided, but that ignores the more likely assumption that institutions holding massive GM positions weren't inclined to go overboard on a stock they thought faced a potentially crippling setback. And that suggests the possibility that the strike has been, to some measure, factored in, and that weakness in GM—exacerbated amid geopolitical stresses that sent the entire stock market lower—could be an opportunity for bulls rather than bears, even if a near-term test of the late-August low around $35.60 can't be ruled out.
Price consolidations represent pauses—a market holding its breath before making its next move. There's an old rule of thumb (not a law) that, barring exceptional developments, prices will exit a consolidation the same direction that they entered it. In this case, before the strike—which certainly qualifies as an exceptional event—GM had rebounded off its late-August lows and appeared to be setting up for a upside breakout of a five-day consolidation.
If the current strike doesn't turn out to be a long, nasty one (the UAW's 2007 walkout on GM lasted a couple of days), traders who were already playing GM from the long side may expect the stock to play catch up with its previous short-term uptrend.
Market Mover Update: Yesterday's epic surge in crude oil prices pushed October WTI crude oil (CLV9) futures as high as $63.38/barrel—up more than $8.50 (15.6%) from Friday's close. It was the contract's highest level since May 21, and crude oil's biggest one-day jump since 1991.4
Today's numbers (all times ET): FOMC meeting begins, Industrial Production (9:15 a.m.), Housing Market Index (10 a.m.).
Today's earnings include: Adobe  (ADBE), Chewy CHWY, Cracker Barrel (CBRL), FedEx (FDX), Red Hat (RHT).
Click here to log on to your account or learn more about E*TRADE's trading platforms, or follow the Company on Twitter, @ETRADE, for useful trading and investing insights.
---
1 CNN.com. GM strike: Nearly 50,000 workers walk out at America's biggest automaker. 9/16/19.
2 The New York Times. 4 Key Points About the U.A.W. Strike Against General Motors. 9/16/19.
3 Detroit Metro Times. UAW authorizes strike backed with overwhelming worker support as union enters GM contract negotiations. 9/3/19.
4 Reuters. Evidence points to Iran involvement in attack, says Saudi alliance, as oil prices soar. 9/16/19.
What to read next...
09/16/19
Small-cap stocks on fire with indexes near record levels.
---
09/13/19
Things are getting real in the showdown between Apple, Netflix, and Disney, but the story is far from over.
---
09/12/19
Small-cap stocks have soared this week as other indexes have mostly marched in place.
---