Trend retracement hits key level
Cloud tech company up 375% since Feb. 2018
Recent correction marked a 50% retracement of 7-month uptrend
Options volatility ticked lower yesterday
A 30% correction is absolutely no fun for those who bought near the top, but for traders looking for opportunities in formerly high-flying stocks, such events tend to be much more welcome.
Especially when the selling begins to dwindle right around where they thought it would.
As of yesterday, cloud communications specialist Twilio (TWLO) was up 65% year-over-year—a healthy gain despite the stock's roughly $45 correction from its June all-time high of $151: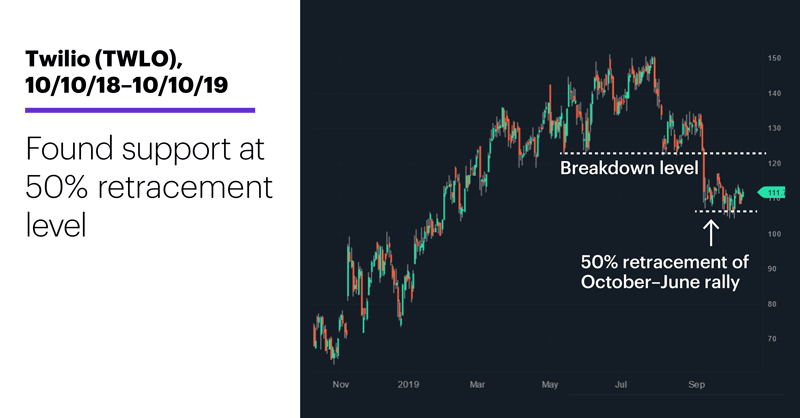 Source: Power E*TRADE
---
 Before the downturn, TWLO had enjoyed a 136% rally off its October 2018 low, which was only the most recent leg of a 550% surge off its February 2018 low.
The second portion of the recent correction, which included a breakdown below the May–July lows, dropped the stock to the vicinity of the 50% retracement level of the October 2018–June 2019 rally (around $106.90). Many technical traders look for support to emerge when price retraces 50% of a trend, so the stock's stabilization and bounce over the past week or two was likely not unexpected in some circles (TWLO is up around 4% since October 2).
Many of those same traders also likely noticed the correction stalled as TWLO gave back 38.2% (a widely watched Fibonacci retracement level) of its February 2018–June 2019 rally: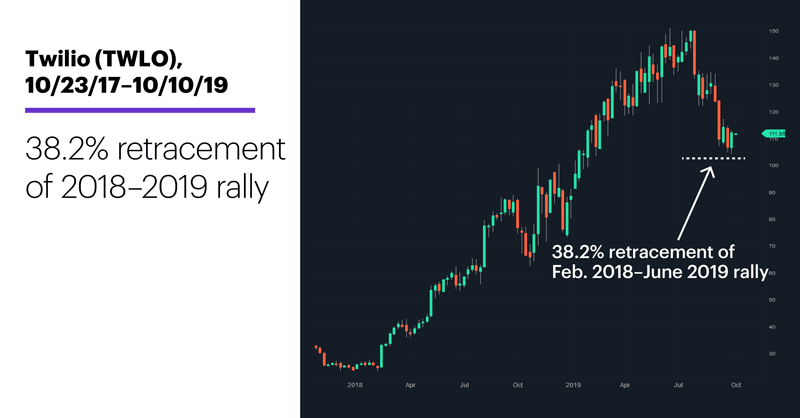 Source: Power E*TRADE
---
There's no law preventing TWLO from continuing to trade lower, but when two such conspicuous retracement levels coincide, many bulls will attempt to test the waters (the stock's up around 4% since October 2). And although traders who tend to monitor such levels may not necessarily expect an immediate return to all-time highs, some may anticipate the stock to at least challenge the former breakdown level from the first chart (around $122.50), which represents a roughly 10% rally from current levels.
Finally, options traders may have noticed TWLO appeared on the LiveAction scan yesterday for biggest one-day implied volatility (IV) declines from the open: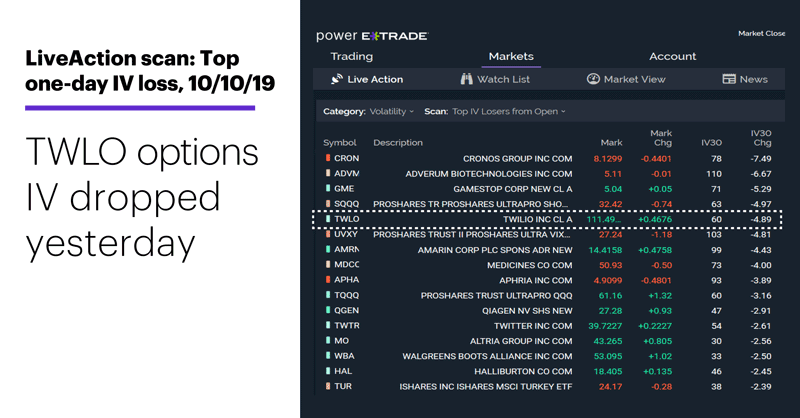 Source: Power E*TRADE
---
Because IV reflects the market's estimate of future volatility in a stock, high IV (all else being equal) tends to inflate options prices while low IV does the opposite: The more volatility the market expects, the higher the premium sellers will attach to options. That's why experienced options buyers typically try to buy options when IV is relatively low.
In this case, bullish traders looking to take advantage of options leverage could buy call options or, alternately, put on a bull call spread (buying a near-the-money call and simultaneously selling a higher-strike call with the same expiration). Either way, they'll want to keep tabs on IV to see if it continues to decline (and/or buy when the stock is trading lower).
But one thing all these traders may have in common: They know if prices violate one retracement level, prices may be heading lower to the next one.
Market Mover Update: Phillips 66 (PSX) continued its energy sector outperformance, gaining more than 4% over the past two days and hitting a nearly one-year high yesterday (see "Priming the momentum pumps"). Two days after its test of a key support level, Danaher (DHR) reversed an early loss yesterday to go up more than 1% on the day (see "Tickers on the move").
Today's numbers (all times ET): Import and Export Prices (8:30 a.m.), Consumer Sentiment (10 a.m.), Baker-Hughes oil rig count (1 p.m.).
Today's earnings include: Fastenal (FAST), Infosys (INFY).
Click here to log on to your account or learn more about E*TRADE's trading platforms, or follow the Company on Twitter, @ETRADE, for useful trading and investing insights.
---
What to read next...
10/10/19
Three stocks, three scenarios, even more possibilities.
---
10/09/19
And not just the dogs: Bulls, bears test appetite for pet food stock.
---
10/08/19
Is the energy sector poised to power up after a rough two weeks?
---