Soldiering on with services stocks
"Services stocks" have gotten notice for their trade-war benefits
Some of these names may also provide setups for swing traders
MSFT and COUP have well-defined technical risk points
Tactically and mentally separating trading from investing is good advice—they are disciplines with different goals, time horizons, and risks—but there are times when the two can overlap.
The ongoing US–China standoff has prompted plenty of suggestions about the best ways to take advantage of it, or at least minimize its downside. Recently, Goldman Sachs analysts noted that companies providing services may be better bets than those producing goods,1 the argument being that the former group has greater immunity to the trade war than the latter.
Trade-war resilient stocks that have been exhibiting bullish momentum may offer short-term trading opportunities.
For starters, it needs to be stressed that a "services stock" in this context simply refers to companies not directly manufacturing tangible goods. That's a big tent, one that includes everything from Walmart (WMT) to JPMorgan Chase (JPM) to Facebook (FB), three companies that aren't going to form the basis of a sector ETF any time soon. (Well, never say never.)
But even though "services stocks" advocacy is arguably more about defensive investing than shorter-term bullish offense, traders may still find the concept useful, especially if it can highlight potentially trade-war resilient stocks that are pulling back within uptrends—say, those with the following characteristics:
1. In a long-term uptrend.
2. Made record highs in the past two months.
3. Pulled back in the past five to 10 days.
In other words, we're talking about strong services stocks that have recently dipped. Let's take a look at a couple of examples—one you've heard of, the other, maybe not.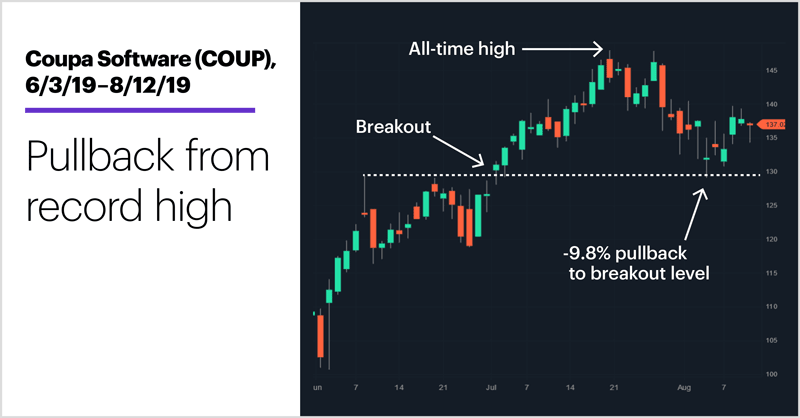 Source: Power E*TRADE
---
First up, Coupa Software (COUP), a small-cap business-software firm that's up more than 115% on the year, but pulled back around 9.8% from July 26 to August 5 close (chart above).
That pullback bottomed right around the level of the stock's breakout above its June highs. The stock has since bounced around 3% off that level, but that still leaves it a little more than 8% to run if it mounts a challenge to its all-time high of $148.
A slightly more familiar "services stock"—Microsoft (MSFT)—has outpaced the Nasdaq 100 (NDX) by around 10 percentage points so far this year and, until its July 26–August 5 -6.5% pullback, was regularly marching to new records while many other tech stalwarts (particularly semiconductors) got rocked by the twists and turns of the trade war: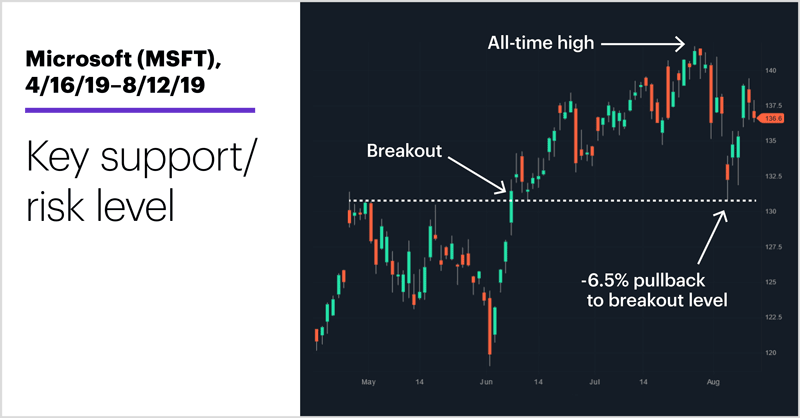 Source: Power E*TRADE
---
It's no coincidence the two stocks' charts are so alike. They've both exhibited the same general characteristic—uptrending prices—in recent months, trade war be damned, and have pulled back from highs that (with support from the broader market, of course) bulls may be looking for them to challenge in the near future.
And perhaps more importantly, the former breakout points COUP and MSFT recently bounced off are key price levels that many traders will use to define risk: If the stocks drop below these "tested" support levels, the near-term bullish outlook takes a hit.
Until then, though, traders may continue to thank these uptrends for their service.
Market Mover Update: Three days after popping up on a LiveAction scan for options with high implied volatility (IV), and with three days until August options expiration, Palo Alto Networks (PANW) stock has barely budged, sending the premiums on its August $230 calls and $195 puts into the dumper (see "Riding the volatility wave").
Today's numbers (all times ET): NFIB Small Business Optimism Index (6 a.m.), Consumer Price Index, CPI (8:30 a.m.).
Today's earnings include: 58.com (WUBA), Elanco Animal Health (ELAN), Advance Auto Parts (AAP), Myriad Genetics (MYGN), Tilray (TLRY), YY (YY), JD.com (JD).
Click here to log on to your account or learn more about E*TRADE's trading platforms, or follow the Company on Twitter, @ETRADE, for useful trading and investing insights.
---
1 CNBC.com. Goldman has a new strategy for beating the market during the trade war. 8/12/19.
What to read next...
08/12/19
Traders navigate tariffs, currency moves, and Fed bashing during up-and-down week.
---
08/09/19
Tech may outperform during rallies, but which tech may have less downside during tariff-driven downturns?
---
08/08/19
Amid the gloom, there were signs of potential bullish momentum yesterday.
---