New Year's trading resolution
US market is wrapping up its best year since 2013
Many analysts are projecting more modest stock gains for 2020
Here's the thing about "next-year" market forecasts: Most of them are wrong. But that doesn't stop everyone from making them—which is fine, because if nothing else, it keeps traders focused on the future.
But rather than throw out another forecast, let's toss out a tried-and-true bit of wisdom that may come in handy in 2020: The market never goes straight up, even when it goes up a lot.
This year is all the proof you need. 2019 is poised to go out as one of the best years of the past six decades, with the S&P 500 (SPX) returning more than 20% for only the 15th time since 1959, and the Nasdaq 100 (NDX) gaining more than 30%. Now that 2019 is almost entirely in the rear-view mirror, it's easy to see how exceptional it was: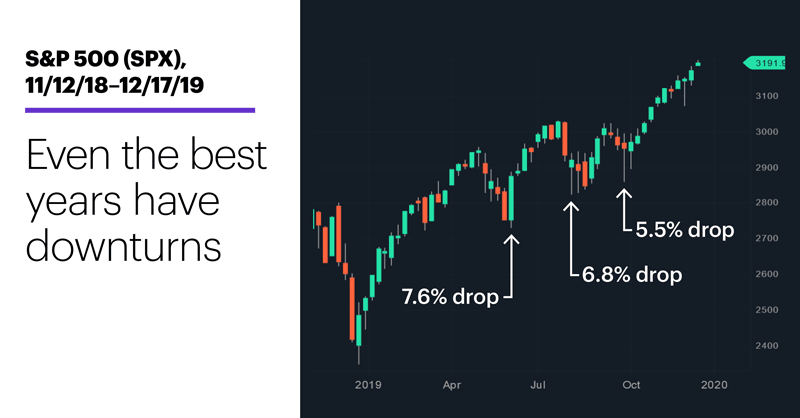 Source: Power E*TRADE
---
That's quite the rally. But don't forget, along the way the SPX:
●suffered peak-to-trough declines of -7.6% (remember the yield-curve inversion?), -6.8% and -5.5%.
●had three separate losing streaks of three weeks or more.
●had nine separate losing streaks of three days or more.
●had 19 one-day losses of -1% or more, and seven of -2% or more.
If the current Street consensus that 2020 is likely to be less bullish than 2019 turns out to be correct1 (not exactly a shot in the dark, given market history), stock traders should prepare for the possibility that whatever downturns the market experiences between January 1 and December 31 could be larger and/or longer-lasting than this year's, even if stocks ultimately end the year in the green. That's nothing to be gloomy about, especially for shorter-term traders.
For buy-and-hold investors, it may simply mean 2020 returns won't measure up to 2019's. If that's the case, well, this year is a tough act to follow.  
For risk-conscious traders, though, it's a potential opportunity to take advantage of swings—on both sides of the market—that are outside the wheelhouse of their long-term counterparts. The key is to be able to adapt your mindset to a new market landscape.
Just as generals have to avoid fighting the last war, market players need to avoid trading last year's market.
Click here to log on to your account or learn more about E*TRADE's trading platforms, or follow the Company on Twitter, @ETRADE, for useful trading and investing insights.
---
1 CNBC.com. Wall Street's stock forecasters see just a 5% gain in 2020. 11/23/19.
What to read next...
12/26/19
What do outsized annual returns like this year's signal for the following year?
---
12/24/19
2019 followed the stock market's election–cycle script. Will 2020 follow suit?
---
12/18/19
An uptrending stock takes a 10% hit, and its put-call ratio surges. What's next?
---