The patience "edge"
BL had high call-put ratio Wednesday as it added to breakout
Shares up more than 12% over past five days
Hedge fund participation in stock reached new high in Q1
When formerly high-flying stocks show signs of wanting to take off again after an extended spell on the runway, bulls who rode the previous rally sometimes reflexively rush back in, expecting a repeat performance.
Whether they turn out to be right or wrong, that impulse almost never puts a trader or investor in an advantageous position.
On Wednesday, for example, cloud-based accounting stock BlackLine (BL) was up more than 2% in early trading while both the S&P 500 (SPX) and Nasdaq (NDX) were in negative territory. It was the fifth-consecutive up day for BL, which has rallied more than 12% in September, first breaking out of a short-term consolidation before pushing above its July and August highs this week:
Source: Power E*TRADE (For illustrative purposes. Not a recommendation.)
---
It's the most upside momentum the stock has exhibited in seven months. But widening the lens a bit shows that the recent upswing has simply pushed BL back to another potential resistance level (the April high) after a roughly 34% pullback from its February all-time high of $154.61: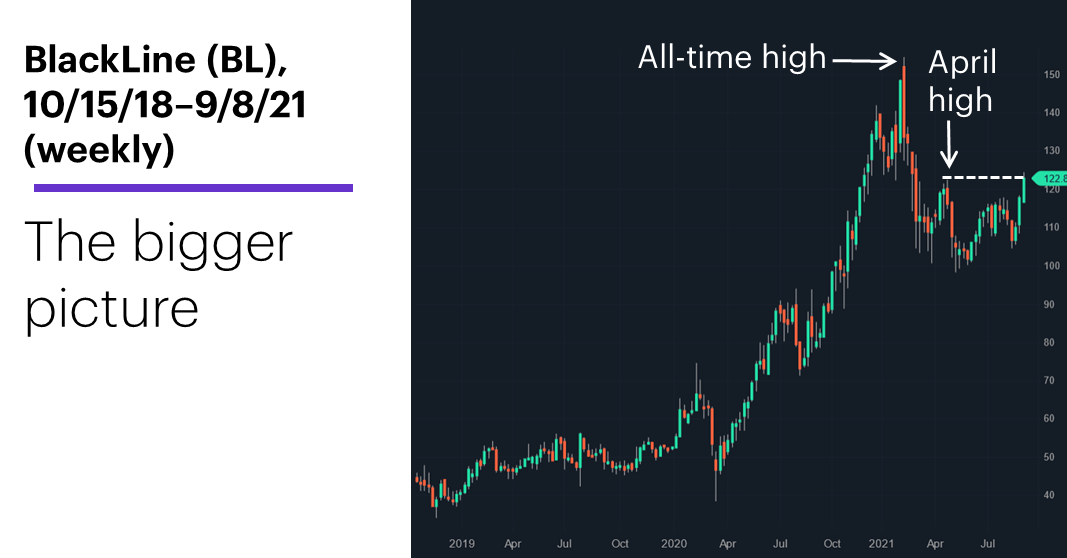 Source: Power E*TRADE (For illustrative purposes. Not a recommendation.)
---
BlackLine has lagged the SPX by more than 30 percentage points so far this year (approximately -12% vs. +21%), even though hedge fund participation in the stock reached an all-time high in Q11 and the average Street analyst target is still around 15% above yesterday's levels.2
Adding to the perception of momentum was Wednesday's uptick in call options volume. BlackLine isn't a heavily traded stock (daily volume averages around 315,000 shares), but its call volume was a little more than 46 times its put volume yesterday morning:
Source: Power E*TRADE. (For illustrative purposes. Not a recommendation.)
---
Of the approximately 1,067 calls that had changed hands in the first couple of hours of trading, 951 (89%) were out-of-the-money. The majority of those (880, or 82%) were in the September $125, $130, and $135 calls expiring next week, and the October $130, $135, and $140 calls expiring on October 15. (The stock traded mostly between $119 and $124 yesterday.)
All potentially bullish activity in the near term—although it's impossible to know in real time whether options purchases are new longs or liquidations of existing short positions. But even if BL's recent rally and the uptick in call options activity does portend a longer-term up move, experienced traders know markets often pull back to retest breakouts after high-momentum price moves.
Those inclined not to wait in such situations may want to look at Snowflake (SNOW), EPR Properties (EPR), and Microsoft (MSFT)—just a few of the stocks discussed in this space in recent months that have pulled back to (and sometimes well below) recent breakout levels before turning higher.
The lesson: Don't just look at the short-term picture, and don't jump on the breakout bandwagon unnecessarily.
Market Mover Update: On Wednesday, Disney (DIS) closed at its highest level since late April ($185.15), pressuring the top of its multi-month consolidation (see "Trading breakouts with options").
Although it hasn't been much of a pullback (so far), yesterday marked the first time since July 19 that the S&P 500 (SPX) closed lower three days in a row. The SPX has had only seven losing streaks of three days or more this year, only two lasted longer than three days, and the first one—a five-day slide in February—was the longest.
Today's numbers include (all times ET): Weekly jobless claims (8:30 a.m.), Quarterly Services Survey (10 a.m.), EIA Petroleum Status Report (11 a.m.).
Today's earnings include: Dave & Buster's (PLAY), Verint Systems (VRNT), Zscaler (ZS).
Click here to log on to your account or learn more about E*TRADE's trading platforms, or follow the Company on Twitter, @ETRADE, for useful trading and investing insights
---
1 InsiderMonkey.com. Hedge Funds Have Never Been This Bullish On BlackLine, Inc. (BL). 7/19/21.
2 TipRanks. BlackLine Stock Forecast & Price Targets. 9/8/21.
What to read next...
09/07/21
Market coming off another winning week despite Friday's jobs miss.
---
09/03/21
Fading a trend without reason often results in financial pain, but many traders and investors may be more contrarian than they realize.
---
09/02/21
No two ways about it, the ninth month of the year has not been friendly to bulls—but is its bearish reputation entirely deserved?
---